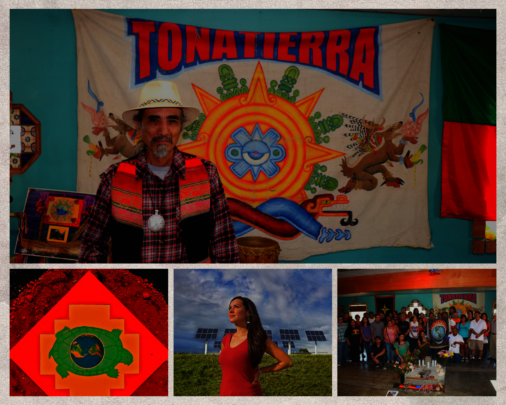 Daanzho/hello dear community,

During this time of escalating threats at the US-Mexico border, an opportunity to make a measurable impact for asylum-seeking Indigenous families has arisen. Our storytellers have formed a partnership between Seeding Sovereignty, Sacred Earth Solar (in the Canadian tar sands and Cree led), Tonatierra (a Phoenix-based cultural embassy of Indigenous Peoples) and we are eagerly working to share their story about providing renewable energy to many members of Indigenous migrant communities and relatives beyond the colonial border.
Tonatierra's mission is:

To create and sustain a Cultural Embassy of the Indigenous Peoples that will support local-global and holistic indigenous community development initiatives in education, culture, and economic development in accord with the principles of Community Ecology and Self Determination.
In our many meetings with our esteemed comrades and frontline community warriors, we've learned about the heart of those uplifting the aforementioned mission. In 2018 when people traveled en masse from South and Central America north in caravans to Mexico and the US, many were fooled into believing that if they simply turned themselves in at the border, they would be processed and allowed the ability to enter the country to be protected from horrific violence at home, as well as to do work they were eager to do. They weren't aware of the hellish nightmare that would receive them.

According to Tupac Enrique Acosta, founder and coordinator of Tonatierra, the influx of migrants from southern countries flooded facilities in Arizona. Through great means, people who were trying to stay in the country had to prove that they had family in the country, friend or family willing to pay for bus tickets to get their relative(s) where they needed to get for their next court hearing, and proof that everything had been purchased and paid in full before they were strapped with ankle bracelets and released onto the streets.
Many people had no place to go, Tupac said. So Tonatierra threw open its doors. During the peak of the caravan migration, the center housed nearly 3,000 throughout a 3-month period with most people staying no more than 24 hours. They came to rest, eat, and better understand what an undertaking they were engaging in and what system had corrupted their need for asylum and humanitarian aid.
After visiting the center, we noticed that it is in a state of immense need, though it is obvious that every fiber of the building is deeply loved. Tupac assured us that the work being done to add a bathroom with a shower in it to better accommodate the needs of travelers was being prioritized, but something greater struck a chord. Solar power. With plans for longterm renovation and eventual rebuilding, Tonatierra is looking to modernize their space with renewable energy, and what better place to try than in the valley of the sun?
Tonatierra expects that in the next several months another great influx will take place and they aim to be better prepared to receive guests. The stacks of cots and rolled sleeping bags await guests, and the garden out back, freshly planted in the tradition of the Akimel O'odham peoples, brings the promise of growth, no matter what comes in the new year.
Our storytellers are currently working on a short video to assist Tupac and Tonatierra with fundraising to bring solar panels to the center. Another video is in pre-production to document the process of bringing the project to life once funding is completed. Stay tuned in the new year!
Iheedn/thank you for supporting us in 2019.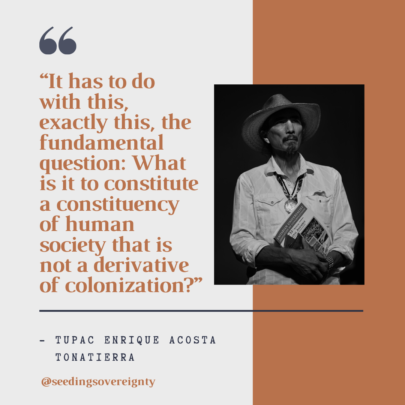 Links: