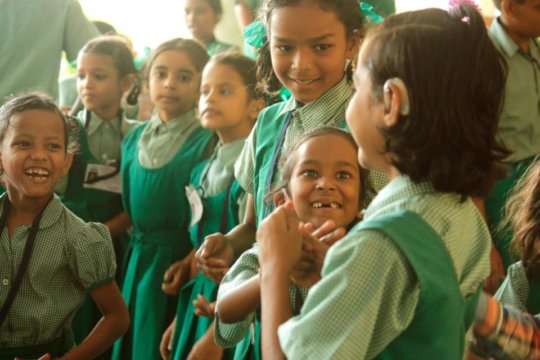 Amit (name changed) joined the Special Care Center at Save The Children India at the age of 6, Amit was inattentive and
hyperactive, and did not sit in one place for too long. He was being brought to a formal system of schooling for the first
time since he was diagnosed with a hearing problem. With very few words in his vocabulary and unclear speech, he
simply used gestures as a medium of communication. Techniques to increase his sitting tolerance/patience in class and
attention skills, alongside speech therapy sessions twice a week, has resulted in great progress in Amit's demeanor and
communication skills. Now, he even tries to communicate in complete sentences. His mother cannot contain her
happiness when quoting to us what his Occupational therapist from outside the school has to say. In the words of his
therapist, "Ever since Amit started attending school, his communication skills using language and speech has been
improved tremendously."
With the aid of your generous contributions, young children with special needs, hundreds others like Amit, will be able to gain access to a nutritous meal, which will aid in their holistic growth and development.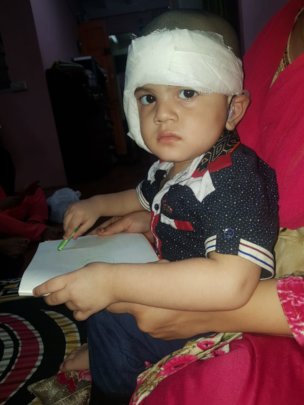 Mohammad, all of 1 year and 11 months, was born after 10 years of marriage. Right from an early age, he was hospitalized on multiple occasions for Distal Renal Tubular Acidosis. This has had a major impact on the families financial condition and the family has no more funds to be able to support further medical expenses towards his condition.
Mohammad's hearing loss was diagnosed early on at the Wadia Hospital in Mumbai,who in turn referred him to Dhvani. The family visited Dhvani in August 2019 and enrolled him in the early intervention program, where his audiological testing was conducted and he was equipped with a good quality digital hearing aid. Simultaneously, he was also evaluated by a qualified Auditory Verbal therapist and was started on language therapy sessions.

At Dhvani, we ensure constant testing and screening of our patients. As per his latest audiogram, Mohammad has been diagnosed with bilateral profound sensorineural hearing loss, as a result of which he is hard of hearing in both ears. Additionally, he has also undergone radiological testing, MRI and HRCT. Based on the radiological and audiological findings, the ENT surgeon at Hinduja Hospital has recommended a Cochlear Implant surgery.
However, due to the sudden onset of the COVID pandemic, his parents have been struggling to raise the necessary funds for his treatment, as his father lost his job during the lockdown and is currently working as a part time taxi driver to sustain his family. His parents are keen on him undergoing the surgery, as that will enable him to develop speech and language skills and ultimately, will be able to integrate smoothly into mainstream society.
We urge you to donate now, so many more young, vulnerable children can receive access to the right treatment, and suitable alignment into formal education.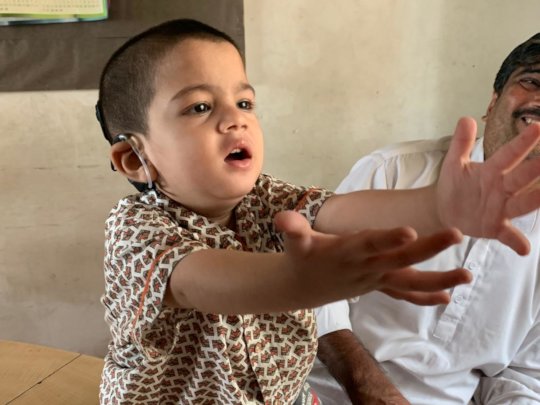 The case of Manasvee, a young, inquisitive 5 year old, was brought to the attention of Dhvani, at Save The Children India, in November 2018. Manasvee hails from a humble middle class joint family, possessing only 1 earning member, a meagre pay to sustain a large family, including her parents and grandparents. Manasvee's hearing loss was diagnosed pretty late, given the fact that she possessed good residual hearing and often responded to loud sounds. However, this partial hearing wasn't sufficient for the development of spoken language and communication skills. After undergoing the necessary testing and evaluation at Dhvani, Manasvee was fitted with good quality hearing aids and started attending sessions on language therapy and school readiness, at Dhvani. She had made tremendous progress and had started responding to all sounds, even responding to people calling her by her name. Thanks to the progress she had made, she had also started developing a grasp on simple commands and questions. However, during a bout of viral fever and severe frequent episodes of cold and cough for significantly longer durations, it was observed that her hearing loss has progressed to a profound level and the benefit she had been receiving from the hearing aids had reduced significantly. Manasvee's candidacy for the Cochlear Implant surgery was checked, and experts at Hinduja Hospital were consulted, all of whom declared her suitable for the CI surgery. However, due to the sudden onslaught of the Covid pandemic and the ensuing lockdown, her case has made no progress in the last few months. Manasvee needs significant funding to undergo this critical surgery as soon as possible, so as to save crucial days of development, and help re-integrate her into society. Manasvee is currently attending the tele-intervention services offered by STCI, with her parents making every effort to contribute to her progress.
Help many others like her, by contributing now.
WARNING: Javascript is currently disabled or is not available in your browser. GlobalGiving makes extensive use of Javascript and will not function properly with Javascript disabled.
Please enable Javascript
and refresh this page.