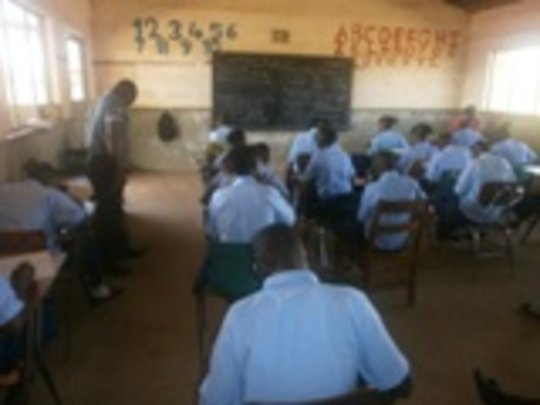 Global Giving Report
Final Quarter 2013
A Brighter Tomorrow for Africa
During this period, the teaching staff has been effective in teaching the children. The children are always in school and ready to work. The daily school feeding has made our children stronger, healthier and more energetic to work hard in school.
I am also happy to report that there has been no major sickness among the pupils. The COTN Clinic staff did a great job in deworming all of them.
The BTA supply from Nursery through the Senior Secondary School has had a great impact on our children's academic life being that they are boastful of having a good nutritious meal when they are in school.
This could show evidence on the attached pictures and stories of the children. Also the statistics of the school at Ngolala will show the total number of pupils that are benefitting from the BTA feeding program.
May God richly bless your organization for such a kind gesture and gifts to our beneficiaries. We wish you all a merry Christmas and a prosperous New Year in advance.
CLASS TOTAL 2013/2014
2013-2014
Boys
Girls
Total
Nursery 1
19
25
44
Nursery 2
15
29
44
Nursery 3
18
23
41
Prep 1
19
25
44
Prep 2
14
28
42
Prep 3
19
36
55
Prep 4
35
45
80
Prep 5
21
21
42
Prep 6
20
13
33
JSS Remedial
11
12
23
JSS1
38
40
78
JSS2
19
24
43
JSS3
13
19
32
SS1
12
11
23
SS2
20
9
29
SS3
19
8
27
SS4
12
10
22
GAP
0
0
0
University
2
3
5
Skills
0
10
10
Mokpangumba Nursery
24
19
43
Mokpangumba Primary
29
19
48
Mosenesi Nursery
9
10
19
Mosenesi Primary
40
45
86
Total
428
484
913
End of term Report on Better tomorrow for Africa (BTA) for Mallory Jansen Memorial School, Ngolala, Upper Banta Chiefdom, Moyamba District, Sierra Leone, West Africa
A Child's Story (1)
A ten-year-old girl in Class 3 who is the fourth child of ten children who lives in Condama Village.
According to her, she comes from a polygamous family. Her father has two other wives apart from her mother. Her father lives on subsistence farming for their survival.
She started attending Mallory Jansen Memorial School at the Nursery level. She said her parents could not afford to send all of the children to school, so they sent three of them, she being one of the fortunate ones.
Every day, they walk eight miles by foot to come to and from school. They usually come to school with an empty stomach. She started eating BTA-provided nourishment when she was in Prep 1 when she was malnourished. The good food she gets from school every day has improved her life. She is now learning more at school, because she is able to concentrate better. The serving of BTA to children such as this young girl has been helpful, because she personally likes eating BTA and it sustains her until she gets home to have a daily meal with her family in the evening. She is proud to say that she never goes home with an empty stomach.
She and her fellow students appreciate BTA so much.
A Child's Story (2)
This is a story about a Junior Secondary School 1 (JSS1) student at Mallory Jansen Memorial School who lives with her parents live in Ngolala. Her parents are farmers and barely have enough to provide for them. She said her father has two wives and many children.
Her mother has a passion for children and would like to see them grow up healthy. She said the Brighter Tomorrow for Africa food is very good for all of the children in Ngolala School. The reason for this is that it makes them happy and gives them good nourishment. When she started eating BTA in school, she felt that everything was going to be smooth throughout her learning time in school.
One of the things she admires is that every school child looks very happy when eating BTA, because of its flavor and nourishment, especially during lunch when they are hungry.
Sometimes she and her siblings come to school without asking their parents for anything because they know that there will be food given to them at school each week day. This kind of help is very nice for every school child in Ngolala School. Their friends in other villages envy them when they meet together, because only COTN school provides food to their pupils in this part of Upper Banta Chiefdom.
She says the food encourages pupils to come to school every week throughout the term. It also helps them to grow and be strong every day. They also have hope that the feeding will continue in their school.
The food encourages them to stay in school longer and even for extra lessons. Lastly, this young lady says to let God bless all those that are contributing to give them good nourishing food, especially Aunty Sarah Armstrong and her family. She sends God's best wishes and a Merry Christmas to the entire BTA family.
A Child's Story (3)
A young man who was born on the 14th of December 1999 live in a small village called Gmebagboh in Upper Banta Chiefdom. He is currently in JSS1. Each day, he comes from a far village to attend COTN School in Ngolala.
He told me a sad story about his life. He is one of four boys in his family. His mother and father are farmers. They hardly get enough food to eat because of the difficult life their parents are undergoing.
One day, a friend in their village who was attending the school told him about the BTA food in school. He said to him that every day in Mallory Jansen School supplies them food to eat. He secretly told his mother to tell his father that he would like to attend school in Ngolala. The mother wondered how she was going to tell her husband about this decision of wanting to attend school, and, since the young man could not wait on his request made to his mother he followed his friend that was attending COTN School.
After searching for him in the village, his father came to the school during lunch time. He met them eating food that was served to his friend. From that day, his father decided to send him to school and registered him in COTN's Mallory Jansen Memorial School in Ngolala.
This story becomes more interesting. He started eating good nourishing meals daily. His academics began to improve as time went on. His personal health also improved, and he was healthier than the time he was in his village not attending school.
According to him, the BTA food is very useful for every school child that is attending school in Ngolala. They are very grateful for the BTA supply and hope that it will continue as it has a great impact in their learning at school.
A Child's Story (4)
A young girl in prep 4 pupil in Mallory Jansen Memorial School in Ngolala lives with her mother and father in Ngolala Village with other children who are attending school at Mallory Jansen.
She is happy to be attending school, because girl child education is now a right for every girl. One of the things that interests her is the food supply and the new teachers in their school.
Every day at school, they are given food to eat during lunch. This food makes them very strong and healthy. The teachers teach them many things, which makes her happy and not want to be late for school. Therefore, she is always in school and does all of her homework.
She says that BTA is important to her because it gives her more energy to stay in school. Also, BTA has helped improve her Christian life because they pray at school each time before they eat. The BTA helps other children that do not have food at home to be able to eat something each day.
BTA encourages pupils to be regular in school every day. It also helps them pay more attention to what they are being taught, because they are not thinking about how hungry they are and they have more energy from the food.
She concludes by saying that our Almighty God will bless all those that are providing BTA food for the poor children in COTN. It is helping to transform their lives. Merry Christmas to all the donors and the BTA family in America.
A Child's Story (5)
This is a story about a nine-year-old girl in Class 4. She lives in Ngolala village with her widowed grandmother. Her father stays in another village called Jiminga, which is about eight miles from Mallory Jansen primary school. According to her story, her mother has separated from her father when she was a year old. Being an elderly man of sixty years, her father could not take care of her so her grandmother had to take care of her. When she grew old enough to attend school, her grandmother moved to Ngolala village to make sure she would start attending school.
This young lady was admitted into Mallory Jansen, where she has done very well academically. She is currently in the primary school. When asked how she is coping with her schoolwork, she says one of the reasons she is able to learn and focus is because the help she is getting through the food that is provided each day in school. Though she is not getting lunch from her grandmother, she feels happy when she is in school because she knows she will have a meal at midday.
She further went on to say that the BTA has nourished her body and makes her very strong and active in her class. In the morning, she walks for nearly half a mile to come to school with her friends. She is happy and says she wants to become a doctor after she completes Secondary School in the future.
She prays that God blesses those that are supplying the food for the poor children in Ngolala.