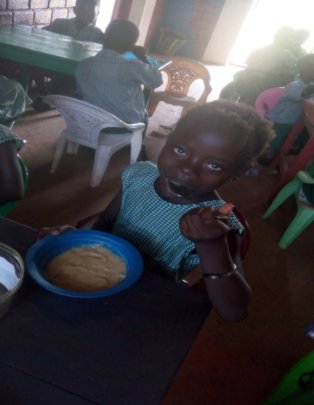 Warm and heartfelt greetings come your way from the over one thousand children whose lives you continue to impact and who appreciate you so much for your unwavering partnership and support over the years.
In times like this, when even the average Sierra Leonean struggles with the harsh economic conditions and bad weather conditions that have adversely affected the planting season and agricultural outputs, our children continue to come and work hard at school. They want to be in a position to affect positive and lasting change in their communities and know that an education can help to do this. Our children consider themselves very fortunate, thanks to BTA.
Recent test scores both within our school and for national exams have proven that our school outperforms much older schools within the Moyamba district because the BTA feeding program has further improved on the cognitive abilities of the children, improved health conditions, improved school attendance and increased academic performance.
We currently have thirty children in various universities in Sierra Leone all of whom were either in primary school or junior high school when the BTA started our school feeding program. The degrees range from Law, Engineering, Education, Development, Business Administration, Christian Ministry, Nursing and the like. One can say the future looks bright!
We thank and appreciate you for your patronage over the years to keep our children nourished and to have the resulting school statistics the way they are today.
Children's Stories
11 year old girl: She has five siblings and they live with their single mother in Ngolala Village, one of the remote villages in Upper Banta community, in the Southern province of Sierra Leone. They are a very cheerful family full of love and warmth. The mother as the bread winner in to subsistence farming whose income is barely enough to sustain the family despite her hard work (which is very typical of many rural women.)
Despite all of their effort, their income earned is too low to provide the family with all the basic necessities of life. So our 11 year old girl and two of her siblings depend on the BTA feeding program. This will continue into next year as it is very likely that early rains this year will adversely affect the planting season. When you ask this girl "How will you cope without farming this year?" She smiles and responds, "We have BTA which provides two meal for us every day."
10 year old boy: He is blind. "I was ok and woke up one morning with my eyes itching and then ended up blind. The cause is still not known." His father says to us: "I thank God for the feeding program as the children I have that are in school that are part of the BTA feeding program are staying healthy, focused in school, and educated. Without the food, life would have been unbearably difficult."