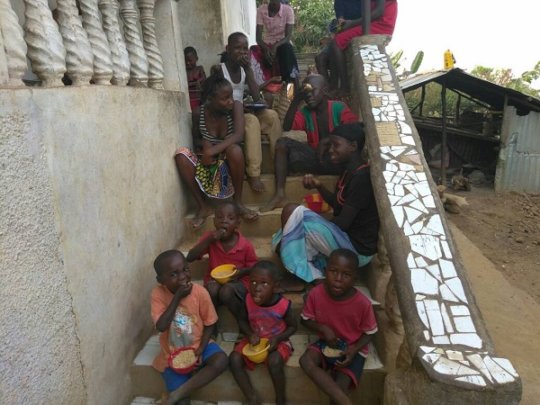 The Children:
Godly Seed schools are a fairly new addition to BTA's school feeding program and they report to us that BTA provided nourishment is making a great difference in the improvement of the children.
Children are regular and punctual in school. At first some children were not regular. Mothers sometimes ask their kids to stay home when there is nothing to give them for lunch.
But since the introduction of the BTA School feeding programme, the kids are hardly ever absent from except for serious reasons. And the community is getting involved to be sure this remains "the norm."
With BTA provided nourishment funding, we are able to adjust to provide basic health care needs. Like first and treatment, supply of routine vitamins, paracetamol and oral rehydration salt for the school. Kids that were seated home for minor ailments are no longer held by parents as they now depend on the school for their kids.
Indeed we are tracking weight gain and height.
A three year old girl who is the least in the school is weighting 32.5 and 38 inches in height.
An eleven year old girl is weighing 68.4 lbs,
A nine year old boy is weighing up 70.2 lbs.
A lot of changes have taken place
- increase in school going children
- improvement in the growth of the children
- improved health
- regular attendance
- livelihood
- active class participation
The Community
And the community is now very invovled. They began an initiative called "Sarah Mothers Club" and it came from the parents in appreciation to how their children are benefiting from BTA through Mrs Sarah Armstrong.
Through Mrs Sarah Armstrong, kids are feed every day with different menu, nursery kids (3-5 yrs.)
Drink milk every day in the morning before lunch, vitamins are given to the kids, first aid and other health care assessment like measuring the growth to determine the child body mass index. We also observe the children and note clinical signs of marasmus and kwashiorkor. Looking at all these facilities, the parents decided to show appreciation to Mrs Sarah Armstrong for the wonderful work that she is doing for their kids by coming together and formed a fan club called Sarah's Mothers Club. It started with mothers and now the fathers are also getting on board.
Mrs Sarah Armstrong is a mother of many nations.
We (Godly Seed Ministry) are appreciating you, this kids are appreciating you, and now the parents are also appreciating you.
Thanks you Mrs Sarah Armstrong
Thank you BTA donors!!!!
Thank you BTA.