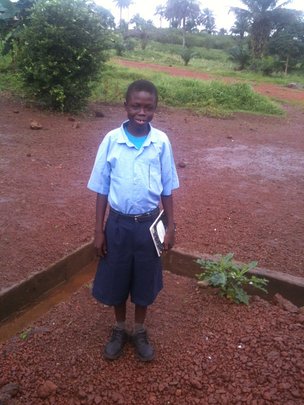 REPORT
The Education Department of COTN is very proud of the blessings of God and the supporters of funds for brighter tomorrow for Africa in the feeding program of our school at Banta mokelleh Chiefdom.
The current enrollment of the school is seven hundred and forty four pupils all benefiting from the B.T.A. These children who have been malnourished from their homes (villages) are now very active in school, this shows that there are enough meals for them and can improve on their learning to concentrate well in class hence they don't go with hunger to their villages anymore. With this, the B.T.A continues to play a meaningful role in the development of Education in COTN-SL schools despite the problems created by the ten year- war. The children and the Education Department is yearning for such opportunities to increase in the way of funding to enable the feeding capacity increase as the children in this part of the country have long been deprived of Educational facilities.
As God fearing children in their Holistic values, they are always praying and grateful for whatever help they can get to sustain their livelihood. Our prayers and goal is that the children you are supporting in feeding them daily at school will grow up to bring transformation in their nations. This is showing in their studies and the progress they are making in school. This year many children have a scoring grade of 50% to enable them to proceed to another stream/class. It is expected that some students are awaiting the N.P.S.E, B.E.C.E and the WASSCE which will soon be published by the West African Examination Council.
The enormous privilege they have to attend one of the best schools in this part of the country is making them very proud of their donors. They all expressed immense gratitude as these are reflecting on how far they have already made it in their past examinations in July 2012. 90 to 95% of the school population has gained promotion to a new class. This success is encouraging community parents to send more of their children to school as they have been long deprived of formal education in upper Banta chiefdom. The excitement and tension is increasing everyday to send their wards.
The chiefdom has been one of the most improvised and backward region with 49 villages densely populated with five (5) sections. The expectation now is would there be a continuation of B.T.A come September when school re-opened. Day and night they are praying for help and God's blessing to provide for the givers.
AN INTERVIEW WITH YUSIF KARGBO; LIFE BEFORE C.O.T.N & IN C.O.T.N
Yusif Kargbo is from a place called 'Tombo' around the peninsula of Freetown. The name of his father is Mr. Brima Kargbo and Mother Mariatu Kargbo; he has two sisters and a brother. His father died of (Malaria) in the year 2000, so he was left with his Mother, brother and sisters. The time he lost his dad, he found school boring because his mother can't care for all of their needs at the same time, especially for their school fees, school bags, school books, and school shoes and the basic necessities of life.
Fortunately for Yusif in the year 2002, he was chanced to come and joined the C.O.T.N family, with the blessings of God. He was five (5) years old when he entered the COTN home. When he came to the home, he was really surprise to find himself in another town far from his family.Yusif at first could not speak English, but now through the help of God and COTN, he can now speak better English and also he is happy.
He said he can sleep on a nice bed now, go to a good school which is our school here, the Mallory Jansen Memorial School, with school bag on, proper shoes, school books and also nice school uniform and three square meals a day. He also likes the house he is living in (good and structured house) he is now proud of knowing Jesus as his personal savior, learning the word of God everyday and also plays the drum at church. He is one of our most promising students in school. He just sat to his BECE (Basic Education Certificate Examination) and will be receiving his result to go to the next grade which is the 10th grade in October. Now Yusif can boast of someone who cares for him, and also especially he says, his sponsors who make him smile and know that there is someone who loves him.
Yusif is now proud of becoming a professional soccer player he says, because he likes playing soccer. Last of all Yusif is now thankful to God and COTN for having him join the COTN family with lots of privileges. Praise and thanks be to God for the life of Yusif. Story by: Emmanuel John Alpha.