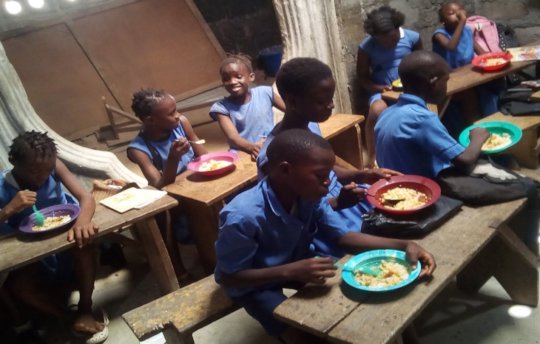 In many countries across the globe, there is a feeling that the pandemic is ending. Well, that's just not the case across many countries in sub-Saharan Africa including our beloved Sierra Leone. According to the World Health Organization, Reuters and other organizations, cases are going up. There are also very few vaccines available in Sierra Leone.
It is a situation that causes great concern for A Brighter Tomorrow for Africa and its supporters and we are determined to keep our programmes going. One example to share is Ben Hirsch School. Ben Hirsch has managed to establish a secondary school and vocational school for disadvantaged children and orphans which means we are able to reach more children with nutrition during this challenging time.
The school feeding of the orphans has made them very attentive in learning. BTA and partners have not just given these children food but have helped them in their social behaviours which are changing their lives. There are ten teachers and four social workers in this new location who are providing the support to the children as we provide the food.
Thank you for your continued support and we will keep you apprised of the pandemic situation and the progress we will make by continuing to keep our children nourished as they deal with continuing challenges.
The Connecting Destiny School is a school A Brighter Tomorrow for Africa (BTA) started supporting a few years ago when I was there and saw such a need. I had to respond. The school has been established for children who are quite young and are seriously under-supervised by their parents. They used to roam the streets of Freetown – the capital of Sierra Leone – but are now attending school each day at Connecting Destiny, thanks to funding from BTA.
This particular school in Freetown is now open after a very long break due to the COVID-19 pandemic. The aunties continue the use of the veronica bucket, soap, and sanitizers in observance of the Covid 19 protocols and very fortunately the health of all of the pupils and teachers is great. The children were all extremely excited to be back in school and some new pupils have joined the school and we had two new teachers as well since the number of students is growing.
BTA was providing food in a different manner when this school was closed but now the children are gathering for education and nourishment safely and securely. They are flourishing despite the very difficult times in which we are all living.
Connecting Destiny continues to express our gratitude to all BTA supporters for the feeding programme. The parents of all of the children are so very appreciative of this gesture and how we are able to efficiently and effectively address the needs of their children during COVID-19. Again-thank you for your support!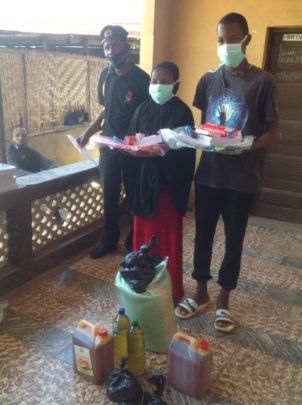 As is the case throughout the world, COVID-19 is having a terribly negative impact on the lives of Sierra Leoneans. There are now many children who have lost their parents to the pandemic and are now known as COVID-19 orphans. A Brighter Tomorrow for Africa is helping these children to survive.

We sent additional funding to Sierra Leone to feed these children and our funding was used to purchase:
bags of rice; bags of onions, cartons of Maggie; gallons of vegetable oil and gallons of palm oil.
We also provided: school bags; dozens of notebooks, pens, and pencils; sets of textbooks and uniforms. The children were also in need of these items which we were also able to provide bathing soap; laundry soap; face masks; vitamins and basic medicines.
Our beneficiaries have said that this program was timely and has been a lifesaving move to ease entrenched hardship of the neediest. Responses of recipients indicate a timely response and the Ministry of Social Welfare who supervised the process confirmed the inability of government to reach all their targeted beneficiaries. So, A Brighter Tomorrow for Africa needs to help. We need to fill these gaps.
Our plan is to extend the feeding program to these orphanages because majority of this children have resorted to be enrolled in this orphanage school. And we wish to say thank you for providing funding to help A Brighter Tomorrow expand its reach during this difficult time for Sierra Leone and the world.
WARNING: Javascript is currently disabled or is not available in your browser. GlobalGiving makes extensive use of Javascript and will not function properly with Javascript disabled.
Please enable Javascript
and refresh this page.