The Connecting Destiny School is a school A Brighter Tomorrow for Africa (BTA) started supporting a few years ago when I was there and saw such a need. I had to respond. The school has been established for children who are quite young and are seriously under-supervised by their parents. They used to roam the streets of Freetown – the capital of Sierra Leone – but are now attending school each day at Connecting Destiny, thanks to funding from BTA.
This particular school in Freetown is now open after a very long break due to the COVID-19 pandemic. The aunties continue the use of the veronica bucket, soap, and sanitizers in observance of the Covid 19 protocols and very fortunately the health of all of the pupils and teachers is great. The children were all extremely excited to be back in school and some new pupils have joined the school and we had two new teachers as well since the number of students is growing.
BTA was providing food in a different manner when this school was closed but now the children are gathering for education and nourishment safely and securely. They are flourishing despite the very difficult times in which we are all living.
Connecting Destiny continues to express our gratitude to all BTA supporters for the feeding programme. The parents of all of the children are so very appreciative of this gesture and how we are able to efficiently and effectively address the needs of their children during COVID-19. Again-thank you for your support!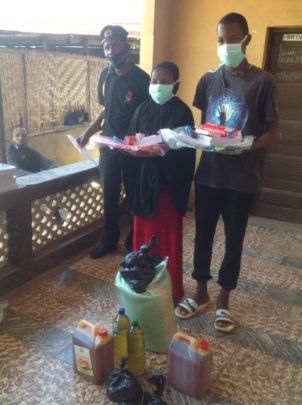 As is the case throughout the world, COVID-19 is having a terribly negative impact on the lives of Sierra Leoneans. There are now many children who have lost their parents to the pandemic and are now known as COVID-19 orphans. A Brighter Tomorrow for Africa is helping these children to survive.

We sent additional funding to Sierra Leone to feed these children and our funding was used to purchase:
bags of rice; bags of onions, cartons of Maggie; gallons of vegetable oil and gallons of palm oil.
We also provided: school bags; dozens of notebooks, pens, and pencils; sets of textbooks and uniforms. The children were also in need of these items which we were also able to provide bathing soap; laundry soap; face masks; vitamins and basic medicines.
Our beneficiaries have said that this program was timely and has been a lifesaving move to ease entrenched hardship of the neediest. Responses of recipients indicate a timely response and the Ministry of Social Welfare who supervised the process confirmed the inability of government to reach all their targeted beneficiaries. So, A Brighter Tomorrow for Africa needs to help. We need to fill these gaps.
Our plan is to extend the feeding program to these orphanages because majority of this children have resorted to be enrolled in this orphanage school. And we wish to say thank you for providing funding to help A Brighter Tomorrow expand its reach during this difficult time for Sierra Leone and the world.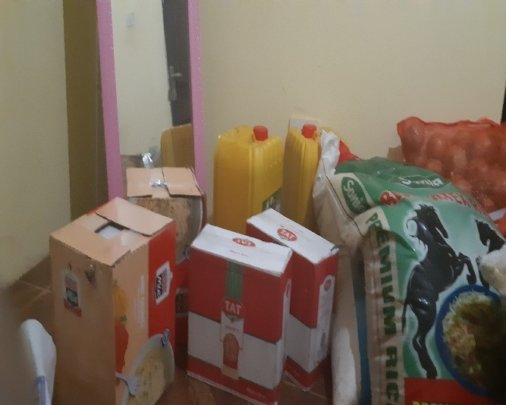 Like so many other countries around the globe, Sierra Leone has been hard hit by COVID-19. And, as is the case with so many other countries, the schools in Sierra Leone have been forced to close.
This was mandated in March and A Brighter Tomorrow for Africa Foundation (BTA) had to adjust. As we did during the times of Ebola when people were mandated to quarantine, we moved our feeding programmes out of the four schools in which we work and began sending food to the villages where the children live.
We've been delivering rations of food for the children's families to cook over the past few months and we've also sent over funding for masks and medical supplies to help combat COVID-19 in this extremely impoverished country without a true health system in place for responding to the pandemic.
Highlights we wish to share:
I am 13-year-old girl living in Ngolala old town. Presently, I am awaiting to take my National Primary School Exam after the COVID-19. I want to say thank you BTA for providing me with meals in my village during this time of crisis. I love you and I am praying that God will continue to bless you to support us.
I am a nine-year-old boy living in Ngolala junction, upper Banta Chiefdom Moyamba District. I was happy to receive food from BTA. This helps me a lot during the lockdown hours of the COVID-19 crisis in Sierra Leone. I enjoyed the food as my grandmother cooked it for me.
The COVID-19 scare is still on and as a result, the kids are at home and parents continue to appreciate the quality of food that is provided for the children by BTA.
BTA helped the schools to organize packages of lessons for the children weekly which the parents collect for them and return for the teachers to mark them so quality education continues.
The food has encouraged the children to concentrate on their studies and they are also educated on preventive measure on COVID-19 to keep them safe and well.
With the present situation, if children are hungry, concentrating on studies is not possible. The children therefore need food to concentrate and that is exactly what BTA is providing.
Thank you for your continued support as the world is a such a challenging place for all of us – particularly those in countries like Sierra Leone.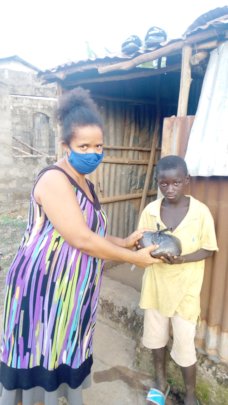 WARNING: Javascript is currently disabled or is not available in your browser. GlobalGiving makes extensive use of Javascript and will not function properly with Javascript disabled.
Please enable Javascript
and refresh this page.