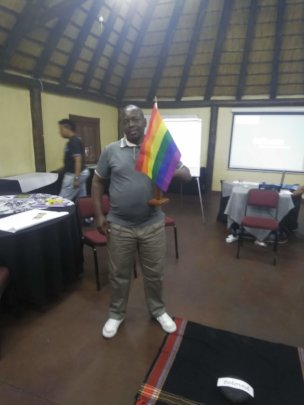 I would like to extend our gratitude to our supporters, friends, allies and well-wishers who stood with us and gave us the opportunity to write an LGBT history in Tanzania that will never fade
Today in an ideal world, all of us here would be doing something else. In an ideal world equality would be something given. It would be not be something we need to fight for. Sadly, we don't live in an ideal world. We're fighting for equality on a daily basis, wherever you're from. And I want to tell you that you are our ally in that struggle, on a daily basis. The work you've done in the last ten years is really impressive. Let`s celebrate the ten-year anniversary of LGBT Voice Tanzania. The organization has grown, enormously
This day is a time for all of us to reflect about the meaning, importance and need for human rights. It is an occasion for the government and people of Tanzania to re-commit themselves to the spirit and letter of the Universal Declaration of Human Rights to which we are a signatory.
It`s very sad that in this country LGBT people face prejudice and discrimination from their family, friends, and also from a wider society. The homophobia is still continuously causing extreme harm and disruption to people's lives, many LGBT people become homeless, lose their jobs , some are violently attacked on the street and some have been forced to flee this country and become refugees in other countries, and some of us who risk our lives face arbitrary arrests forced anal exams and dentations without
We started this struggle on the 27th September 2009 with one goal of fighting for dignity and Justice for all of us, which is especially important for the LGBT community in Tanzania particularly in the wake of increased government sponsored backlash and resistance, which have resulted in mass hateful uprisings, direct harassment, violence intended to silence activists advocating for the rights of lesbian, gay, bisexual and transgender in Tanzania. These violations deprive sexual minorities of the dignity and justice guaranteed to all peoples under the Universal Declaration on Human Rights and the Constitution of Tanzania.
As we celebrate ten years of existence , the LGBT community in Tanzania recommits to working towards a more inclusive and tolerant society that will ensure that every Tanzanian lives in peace and with dignity, regardless of sexual orientation or gender identity. We emphatically stress on this day that LGBT rights are human rights and not special rights.
LGBT VOICE stress that human rights as stipulated by the Universal Declaration on Human Rights are God-given and inherent. It is a violation of those God-given rights to witch-hunt LGBT individuals and makes us scapegoats for all the moral and social problems that the nation is contending with. It is a violation of our human rights to deny us the right to live peacefully and contribute to the social, economic, and political progress of our country. It is also a violation of our human rights to deny us the right to access appropriate health care and education, and force us to change from our God given sexual orientations and gender diversities.
In light of this the LGBT community denounces the government's complacent position and continued refusal to accord LGBT Tanzanians equal access to the human and civil rights every other Tanzanian is entitled to under the Constitution, and for continuing to make same sex relationships criminal.
It is LGBT VOICE`s fervent belief that the promotion of human dignity shall remain hollow unless we transform our social and political attitudes to eliminate hate and ensure tolerance for diversity.
May God bless Tanzanian and all the LGBT in Tanzania?