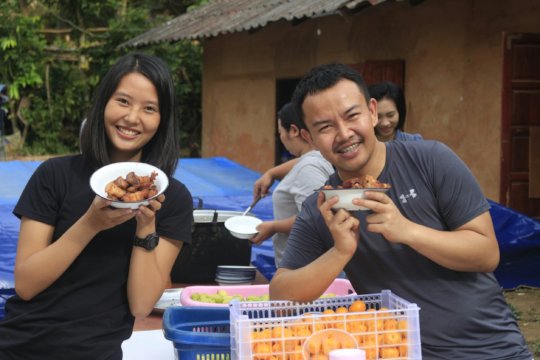 Dear Friends,
Volunteering has so many benefits for individuals, and communities. It broadens world views, builds relationships, can help with self-esteem and other positive impacts on mental health and well-being. It should be no surprise then, that we want to encourage a spirit of volunteering among our students. This year, we held a two day 'volunteer camp' for students in a village outside of the city.
Staff were worried that it might be hard to run the camp there. "The Freedom Story is one of the first organizations to go into this village because they've stopped accepting other organization's programming there. But an old staff member of ours lives there, so through our connections, we were able to build relationships and trust," explains Ball, our Activity and Scholarship Manager.
Thirty-three students aged 13-21 took the time to give back to their community. The staff mixed the students from The Freedom Story with students from the village, then organized them into groups, making sure the groups had a wide range of ages, from age 9 through university.
Older students and staff were then asked to lead different groups. They did various volunteering activities together, like planting trees.
The biggest highlight, however, was when students from The Freedom Story taught the students from the village about human trafficking, using knowledge they've gained through The Freedom Story's prevention programs. Because it was kids teaching kids, friends teaching friends, rather than staff teaching students, it had dual benefits for those teaching and those learning, Ball says.
Many children in this village don't go to school, and they have struggles similar to those of students at The Freedom Story. "It was very appropriate for the students. Whether it dealt with the potential dangers of working abroad, or with other kinds of trafficking" Ball explains. The students together put on skits about human trafficking for parents and guardians in the evening.
"The village leaders said they learned so much, and the kids learned a lot also. They said they hadn't learned about human trafficking in the past, how many different things it could look like… they were more than thankful that we went there," Ball says.
When asked about the highlight of the trip, Ball responded, "The important thing that we saw was the potential of the students that we are building up, and the leaders that we brought out there."
Camps like our volunteer camp help increase skills, give new experiences, and help students gain leadership skills and experience.
Your support has helped make this kind of camp possible. Thank you.
With Hope,
The Freedom Story Team