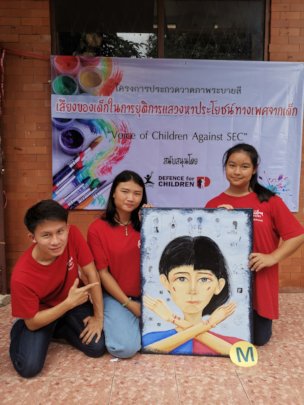 Dear Friends
This quarter, COVID-19 restrictions were eased in Thailand, and we were able to begin to conduct trainings and outreach with our community. We know that COVID-19 is putting those who are vulnerable even more at risk, and we are ensuring these communities have the support they need.
Together, we reached an incredible 1,047 at-risk people this quarter with information sessions on their various rights. Topics ranged from the right to sexual integrity to labor rights for migrant workers. We trained a group of women's village-level leaders on women's rights, family law, and labor law.
A group of our students won an award this quarter in an art competition held by ECPAT on the topic of "voice of children against sexual exploitation of children". Oom, one of the artists and our scholarship student, explained that she used the knowledge she's gained through trainings and workshops on human rights and anti-trafficking with The Freedom Story and combined it with the fine art skills from her vocational degree in art to do her best in the competition. She is incredibly proud of herself for winning the award.
Because of you, we are seeing otherwise marginalized groups rise up and advocate for their rights and the rights of others. This includes migrant workers who are very vulnerable to exploitation, students in our scholarship program, and women leaders. All of these groups would struggle to access information on their rights on their own.
Together we are seeing how knowledge and skills leads to empowerment, and empowered people are advocating for and claiming their rights. They are lodging complaints with the government, they are using creative means to raise awareness, and are teaching others with their new knowledge.
Thank you so much for your ongoing commitment to the prevention of child trafficking. We are so thankful to be doing this work together.
In Hope,
The Freedom Story