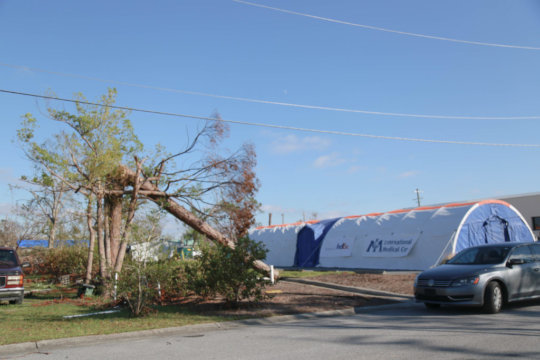 On October 10, 2018, Hurricane Michael struck the Florida panhandle with 155 mph winds and inflicted damage from Florida to Virginia. International Medical Corps worked with organizations like PanCare Health Network to provide healthcare services in Florida.
PanCare Health Network serves vulnerable populations at affordable prices. Sean, the Regional Operations Manager for Florida's PanCare Health Network, said that nobody expected Hurricane Michael to be so severe: "Jackson County has never seen in recorded history anything like this type of devastation—ever… So, we had lots of folks who survived the storm, but were displaced post-storm."
An estimated 80% of the PanCare patient population was affected by the storm, and the organization suffered nearly complete damage at two of their health facilities, in Marianna and Panama City.
With support from FedEx and AbbVie, and the GlobalGiving community, we deployed five emergency field hospital's shelters — with three still on the ground in Florida — so that PanCare's doctors, nurses and medical staff in Marianna and Panama City could continue to provide health and dental care for those most in need.
"We just want to make sure people get seen, people get taken care of. Because when they're worried about everything else, they shouldn't need to worry about, 'I'm out of insulin, or I'm out of blood pressure medicine, or I have this cut that looks infected'" Sean tells us. "What we're trying to do is… take care of these people. Try to keep our chins up… It's tough" he explains.
A lot of people have lost their jobs and money – they cannot afford a doctor or dentist. "They're so stressed out about everything," Ashley, another PanCare staff member explains. "Their house is gone, their car is gone… I had a lady whose cat died during the storm and she's just crying. Even if you're just going for a dental cleaning, it's a little bit of normalcy."
Thanks to our generous donors, and the GlobalGiving community, International Medical Corps has been actively working since the storm to support some 3,350 medical consultations.
We thank everyone at GlobalGiving for your constant support as we continue to support the relief, recovery and resiliency for survivors of natural disasters, like those of Hurricane Michael.