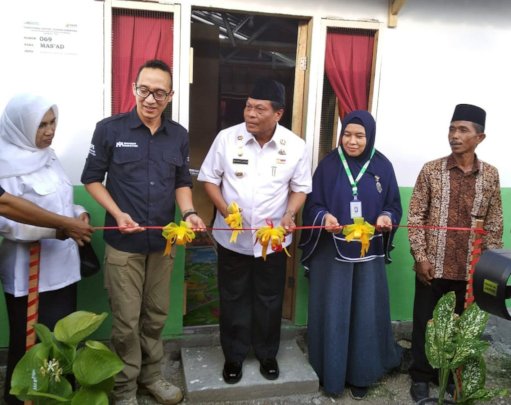 As International Medical Corps' emergency response to the Central Sulawesi and Sunda Strait earthquakes and tsunamis have come to a close, this will be the final report. Thanks to the support of the GlobalGiving community and other generous donors, our team has ensured access to safe water, sanitation and hygiene; shelter; and mental health and psychosocial support for more than 8,600 men, women and children in Central Sulawesi.
To continue supporting International Medical Corps and our GlobalGiving projects, please visit our "Emergency Response to Hurricane Dorian." Hurricane Dorian did not head straight to Florida as was originally expected, but — as a Category 5 storm packing sustained winds of 185mph and gusts of 220 mph — stalled over the northwest Bahamas, causing widespread devastation and loss of life. In response, International Medical Corps has sent an emergency response team to Nassau to support the Government of the Bahamas and local partners to assess how best to serve those affected by the hurricane.
https://www.globalgiving.org/projects/emergency-response-to-hurricane-dorian/
The Importance of Partners
Emergency responses, such as the earthquakes and tsunamis in Indonesia, are complex processes that involve many parties. "In Indonesia, a country hit regularly by natural disasters, there is a well-defined system for how government and non-governmental organizations (NGOs) respond to emergencies, work together through recovery, and support long-term development efforts," says Chandra, Program Officer for International Medical Corps.
Yogi, the Country Representative for International Medical Corps Indonesia, explains that "timing and accuracy are key to an ethical and effective response." Our on-the-ground teams aim to be the first there, no matter where the disaster. However, "no institution has the ability to map every need of a community after a disaster," says Yogi. He continues, "working with partners, therefore, becomes the best medium for exchanging information so that all parties can obtain complete information and can plan their operations appropriately, without overlapping or gaps in the field."
Right after the earthquakes and tsunamis, "our teams collected initial information about local organizations participating in the response for Central Sulawesi," and found three local NGOs whose missions and goals aligned with ours. The organizations were all local humanitarian organizations that had previously worked within disaster response: Yayasan Kemanusiaan Muslim Indonesia (YKMI), KUN Humanity System (KUN), and Indonesia Bhadra Utama Foundation (IBU).
Two of the organizations, YKMI and KUN, were known for working in agriculture, environment, water, sanitation, hygiene, and livelihoods, and they worked with our teams to train community members on hygiene and construct 137 shelters. The third local partner, IBU, worked with us in three villages to provide psychosocial support services to more than 1,200 children and 575 caregivers who survived the disaster.
"Our partners are key to the sustainability of initiatives and, long after the projects end, our local partners retain the skills and ability for an effective, high quality response to the next disaster," says Chandra. Working with partners makes our teams more effective. She continues with, "our local partners bring linguistic, cultural, contextual knowledge enabling rapid and scalable emergency response. The technical acumen and skill building we bring supports high-quality response efforts, as well as long-term development goals."
Yogi told us that working with our partners reminded him of himself: "I started my career a dozen years ago as a young, energetic man full of passion, idealism, enthusiasm, and thirsting for knowledge, but I still needed to get further guidance and experience." Yogi believes that by partnering with local organizations, our experts are both gaining knowledge from local communities, and leaving knowledge and skills behind so that they can become their own first responders.
We thank the GlobalGiving community for helping make it possible for our teams to help train communities to become their own first responders, both in Indonesia and worldwide.