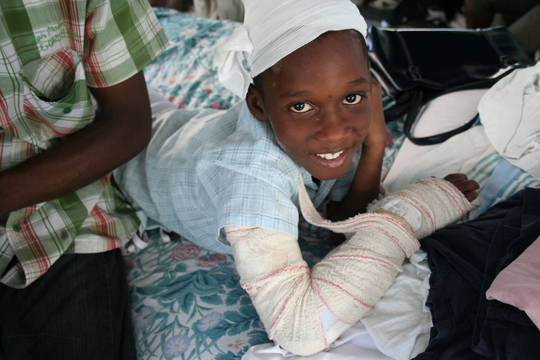 Our team is currently providing medical care via mobile clinics in nine geographic regions, including Petit-Goâve, Grande Goave, Petionville, Boloise, Carrefour, Jacmal, and Gressier, Leogane, and Miragoane. We are also working in one hospital and two static clinics.
Hôpital de l'Université d'État d'Haiti
The team is providing medical care at the 700-bed general hospital near the Presidential Palace, the Hôpital de l'Université d'État d'Haiti. Our physicians and nurses are working together with other nongovernmental organizations that have joined us in the hospital. We have established eight basic emergency operating rooms, and are currently providing medical supplies for the hospital.
Doctors and nurses are currently performing 30-50 surgeries and treating approximately 250 patients at the hospital daily. By request of the hospital administration, International Medical Corps is organizing triage and acute treatment of new patients. The acute triage center has seen over 240 new patients in last three days, and is receiving patients from outside clinics via a newly-established ambulance service. The hospital is partially intact structurally and about half of the buildings are currently in use.
International Medical Corps physicians assisted in significant reorganization of the hospital including establishing the first inpatient/post-operative unit in Port-au-Prince post-earthquake. Under International Medical Corps' guidance, patient management and flow has recently improved and the hospital is now able to accept referrals (and is perhaps the only hospital accepting referrals right now which can provide overnight care).
Other hospital wards opened including medical/surgical and post-operative, and the hospital now provides for 24-hour care with 45 patients in the in-patient ward and another in-patient ward opening shortly. Electricity and water are available in some areas of the hospital. However, there are no laboratory or x-ray services, and the hospital is in the process of establishing a cold chain. Ultimately, the hospital will need reconstruction and refurbishment.
International Medical Corps is prioritizing the return of national staff, as very few have returned. We have also led a tetanus immunization program on the hospital campus and vaccinated over 300 people.
At the Marcel Cline Psychiatric hospital attached to Hôpital de l'Université d'État d'Haiti, there are now 7 male and 3 female in-patients. Pre-earthquake, the hospital had 50 male and 30 female patients residing there. There is currently no food supply. Approximately 250 people are camping on the grounds, of which 30 are psychiatric patients. International Medical Corps delivered psychiatric drugs and distributed guidelines to the hospital and the Ministry of Public Health. We have deployed two psychiatrists, including our Senior Mental Health Advisor. International Medical Corps places a special emphasis on mental health during emergencies.
Mobile Clinics and Field Sites: Reaching the Underserved
• Petit-Goâve: International Medical Corps is serving a population of 2,500 people in this area, where 100% of homes have been destroyed. Until now, no assistance has been delivered. People lack latrines and a safe water source. We are delivering basic health units to two clinics and a hospital. We are providing medical services at another hospital. Many people have fled the destroyed areas to settle with family in the mountains, placing additional strain on infrastructure and services. • Boloise: International Medical Corps has treated 100 patients for trauma, malaria and communicable diseases. Four camps of displaced people numbering approximately 20,000 lack any medical care and have limited access to latrines and sanitation. • Jacmel: We are supporting and treating patients at a local hospital. Despite access to emergency medical care, the area lacks general public health care. • Gressier: Operating out of a previously abandoned health clinic, the team has treated 80 people for trauma, malaria, and fractures, and immunized 100 people against tetanus. We see approximately 53 people per day. International Medical Corps is also identifying local health care workers. • Carrefour: International Medical Corps saw 70 patients and gave 150 tetanus vaccinations through the clinic. Approximately three-quarters of the community are homeless. We are working with a number of organizational partners to provide care and address the need for latrines. In addition, International Medical Corps liaising with local Haitian doctors and providing follow-up care for patients. The communities in camps have mobilized to support our team for logistics and security issues. • Country Club, Petionville: International Medical Corps is establishing a clinic for a spontaneous settlement of 20,000 people. We have also identified another four small clinics run by the local community where we will provide supplies and medical staff.
Building Capacity in the Midst of Emergencies
Going forward, International Medical Corps will build capacity in Haiti's health care system through delivering medical services, training local health workers, providing administrative support to the health care system, and rehabilitating health facilities. Already the team has improved the management and administration of the Hopital De l' Universite d'Etat d'Haiti, and local Haitian medical students were trained by our team to help triage incoming patients. International Medical Corps will continue to support health posts and clinics in underserved areas through rehabilitating,