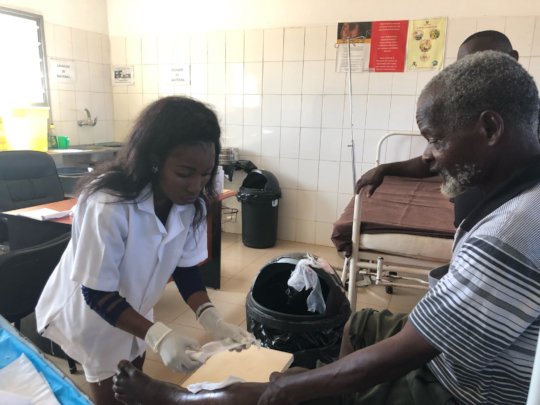 As International Medical Corps' emergency response to the Cyclone Idai has come to a close, this will be the final report. Thanks to the support of the GlobalGiving community and other generous donors, our team has supported access to safe water, sanitation and hygiene; healthcare; and mental health and psychosocial support for approximately 122,300 men, women and children in Sofala Province.
To continue supporting International Medical Corps and our GlobalGiving projects, please visit our "Emergency Response to Hurricane Dorian." Hurricane Dorian stalled over the Bahamas as a Category 5 storm, packing sustained winds of 185 mph and gusts of 220 mph and causing widespread devastation and loss of life. More than 1,000 people are still missing and at least 53 people have been killed. In response, International Medical Corps' teams are addressing the Government of the Bahamas' priorities in the areas of health, water, sanitation and hygiene, and mental health.
https://www.globalgiving.org/projects/emergency-response-to-hurricane-dorian/
The Tree of Life
On March 14 and 15, Tropical Cyclone Idai, with maximum sustained winds of 130 mph, made landfall near Beira City, Sofala Province, in central Mozambique. The devastating storm left approximately 1.85 million people in need of assistance. Cyclone Idai wiped out roads, bridges and other critical infrastructure in its path, while high winds damaged or destroyed countless homes and buildings — including health centers and hospitals. Moreover, the heavy rains and flooding that continued even after Cyclone Idai made landfall increased the risk of water-borne and vector-borne diseases, including cholera. By May 5, the Government of Mozambique had confirmed 6,739 cases of cholera in Sofala Province.
International Medical Corps worked with our local partner, Esmabama, to reach approximately 80 communities whose access to medical care and support was cut-off due to the damage from Cyclone Idai. During our outreach to one of the communities close to Estaquinha, located in the Buzi district of central Mozambique, we met a woman named Ines. Ines told our teams that she does not know her exact age.
When the flooding came as a result of Cyclone Idai, she grabbed her five grandchildren and ran to reach a safe place with higher ground. The flooding kept coming, so they eventually climbed a mango tree and stayed there for five days. To stay in the tree, Ines removed most of her clothing and tied her grandchildren to the branches of the mango tree because she knew they could not stay awake.
When food floated past in the flood water, Ines and others climbed down and hung themselves from the branches to reach for it. Some people fell into the water and were swept away. She would later look for the bodies of those people.
When Ines and the children finally came down from the tree, once the flood waters receded, she knew the only resource she could hope for was the Estaquinha Health Center. After making their way to the health center, their skin infections, diarrhea and injuries from being among the branches and exposed to the flood water were all treated. Ines is extremely grateful for the care that she and her family received, especially because the area is so remote.
We thank the GlobalGiving community and other donors for supporting our work providing care wherever, and whenever, it is needed after disasters and during emergencies.