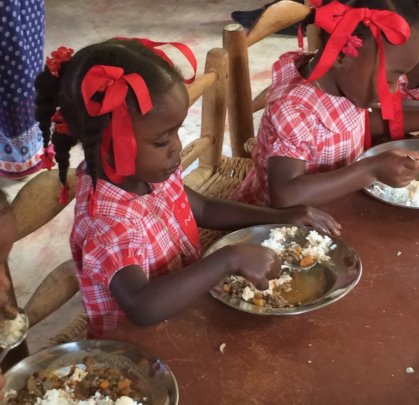 Dear Friend of the Haiti Goat Project,
Greetings! First of all, I would like to thank you again for supporting the Haiti Goat Project as we work to improve child nutrition and promote local agricultural development in Haiti.
The Haiti Goat Project accomplishes this goal through our two major programmatic efforts, our Farm-to-Fork program and our Genetic Improvement of Goats program.
In our Farm-to-Fork program, we serve Chili Kabrit, a nutritious goat meat-vegetable chili, to 675 pre-K through 6th grade children weekly in three rural schools in the greater Gressier area. Because of your support during the GlobalGiving campaign, we will be able to expand our Chili Kabrit service to include the preK and kindergarten children at a fourth school in the Gressier area during the 2019-2020 school year. This means we will be able to serve Chili Kabrit to 850 children on a weekly basis. Thank you so very much!!! Having high-quality, nutritious meals at school will help these children reach their full developmental potential and improve their chances of having a productive future. Pictured above and below are two of the very children you are providing Chili Kabrit meals for. Again, thank you for choosing to help these little ones.
By choosing to help these children, however, please understand that you are also directly helping livestock producers and vegetable farmers (and their families) in the Gressier community because all of the inputs for Chili Kabrit meals are purchased from local sources. In fact, during the months of the current GlobalGiving campaign (March to May), the Haiti Goat Project has infused over $6,120 directly into the local agricultural community for the purchase of goats and vegetables needed to produce the Chili Kabrit meals served.
In addition to the Farm-to-Fork Program, we also support local agriculture through our Genetic Improvement of Goats program. In this program we maintain a herd of about 80 goats that are used to produce high-quality breeding animals that are distributed to improve the quality and productivity of goats in communities throughout Haiti. Pictured below is Florentine and his HGP buck named 'Billy' who was purchased for Florentine's community. Florentine lives in eastern Haiti and the buck he manages is used to breed does (female goats) owned by families in his community. This is exciting evidence that our genetics program is working to distribute high quality breeding goats across the country in order to maximize profits for farmers and their families.
Again, thank you very much for your willingness to support this project. Please know that you are truly making a difference in the lives of many Haitian children and Haitian farm families.
With warmest regards,
Char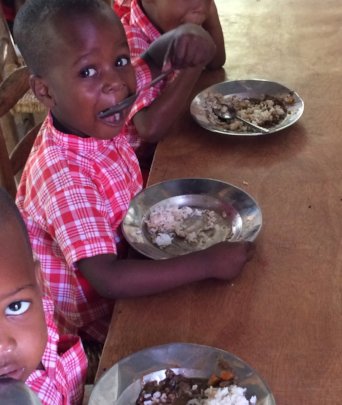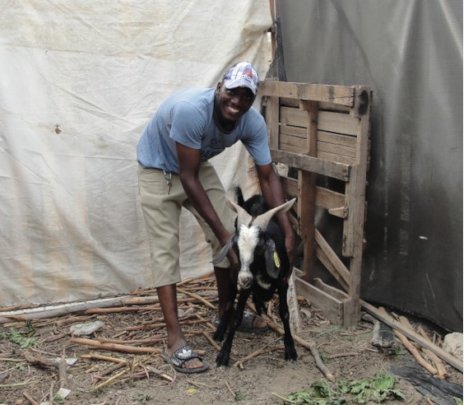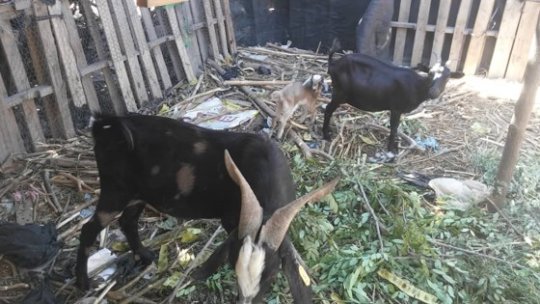 Links: