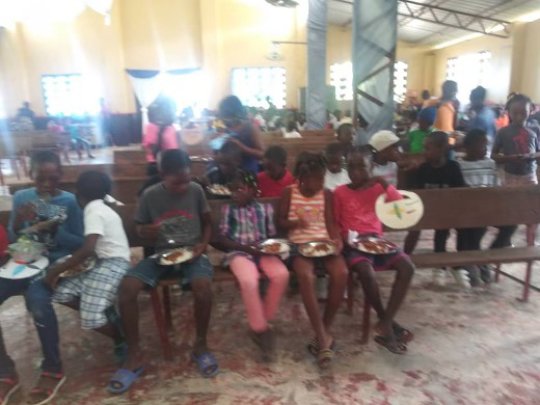 Dear Friends of the Haiti Goat Project,
Greetings! It is our hope that your family, friends and loved ones are happy and healthy.
Thank you so very much for your continuing support of the Haiti Goat Project. It has been a busy time since our last report at the start of the summer.
Since we've last touched base two major events occurred in Haitii....the assasination of President Jovenel Moise on July 7th, 2021 and then the 7.2 magnitude earthquake that occurred on August 14th, 2021. Despite these tremendous challenges, the people of Haiti are working together to bring their country forward and our team in Gressier is working hard to help their neighbors in need.
The presidental assination resulted in a temporary closure of the international airport but as the situation began to stabliize, the airport reopened soon after. This was a tremendous aid for our project as we were able to still send a shipment of 15 cartons of supplies for both our Goat Genetic Improvement and Farm-to-Fork programs to the team in Gressier. In fact, it only took about 4 weeks for the supplies to arrive which, amazingly, was record time. Our team on the ground in Gressier was also able to provide Chili Kabrit meals to about 300 children who attended a week-long summer session during July, despite all of the political upheaval.
The earthquake of August 14th occurred near the city of Les Cayes which is on the southern portion of the lower peninsula. The two major cities that were impacted were Jeremie (located at the southern tip of the southern peninsula) and Les Cayes (located on the southern portion of the southern peninsula about 1/3 distance eastward of Jeremie) as well as all of the smaller towns and villages in between.
Our operations in Gressier were not directly impacted; however, our operations manager traveled to Les Cayes to see if there is something that could be done to provide assistance. One of the immediate needs was a request for meals for families that had lost their homes. Because the HGP team has facilities available to produce large numbers of meals, the HGP collaborated with several partner organizations to deliver Chili Kabrit meals to people in the vicinity of Les Cayes. Since August 23rd, 840 Chili Kabrit meals have been prepared and delivered each week to folks in the communities around Les Cayes so they can at least have a warm and healthly goat-meat vegetable meal as they deal with all of the challenges they are facing.
Delivering meals may be a small item but for those who receives them, hopefully, it is still helpful and, at the very least, they know there are neighbors who care.
Although this isn't the typical Haiti Goat Project report, we wanted you to know that the Haiti Goat Project team is working to support Haitian families in their community, not only through our usual programs of livestock genetic improvement and provision of school lunches to malnourished children but also through the purchase of local inputs to prepare the Chili Kabrit meals and, most recently, deliver emergency meals to neighbors in need.
None of this work can be done without your support. We can't tell you enough how important a member of our team you are. Once again, thank you so very, very much.
With warmest regards,
Char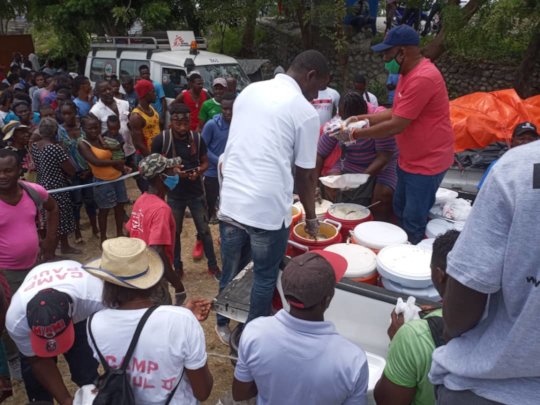 Links: