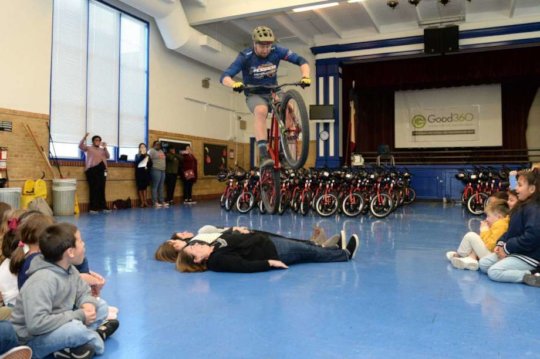 Since 2017, Can'd Aid has had a continued presence in Texas, providing a holistic approach to disaster response and recovery, based on community requests and needs.
When Hurricane Harvey struck, Can'd Aid partnered with several on the ground organizations, HEB, Catholic Charities and All Hands and Hearts, to donate and distribute 250,000 cans of drinking water to homeowners, small businesses and first responders in Houston, Corpus Christi and Beaumont, Texas. Concurrently, we partnered with All Hands and Hearts to help disaster-stricken individuals muck and gut homes by supplying several Can'd Aid volunteer teams. Can'd Aid worked with All Hands and Hearts to host an inclusive community dinner party to help lift up the community. The feedback from homeowners and small business owners in the region who attended was overwhelmingly positive as the party provided an opportunity for people to come together and gain strength from one another. Just one evening of "normalcy" had a positive impact and reminded those affected by disaster that kindness and connectivity is essential for human beings to thrive.
In 2019, Can'd Aid initiated new programming to help continue recovery efforts from Hurricane Harvey. While two years in, many communities were still struggling to recover.
Natural disasters cause community-wide trauma that have lasting impact on residents long after the rains subside, the wind settles, and the media trucks move on. For children, these events are even more devastating and frightening. Many children develop serious symptoms of anxiety, depression, and PTSD. Getting back to a regular routine in safe and familiar schools can help children struggling with the aftereffects of natural disasters. The work required to repair schools and ready them for students' re-entry is costly and challenging after disasters, especially given their already taxed budgets.
We are grateful for our partners and donors who helped fuel over 500 volunteer hours. Volunteers came together to build and donate over 500 bikes and skateboards for grade 1st and 3rd graders, 4 schools received brand new instruments with accompanying in-person or virtual workshops/lessons from nationally touring professional musicians, and volunteers cleaned up 2 rivers, damaged from Hurricane Harvey. Thank you GlobalGiving, Good360, Airbnb and hundreds of individual donors.
Links: