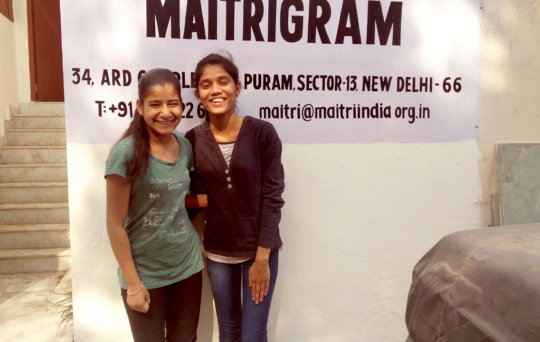 Dear Maitri Friend,
It has been an exciting quarter for our Afterschool Programme. We bring you highlights and recent update on the project.
A Beautiful Friendship
We noticed a beautiful friendship spark between Shivani and Antima. They are students of class 8th and both are at the top of their classes. Antima, studies in the Vidhanchand School, while Shivani is in N.D.M.C School. Antima wants to become a journalist and Shivani a pilot. They met in Maitri's School and developed a great friendship. Both of them have siblings, also studying at Maitri School. Their fathers work in private companies. While their fathers are away for work, their mothers work as housemaids.
Antima and Shivani, though in their teens, are often told by their moms to cook food for the family and clean the house. Despite their parents not having had the advantage of education, they appreciate and value it and motivate them to "Study hard" though unfortunately Shivani's mother sometimes adds "unless you want to end up just like me, cleaning in the houses". When one of them has too many house chores to finish, the other one always comes to the rescue. This is how they take time out for ther chitchat where they talk about their favorite things and big aspirations.
Antima and Shivani have a healthy competition with each other in their academics.
Maitri School provides afterschool classes to community children studying from class 1st to 10th. There are more than 100 children studying in Maitri Schools. Maitri School is a supportive education school, where children from the slum communities who go to state Government schools and thereafter come to Maitri for enhancement and problem solving. Maitri School has been established with the aim of providing a platform for slum children to be at par with children from other schools, compete and ensure zero drop out rate while giving them skills and opportunities to learn new sporting activities. Students from the slums have a challenge of space at their home and may not be able to concentrate as much as they would like, Maitri provides that space and motivation.
New Facility for Maitri School
Our children now have a new school building. They are super excited to have moved into a new building with a lot of windows and light. Children from junior classes have to sit on the floor as we do not have furniture for the class due to paucity of funds. Presently they sit on jute mats. Middle and senior classes have the old furniture, which will also be changed as we get funds. Since we have more space for extra curricular activities, we are going to get Hoola hoop, football, step and jump ladders and many more other fun games to ensure flexibility, balance, team spirit etc. We also shall be getting teachers to engage them in English speaking, as it's a necessity in today's world for employability. Books, exercise copies, art supplies, we need to get them on regular basis to give the children an ongoing edge in their education and creative. Maitri proposes to establish a library for the children, so that the habit of reading can be inculcated in the children from an early age.
Dr. Ulf Kristoffersson, patron of Maitri, has initiated a scholarship for girl child and as a starter; he has committed scholarship of $100 each for two meritorious girls every year. Thank you Dr. Kristoffersson. We welcome our supporters to also participate in sponsoring a girl's education for a year.
Christmas celebrations and gifts
Christmas 2016 was very special for the children at Maitri. On 23rd December 2016 Christmas celebration was organised at the school. Children were given the freedom and resources to decorate the school as per their imagination. They also put up an interesting play to mark the birth of Christ. Since the children, have started engaging in different sports activities, one of our donors chose to gift all the children sports shoes along with treats.
In the spirit of giving and being thoughtful about others, children were encouraged to express their feelings of appreciation for their families and friends. Happy faces of children showed their sense of gratitude.
Frisbee Team completes five months of Training
Ultimate Frisbee was introduced to the community children five months back, to build confidence, trust and leadership. We are happy to let you know, it has broken gender barriers, boys and girls they participate in the same team without inhibition. 15 students have progressed to the advanced level. They have been exposed at the competitive level to play with professional players and we look forward to them playing professionally.
Annual Examination
Annual examinations have started and preparation is in full swing. Children are motivated and working towards each exam without stress. Our aim is to support them with their problem solving abilities without any stress and tension. We are confident our students will do well and come out with flying colours. We wish them all the best.
New Teacher for A.R.D. Centre
It is our aim to provide the best of education to the community children hence we try to have a good teaching staff for the same. I am sure you can appreciate the challenge to hire good staff who can deliver quality education. Funding remains the biggest challenge.
I would like to thank you once again for your support. We greatly appreciate your kind thoughts and words.