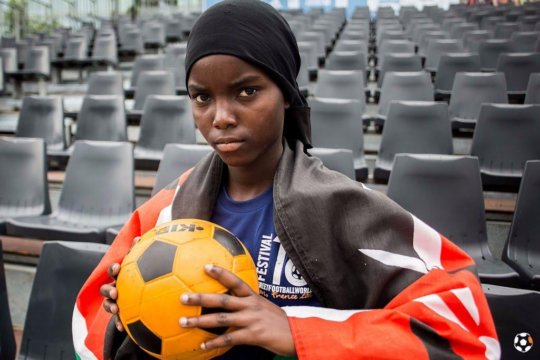 This was just the begining of my tough journey into getting the girls to stay in school, but for the two girls Kula and Hilda it is beyond the game. It is helping them stay in school and also perform in their schools.
"When I joined HODI in 2013, my mother told me I couldn't play. Sometimes she even locked me up in the house, scolded me and even beat me to stop me from going. Or when I sneaked out and she found out, she would come to the field and drag me out and scold the coach. She said football wasn't proper, that it isn't for girls," says the 15yrs old Hilda, one of the members of the girl's teams.
Kula, 16, adds: "My family refused to let me play at first. I was told that it was against my religion and culture for a girl to play. . But I love football because other than the game, I have learnt other things that have made me a better person, mostly things about being a good girl," she says.
As HODI we are using football to break the silence on issues of early marriage; FGM, beading and dropping out of school. They learn how to use their voice and stand up for theselves and say NO. This is a major shift from a culture where girls can only be seen and not heard. Your donation has supported the lifeskills training which are very important in keeping the girls out of early marriage. You have hlped break the cycle of violence, at 15 and 16 they are just young teenagers who should be home with their parents and in school studying. Unlike the 2 girls most girls face the danger of marriage as early as 12 years.
It is not an easy journey but it takes a team to win a game; you have all made a commitment to help break the silence on issues that affect the girls; as individuals and other funders they now have a future, your donations help train them on life skills and pay school fees for the girls.
One girl will need almost $2,400 to be able to complete her 4 academic years. The cost also includes supply of sanitary pads and lifeskills training. While we have managed to put a few of the girls in schooll ours is a bigger dream and we would like to get more girls transition to high school and go on to college! We will keep you posted as we take one step at a time.
It is already past midnight in Kenya and time for me to take some rest!
Links:
With the $20 raised so far, we have managed to buy sanitary towels for one girl at one of our local high schools for the 2nd term of the 2016 school calendar.
While it is still early in the fundraising for this project, at least one girl has now been a beneficiary of this project and will be supported with necessities such as personal effects as soon as extra donations come through.
Thank you for the gift of sanitary towels for one girl. This will help her feel confident and concentrate on her studies for 3 months of the school calendar.
Links: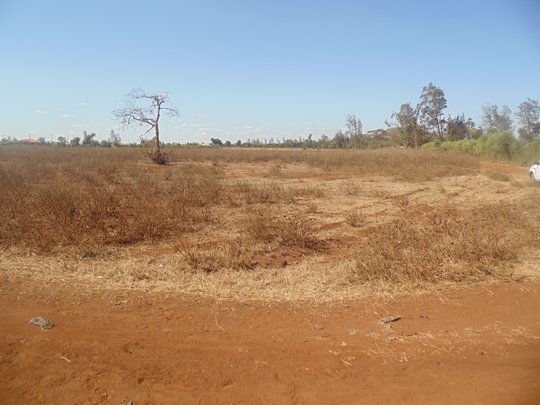 Marsabit County in Northern Kenya, which is afflicted by tribal conflicts and in the recent past we have seen the conflict escalate further and further. The clashes have left a trail of destruction which includes human death, destruction of properties, human displacement, trauma and psychological disturbance Children have not been spared either some lost their dear life; schools were destroyed and learning came to a halt. As HODI we use football as a tool for social change under our program of Shoot to Score not to Kill we engage the youths not to take up guns and kill each other. Ours is a proactive engagement of the children to help break away from the cycle of violence. We play home and away football games and experience the 'enemy tribe' first hand and help the children form an independent decision. Our children are trained as peace ambassadors equipped with skills of conflict transformation and how to deal with violence at personal level. They learn about fair play and the reward for it both as individual and as a team and that violence has no benefit to them. The project continues to benefit over 1000 children armed with guns and hatred for other tribes as a neutral safe space where Football replaces the gun, battle field is replaced by Peace Field, while the Peace Ambassadors replace fierce warriors. Also a safe space for young girls rescued from marriages, early pregnancies and drop outs from school. The initiative has seen girls break the silence on other issues among them FGM, Early Marriage and Early pregnancies.
One young boy reckoned 'ohhh I don't have to be scared of the motorbikes crossing the field of play it is safe now and I can just play'.
The Children in HODI are overjoyed as they set foot on the HODI Peace Field, the joy cannot be hidden and most were grateful we now have a space to call our own.
It is a new dawn, we are over joyed with the new developments and each of you helped us take this step. In October 2014 we acquired the Title Deed for the land on which HODI Peace Center will STAND. You have not only given us the space for children to play but also a safe space where they can transform to be non-violent and learn about resolving conflict and peaceful coexistence. We owe the HODI Peace Field to each of you for your individual contributions, for inviting your family and friends to contribute. Our gratitude also goes out to The Pam Dahlgren Hope through Education Award for education by FAWCO and Stuttgart Peace Award.
While we have the Peace field and a safe space for children to play, our DREAM is to build an even safer and bigger house that will be the HODI Peace Center. It will be big enough to house the girls saved from early forced marriages; big enough to train peace ambassadors. As HODI we will definately keep you posted on the progress of this project, with each step of the way.
In the meantime, time to go and clear the bushes in the Peace Field!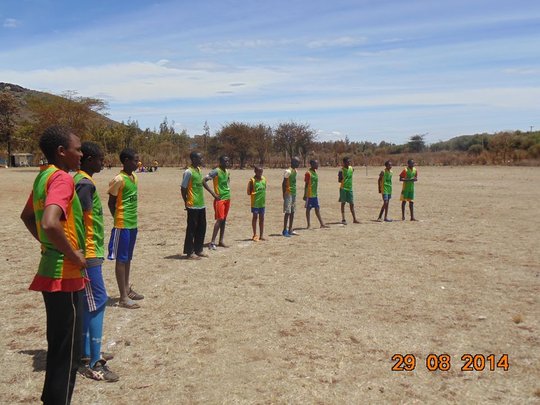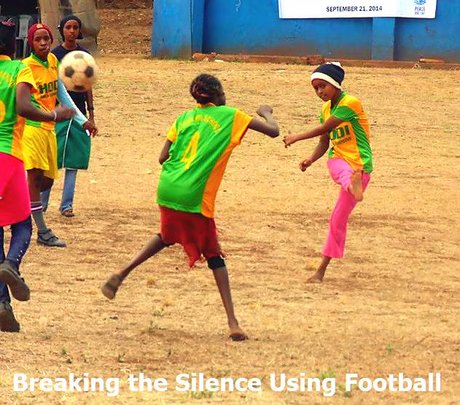 Links:
WARNING: Javascript is currently disabled or is not available in your browser. GlobalGiving makes extensive use of Javascript and will not function properly with Javascript disabled.
Please enable Javascript
and refresh this page.