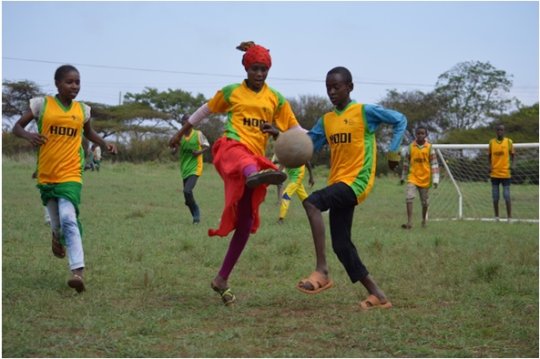 Imagine a future where all girls have a choice and a voice? where nothing or no barriers limit her.
Let me share with you the story of a natural born-leader and athlete, the young girl is a formidable sprinter and keen footballer but all this would have been just dreams.
Having been a timid girl as a young child, she took up an interest in sport after HODI initiated girls football and led her team to win the first football tournament they entered, despite them having no coach and no teacher to lead them. She became the coach, player and goal scorer. Standing on the sideline and watching this young girl scream for the ball, guide her team to a win is a confirmation of the power of HODI's work.
It is possible to make change happen, it is actually affirms that girls and women can have a voice and a choice. Since playing for her school she has initiated peer education sessions where she works with 40 girls on weekly basis, courageously breaking the silence on FGM, early marriage and beading. She is a now a champion for herself and other girls like her who would otherwise be mothers at the tender age of 12/13 years.
At her school we work with the teachers to ensure quality education is delivered, while at home the parents are encouraged to be involved in the education of their children. Having lost her father at a young age, imagine being urged by her siblings to give up on sport and instead follow a traditional pathway. She would have dropped out of school ready for marriage instead she is pursuing high school education with your support, she has defied culture and tradition.
I am lucky to be in school and truly the support will help me clear my education and focus on what I want to be in future said the young girl. With your support you made this possible and changed not just the life of one girl but 40 others she is working with through breaking the silence sessions.
Many Kenyans are so tired with a long day full of celebrations, the country just turned 54 years. Changing the life of one girl is worth a celebration and we want to thank you for your donations. Hoping to catch up with you soon and together we champion for the girls!
Links: