Hello once again, friends and supporters of Camino Verde.
Once again I am pleased to report that we are nearing the $20k fundraising landmark for our project "Planting 1000 trees, Saving 100 acres." As you may remember, the project's immediate goals have been completed: we planted 1000 trees as part of our Living Seed Bank by March, and just last month in May we completed the legal paperwork in acquiring 100 more acres of rainforest to be preserved in perpetuity. Thank you (!!) for helping us to make this possible.
You may also remember that we expanded the project – and its fundraising goals – to include the creation of an on-site plant nursery. We are very happy to announce that we are also being supported by the Marjorie Grant Whiting Center towards the completion of this goal by mid 2012.
And now, with our sights set on fully funding this project, we have expanded once again. The project's budget now stands at $30,000 and the duration for the project has been expanded to 2 years. And our goals of course have expanded to keep pace: funding we receive from here on out will go to our next thousand trees, which we will start planting when the rains return in November. Some of these trees will be planted in a deforested area of the land we were able to purchase through your support!
Thank you once again for your help. We are very excited to be growing along with our trees.
Friends,
A few pieces of news for our carbon offsetting project...
1. The name has changed: now look for "Carbon offsets by agricultural charcoal (biochar)" as "Turning carbon footprints into healthy soils." And, it's moved:
http://globalgiving.org/projects/turning-carbon-footprints-into-healthy-soils
2. The project works like this: Every time we get to a $500 donation landmark ($500, $1000, $1500, etc.) we move into action dissolving carbon footprints and creating fertile carbon sinks. Which means each time we get to the next $500 mark, we take two metric tons of carbon dioxide out of the atmosphere-- for good. Please help us to hit the first landmark ($500) as soon as we can!
3. Take it slow: This project is designed to be a slow build, rather than a single fundraising push. Recurring donations help us to grow. If you give $25 a month as a recurring donation, we get to sequester over a metric TON of CO2, with your name on it. Consider this as a means for offsetting your carbon footprint for the year!
Thanks for your interest, and for helping us to build healthy soils while trapping CO2 from the atmosphere.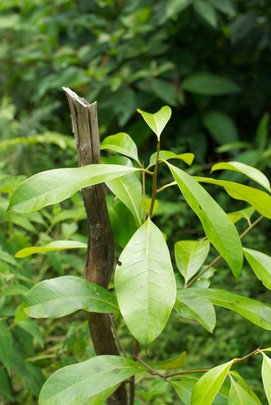 We are very happy to announce that yesterday, May 20th, marked the date of Camino Verde´s purchase of 100 more acres of rainforest in Tambopata, Peru. It is thrilling to complete this important chapter in our work. Thank you for your support!
Meanwhile, we are continuing to check off items from this project´s list of goals. We reached the 1000-tree mark last month: 1000 trees planted this planting season, bringing the total number of tree species we´ve planted to 225, and the number of planted trees that we maintain to around 7000!
In other news, in April we enjoyed a visit from a GlobalGiving roving representative, who certified Camino Verde as a "vetted organization" and helped us explore new ways to work with GlobalGiving to expand our work in preserving the rainforest and its biodiversity.
Next up: in August we will begin work on our on-site plant nursery, an element of this project that will allow us to propagate tree seedlings at our center, avoiding transportation costs and petrol usage in getting tree seedlings to their final home. We are being funded in the nursery creation endeavor by grants from the Marjorie Grant Whiting Center, and First Parish Social Action Grants of Concord, Massachusetts. And by you!
Thanks again for your interest and support. 100 acres of rainforest thank you!
WARNING: Javascript is currently disabled or is not available in your browser. GlobalGiving makes extensive use of Javascript and will not function properly with Javascript disabled.
Please enable Javascript
and refresh this page.