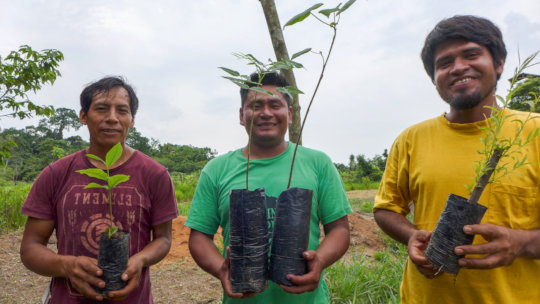 Dear friends,
This year Camino Verde celebrated 10 years of non-profit status, of tree planting and of Amazonian regeneration. I can't tell you how grateful – and humbled – our team and I feel about this milestone. To honor this big deal for our small organization, we gathered with a hundred or so of our dear supporters at Walden Woods in Massachusetts under the shadow of Henry David Thoreau's legacy. The event was a follow-up to our 5th anniversay celebration at the same venue, and it was an amazing opportunity to reflect on all that has happened since that last gathering in 2013.
In our first five years we went from zero to something. But in the next five year period, we went from something to Awesome. It's been gratifying for our team to review all that we've been able to accomplish, and I want to share that summary with you here. What can five years mean for an organization? Here's a snapshot. I hope you enjoy.
Our work is unavoidably based on relationships with people: individuals and communities. And our work is also fundamentally based on the plant species we plant.
I believe that Camino Verde's unique contribution to the conservation and regeneration of Amazonian forests, our most fundamental value proposition, is our intimate acquaintance with the over 500 Amazonian species we have planted so far at our reforestation center, of which, by the way, several dozen contain aromatic essential oils. There are trees that provide economically valuable timber and medicines, dyes and fruits, crafts materials and ecosystem services. These are species that attract pollinators, improve soils, feed parrot populations, all the while providing products that sustain their human benefactors. We have even planted a few superhero species that practically hit all of the above bases related to a species' usefulness. These are the multi-hyphenated species: such as this medicinal-timber-fruit tree called brazil nut.
When I look back at the last five years, at the growth Camino Verde has experienced as an organization, I see the growth of our programs as a direct extension of the learning and relationships we have formed with the miraculous species we plant. If you ask me what the major milestones for CV have been since 2013, I could easily organize the answer based on the uses and applications we have found for a variety of Amazonian plant species.
Here's an example of what I mean. Starting in 2015 we teamed up with what Wake Forest University calls their center for Amazonian scientific innovation, to address the region's most pressing environmental crisis: gold mining. Where there was once the world's most biodiverse forest, gold mining leaves behind a deserted moonscape of sterile soil contaminated with diesel and heavy metals. This highly degraded landscape is inhospitable to most organisms, and the natural regeneration of these sites takes decades when left to its own devices.
We provided the Wake Forest research group with a list of promising species for the restoration of these polluted wastelands, trees that can grow where others can't, and that transform the soil through the production of organic matter and association with beneficial soil micro-organisms. They liked our list, and so in 2016 and 17 we produced over 50,000 seedlings for the group, representing more than 30 species. These trees were planted out on a hundred acres of degraded former mines and their growth is being carefully monitored to identify the most promising of our species for this demanding context, which unfortunately is quite widespread.
A big win-win, this collaboration allowed us to greatly expand the production capacity of the now multiple tree nurseries we run. Offering seedlings to researchers, government and non-government projects and organizations, as well as companies and investors has been an important sustainer of our activities. It has also been a powerful realization of the original dream of Camino Verde: which is to make the important useful tree species of the Amazon, which are being lost so fast, available to all – as seeds and seedlings for planting efforts. In this vein, in 5 years we've gone from a single tree nursery, producing 5,000 seedlings a year – to three nurseries in different locations producing over 50,000 seedlings – and an incredible hundred species of trees – each year. This is something that makes us proud.
Some of those trees go to those other actors in the region I just mentioned, while some trees we entrust to small farmers and native communities with whom we partner. And, some of the trees we plant ourselves, at Camino Verde's reforestation center in Baltimori and at a recently created demonstration site adjoined one of the new nurseries, just outside the regional capital of Puerto Maldonado. In the last 5 years our planting efforts on these lands that CV owns outright have reached 50 acres of trees planted, over 400 species laid out in a mosaic of various kinds of forest-imitating, productive agroforestry systems. Before the end of this year we will have completed the planting of all of the areas we have available, that is, all the areas that were clear cut by previous owners for farming.
This represents the culmination of our vision for a Living Seed Bank that provides a source of seeds for the future – including seeds of inspiration. We have begun to bring more and more farmers and other groups to the reforestation center, to let it speak for itself and inspire others to plant. Seeing trees at 1 year old, 3 years old, age 10, has proven to be the best device for making tree planting contagious, way more effective than any seminar or pedagogical model. Finishing the planting on our own land means we can turn more energy toward working with others who want to plant on their land. It's time to replicate what has worked, on a larger scale.
Speaking of which, I mentioned that some of our seedlings go to small farmers and partner communities. In the last 5 years, we've gone from farmer outreach in one community – Baltimori – to working with farmers in 5 communities, two of which are the indigenous territories where we're planting rosewood. In a moment I'll touch on what's to come in the next 5 years, and deepening our work with Amazonian communities is one focal area for our growth.
I've talked a lot about tree planting, but another area in which CV has seen welcome development is in the conservation of a growing area of primary rainforest – which is a better term than "virgin" rainforest but means the roughly the same thing. Primary rainforest is valuable intact for any number of reasons, but CV has an even more direct vested interest in the conservation of our forests – since, they're the source of the vast majority of the seeds we plant in our nurseries. I'm glad to report that our reforestation center is now recognized by the Peruvian Ministry of the Environment as a private conservation area.
We work closely with two of our next door neighbors to conserve an additional two thousand hectares, which is five thousand acres, but the area that we own outright is a modest 100 hectares or 250 acres. For perspective, this is twice the area we managed back at Walden Woods 1.0. In the effort to preserve more rainforest we have had the support of an incredible ally. Member of the Camino Verde tribe, visitor to the reforestation center, advocate, and donor Jim Sherblom, has forged an indelible conservation legacy in the creation of the Sherblom Family Forest, an area of 30 acres of pristine rainforest that was donated to Camino Verde for conservation in perpetuity. It's special to be able to publicly offer heartfelt thanks to the Sherbloms for their vision.
Conservation of rainforest doesn't mean we're just cordoning off an area as a human-free zone. For us, conservation means active monitoring of the forest both to prevent trespassing, poaching and illegal logging, and also to document and map seed trees and collect seeds that are relevant to our planting efforts. We've also used motion sensor cameras to capture images of the wild diversity of fauna that roams those woods.
Thanks to the Sherbloms' support we were able to pilot a new tool in our conservation tool kit. Last year we generated our first ever high-definition maps of the reforestation center and conservation areas via drone. Future drone flyovers will allow us to compare the height of individual trees then and now, saving us lots of time on on-the-ground data collection about how are trees are growing.
In my roundup of our growth and accomplishments in the last five years I've been saving the best two for last. These final program areas I want to mention are a source of great excitement for me and the Camino Verde team – which is now 15 full time Peruvian staff members strong.
The first touches back on the topic I started with – essential oils. For the past 5 years we've experimented with the distillation of a variety of oils as a potential non-timber forest product to provide alternative income sources for Amazonian farmers. Last year we began selling the essential oil of one species, Moena Alcanfór, which is entirely new to the aroma markets of the world. The oil comes from carefully pruned branches of trees we planted in 2010 at the reforestation center. As an organization we welcome wholeheartedly the opportunity to achieve more of our financial needs via sales of products, allowing donations to go to more impactful things than our basic operational costs. Recently we've enjoyed deepening relationships with mission-centered companies like Pacha Soap and Floracopeia and it now is the case you can find products with our essential oils in them in stores and online retailers. As we wade through the bureaucracy to attain export permits for rosewood oil, we look forward to a future in which Camino Verde's growth is sustained in a robust way through our goods and services.
Yes, services. The final program update I wanted to mention is related to the development of Camino Verde's consultancy work. We don't want our tree planting strategies to persist in a bubble of invisibility. We want to share what has worked in an open source fashion. We want the native-species-based agroforestry systems we develop to go viral. So one way we have been doing that since 2015 is to help develop others' projects and visions using the toolkit we know and trust from a decade of learning in the Peruvian Amazon. We believe that offering consultative services is a way we can scale our impact.
Our first opportunity in this regard was to help create a project in recently war-torn Northern Uganda linking a US-based non-profit organization to indigenous herbalists with the intention of native species reforestation. The herbalists wanted to preserve and regenerate their sources of plant remedies in a context of rapid deforestation. We helped this budding Ugandan organization of herbalists to plant over a hundred thousand trees, representing an impressive 50 different native medicinal species.
More recently, we were hired to manage a property in the Tambopata province which CV calls home. The site includes over 100 acres of degraded former cattle pasture which we will reforest between now and the end of the year. Our biggest planting campaign ever, we'll plant tens of thousands of trees, over twenty species, with a dual emphasis on regeneration (of soils, of forest) and productivity. For us to engage with a partner like this is the first step in a journey toward being able to create polyculture-based strategies for the kinds of company that are currently torching the tropics to plant palm oil. It's kind of a thrilling thought to prove that reforestation can be competitive economically with the short-sighted and devastating models that are so horrifyingly commonplace. We want to engage with more companies like this in the future, and in that vein in March I'll be paying a visit to a two thousand acre farm whose owner is keenly interested in finding a better way to make a profit than oil palm monocultures, which surround his land.
We're thrilled at all that we're able to accomplish thanks to your support. It's even more exciting to think about where we will be in 5 years from now, as we continue to improve and grow.
Here's to a decade of Amazonian regeneration! Thank you so much for being an integral part of it.