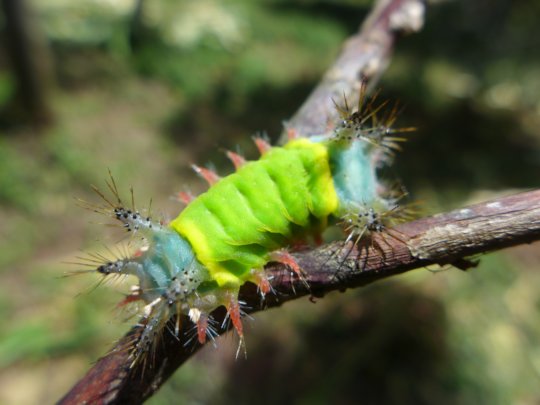 Dear friends of Camino Verde,
I hope your year is off to a wonderful start, for those in the northern hemisphere with spring knocking at the door, and those of us in the Peruvian Amazon with the last pounding rains of the wet season still thundering overhead. As you may recall, the rainy season in the Amazon is the planting season, and in the lapse since you last heard from us in 2018 we planted around 30,000 trees.
This is our biggest planting campaign of all time, 100 acres planted all at once with over 50 species, and it's just the first in a series of things we're doing more of this year.
I'm also very excited to report that we are now VERY CLOSE to hitting our final funding goal for this project on GlobalGiving. Once we hit the $28,000 mark this project page will go away, showing as Successfully Funded. Thank you so much for helping us to be successful! What does that success look like?
With Turning Carbon Footprints into healthy soils, Camino Verde has been able to:
Test and pilot different environmentally preferable charcoal production methods.
Select a final best model for biochar production in Madre de Dios (the Adam Retort!).
Produce tons (literally) of environmentally friendly charcoal that goes went into the nursery soil mix for over 50,000 tree seedlings produced at our main Forestry Nursery, home to the Biochar retort oven.
We have even identified purchasers of charcoal to allow this carbon-negative enterprise to self-sustain.
Even as we are finding more private partners to allow us to grow our impact to a whole different scale – and even as we are building our organization's economic resilience through the sale of charcoal, essential oils and consultative services – we continue to rely on you our donors to make this work possible. Our growing team of 15 Peruvian staff includes farmers, ecologists, forestry engineers and one gringo (me). They and I thank you for the chance to do this work we find so meaningful and rewarding.
In this Report I'm excited to turn things over to my friend and longtime colleague in the Camino Verde team, Ursula Leyva. Ursula and I met at a permaculture design course in 2010 and we've collaborated ever since. In 2014 she officially joined CV and in these 5 years she has worn many hats in the leadership of the organization. A natural builder, permaculture designer, orchid propagator, a writer and a mother, Ursula continues to wear many hats. But what comes to mind when I read her words is her study and experience in development communications (she holds a degree in Social Communications from the Universidad de Lima).
Even as we reflect on where we're going it's important to think about where we've been. I hope you enjoy Ursula's words on where Camino Verde comes from and where it's going. Thanks so much for your interest and support of what we do. Together as a community of caring individuals we have a long path to walk ahead.
In gratitude,
Robin
--
When I think about the future of our organization, usually the beginnings are what come to my mind. What was the first tree planted? How much have we evolved as an organization and how did we do it? All of our results are intrinsically related to the way our plants have thrived. Our green path started a little over ten years ago, but the journey of our plants is more remote than we can imagine.
One of the questions I receive most frequently is: "So, what do you plant on the farm?" I always have to take a second to think about how to respond. Although our work focuses on trees, the collection of plants comprising our Living Seed Bank defies generalization. To sum it up you could say that we propagate all kinds of native Amazonian tree species in our nurseries, so that they can be planted by human hands to improve the land, improve the diversity of farms, improve the quality of life of people and sustain communities over time. In this sense, we actively contribute to the domestication of species.
The process of domestication of plants and animals in Peru began approximately 10,000 years ago, according to a variety of researchers. Great civilizations like Caral (on the Peruvian coast), which had agriculture 5 thousand years ago, represent only half of this process. I wonder if we can imagine or intuit something about the life and dreams of the seed collectors of the past, who were able to adapt hundreds of species and develop thousands of varieties for the benefit of human beings.
Despite this ancient legacy, the precious and uniquely rich biodiversity of the Amazon is not necessarily reflected in the species cultivated in our region's farms today – and especially is not reflected in the edible species. Naturally, forest biodiversity has enormous potential to contribute to the food security of local families and the planet. But this is a well that remains untapped on many Amazonian farms.
An important part of what Camino Verde does in our labors of regeneration is to plant and cultivate the wild trees, so that they can adapt to new conditions and thrive. Every decision made about a plant's development will have an impact on its ability to adapt – and its offspring's success. So how do we know the best way to "breed" these native and wild species that interest us for their fruits, or their medicine, or for the ways they help the growth of other plants? In addition to a generous helping of local knowledge and a lot of practice, we rely on intuition and a great deal of respect. The objective is not to make a genetic change in the laboratory, but to support the resilience of each species, allowing for its successful growth in the field. We play our small part, with careful attention given to each of the plants we grow.
Facilitating a plant's process of domestication involves close observation of the conditions that favor germination, the amount of water a species tolerates, testing of different soil substrates, not to mention trying to imitate conditions in a natural forest, understanding how to associate different species, how to prune trees to give more fruit or to thicken the trunk faster, among other activities. And so it is that, generation after generation, the trees sown in fallow fields in spaces designed for the uses of humankind will have a beautiful offspring that returns a protective covering of forest to the land.
Working in the nursery or in our extensive areas of long-term agroforestry systems is a fascinating, intellectually demanding task. Systematizing all the knowledge generated from this decade of experience (and also trying contribute to scientifically measurable results) is one of our most difficult challenges. Sharing our learning is one of our most important responsibilities.
Think about this. The changes that are taking place in plants are also reflected in us human beings. I always wonder, how much have these plants domesticated us? The communion between human and plant reaches its maximum expression through personal contact and deep observation. We are committed to this legacy, to the continuity of important species and their survival on the planet. They tame us. They raise us: they domesticate us even as they make us wild. In a sense we are the plants' instruments and we have surrendered to them.
And that will remain at the core of what we do, throughout our growth and in time.
There is a green path that is traveled in our minds and in our hearts. That is the path that sustains us and on which our future is built. For us this work is an honor and a dream come true – and we hope, contagious.