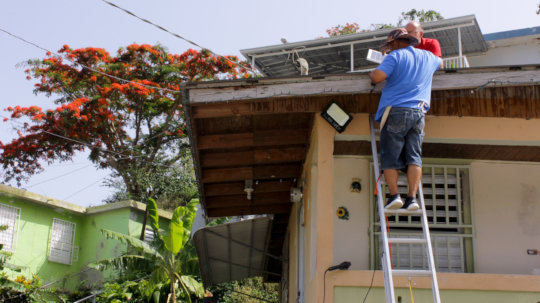 Dear GlobalGiving community,
We are once again faced by challenges that lead us into reflection and drive us to come together to learn more about ourselves, our communities and our society at large. After having faced the 2017 hurricanes, ousting the governor in the summer of 2019, enduring through a series of earthquakes at the beginning of this year, and now doing our best to stay safe through a pandemic, we continue to uncover the deep-rooted interdisciplinary vulnerabilities we face as a society. Accepting this bleak reality, socially distanced from our co-workers and partners, we must continue to build our motivation to serve the communities of Puerto Rico, who are worthy of springing back through a just recovery process.
Our team at La Maraña has been focusing efforts, while adjusting work patterns to the new remote normal, on identifying how to work through existing project timelines so that our Imaginación Post-María objectives are reached once we are able to resume normal activities. In the meantime, our base team has also been focusing energies on compiling the knowledge we have gathered from working with our amazing partner communities, which will feed into the ongoing development of our Open-Source ToolKit and Documentary.
Since our last report, we were able to start working with local community leaders to define and develop their emergency management plans, as well as continue with those tasks that don't require face-to-face activities, such as developing communication strategies, fine-tuning our strategies to finalize the social impact projects and catching up with reporting.
Our partnerships with the communities and community leaders is the key to the success of the Imaginacion Post-María implementation, therefore we continue coordinating with them so that activities that can be accomplished remotely are given priority, while the final construction phases of the social impact projects have halted in the abandoned school in Carolina, as well as the solar lighting project in Comerío and the water station project in Humacao. That said, we are excited to start defining how La Maraña's engagement with the community will transition once we can reopen construction projects!
We are staying motivated during this time by thinking about La Maraña's future and the transition we hope to carry-out while the social impact projects come to fruition and our Open-Source deliverables take the lead in our work.
Stay safe and stay at home!
With so much care,
La Maraña's Team