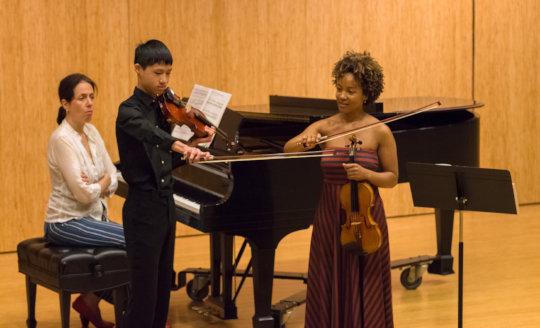 Chamber Music Northwest opens its 2018-19 "wet season" of concerts on October 5 with the return of the popular Dover Quartet, our 2018-19 Artists-in-Residence. The Dovers began their residency activities with CMNW during the 2018 Summer Festival—in addition to their October concert, they will return in February and again in July. Each visit to Portland keeps them extremely busy in our community—outreach activities include school visits, coaching local student music ensembles, and playing for those who can't easily come to the concert hall—senior care facilities, children's hospitals, drop-in centers for homeless teens, and other venues throughout the Portland metropolitan region.
Our 2018-19 season concerts include:
Dover Quartet: The Ripple of Time—October 5, 7:30pm, PSU Lincoln Performance Hall
Andrew Hsu and Daniel Hsu, Piano Four Hands: November 4, 7:30pm, PSU Lincoln Recital Hall
Canadian Brass: November 19, 7:30pm, Newmark Theatre
Gabriel Kahane 8980: Book of Travelers: January 30, 8:00pm, The Old Church Concert Hall
Dover Quartet: Made in America: February 13, 7:30pm, The Old Church Concert Hall
Shai Wosner and Orion Weiss, Piano Four Hands: February 24, 7:30pm, Congregation Beth Israel
Shifrin/Polonsky/Wiley Trio: March 30, 7:30pm, The Old Church Concert Hall
Shifrin and Friends Play Schiff: April 25, 7:30pm, Reed College, Kaul Auditorium
In our education programming, our "Adopted School" for the 2018-19 school year is Ventura Park Elementary School in the David Douglas School District (outer East Portland). The school will receive multiple visits from our CMNW artists, beginning with the Dover Quartet in October.
In addition to the concerts and education activities, CMNW will present a number of Chamber Parties, held in private homes, for a chance to meet the artists up-close-and-personal. Chamber Party experiences this fall/winter include:
Dover Quartet Returns – October 6, 4:30pm SOLD OUT
The Brothers Hsu (piano 4 hands) – November 3, 4:3pm
Others to be announced!
Your support, through GlobalGiving, helps bring these outstanding artists to Oregon, and spend time with music-lovers of all ages in our community. Thank you for your gifts, which are making great music accessible to all!
Links: