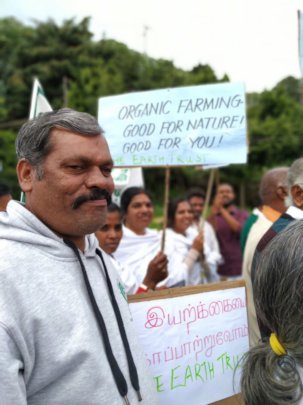 The skies have opened up with a vengeance. It is pouring fit to launch an ark from the Nilgiris!! The monsoon is a month behind schedule, but the thirsty ground is being quenched. Our farmers will put in the seeds for winter crops. At Holabettu our resource farm, we are trying to quantify the average yield of different vegetables per cent- one hundredth of an acre. Barring major natural catastrophes, we are trying to fine-tune crop planning and harvesting quantities.
The highlight of the last quarter was the mass rally organised by the State Horticulture Department to create awareness about the need to make Nilgiris District Organic. Nearly 5000 farmers joined. ET has been at it for over 15 years now. Finally, finally awareness is spreading. The Et team was naturally there.
Our women's programme was held in Kattabettu this time. We had invited Mr. Santhosh from The Employees provident Fund Office to give the Certificates to our graduates! He was touched he said, at the invitation and he was completely taken aback by the energy and enthusiasm of the women. He spoke to them about government saving schemes in the 'unorganised' sector. Meetings were held with the women, to discuss the need to take them to the next level of economic activity. We are planning to have them make/knit/sew items for a Christmas sale. Our women have participated in native grass planting on World Wetland Day. Why wait for a designated day we decided. We will introduce this activity as an integral part of our Women's programme. When a Badaga dies, before he/she is buried, the village folk take turns to ask for forgiveness for all that the deceased person may done. One of their prayers goes something like " If she/he has defiled the waters, please forgive him". It is the loss of this sacred connection to every activity of ours that we have become insensitive to the world around us.
If there is one predictable fact in the life of an NGO working with Nature, it is unpredictability!! Every day is thronged with activity, our staff seem to be going round like headless chickens, but there is a tremendous multi-tasking going on which comes naturally to our predominantly women staff. The chaos translates to targets achieved, accounts submitted and reports reluctantly written. These are wonderful people who "DO" stuff on the ground but do not have the time to sit and use words to describe their days/weeks/months.
It is left to us collating the report, to fill in the emotional blanks, the joys, frustrations and love that goes into their days. We have to translate unarticulated emotions and try to present an encapsulated version of ' targets, target beneficiaries, programmes, project proposals and ultimately home in the raison d' etre of such a report which is financial support. But we at Earth Trust want far more than that-- we want you dear reader to be hooked enough to participate in what we are doing, to invest yourself in our efforts and share in the satisfaction of knowing that we are doing our bit to make a difference. You can do this even sitting thousands of miles away .Everything is not about money. Even wishing us success in our efforts adds to our good-will corpus! We need help from all directions.