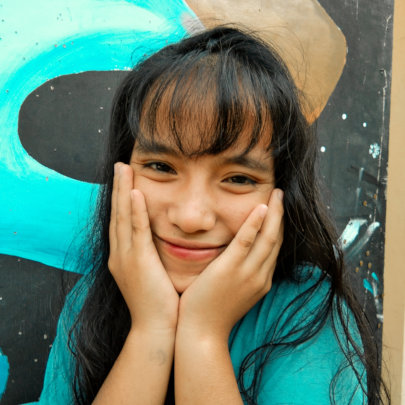 Coping with Covid 19 – Part 4
It has been a year and our Scholars of Gawad Pangarap Foundation are no exemption undergoing the recovery phase of this Covid 19 pandemic. Our Leadership has requested their input on this Pandemic and these are what some of them shared:
The Other Side – A Reflection on Covid 19
"I always try to find something good in every bad situation that I am into. Positivity gives me hope to continue to fight and probably win.
Covid pandemic creates chaos and spread anxiety to all countrymen over the world. It was literally considered as the "salot" for many as it can cost human lives. But behind those opinions and news, is the question that I have in my mind and that is, 'Why did these all happen?'. As the saying goes, "there is always a reason for everything", we just don't seem to appreciate those little good things that happens within. Some teaches us lessons; some creates opportunity for us to grow and some are made for us to reflect and realize things we didn't expect.
The spread of this virus awakened the burning passion of many to help. These scenarios provide as morals that we can bring as we get older in this world. It gives motivation and inspiration to become more of a good man. Helping others in need and giving hope and happiness without expecting in return were much more appreciated than those who keeps on spreading negative thoughts about the virus. Covid pandemic helps us to learn how to wait and have patience. It brings us the chance to enhance our skills and talents. To discover new things we didn't expect that we can have and we can do. It provides us time to know our strengths and weaknesses and it somehow helps us to grow as an individual and as a member of the society. Being locked in our homes for almost a year now is not really okay but it made us reflect things from the beginning up to the present. It made us realize how precious time is, how the bond in the family is important. Being home provides us more moments with our family. Getting to know them more and creates great memories together that induce into sweet bonds and connections among family members. Everything is planned according to the will of the Lord. Maybe God just want us to remember him cause sometimes we tend to forget that He is there. He is just right there watching us and waiting for us to call Him. So much pleasure of the world made us not think of Him anymore. We forget to thank Him for all the blessings He gave and to ask for forgiveness for all the wrongdoings that we did.
Covid 19 pandemic isn't bad at all if we look on the other side of the coin. Appreciating small but great things can somehow lessen the burden we are feeling right now. Problems are meant to make us stronger and not to take us down. Negativity can't take us any good. It will just mess it all and bring anxiety and doubts in us. Looking on the bright side of the pandemic and trusting our Lord will help us to defeat this virus. Just pray and remember Him in everything we do and stay positive, the victory is ours!".
My Fears with Covid 19
"The world is experiencing a pandemic – pandemic about Covid 19. All people are afraid with Covid 19 like me. My mother is a Barangay Front liner and I'm afraid about my mother's health. I'm also afraid of my father's health because he is the one who goes to the market to buy what we need. I am afraid that one of them will be sick.
I am also afraid about my health because I have an asthma and I am afraid it will get worst. I am afraid because hard breathing is one of the symptoms of Covid 19 and I am afraid that people around me will say that I have Covid 19.
My grandparents are old now. They easily get sick. They are experiencing a lot of illness like hypertension, arthritis, and pneumonia. They are also prone in Covid 19 because pneumonia is also a symptom of Covid 19. That is why I am very afraid about their health.
I wish that they will soon find the cure that will fight Covid 19. We heal as one."
Truly, these kids have their own perceptions on this pandemic. We all are affected and Gawad Pangarap continue to extend support to their families financially for their school needs and morally as well.
Pls continue to support us as we heal as one. Thank you very much.
Here is the link to donate: http://goto.gg/38937