PHASE Nepal has recently completed one of its major project called "Resilient Rehabilitation of trail project" in three earthquake affected villages in Gorkha namely Kashigau, Kerauja and Manbu. These villages are located significantly closed to the epicentre of the Spring Earthquake 2015 and thus have suffured huge damage of live and properties during the earthquake. After the earthquake , the landslides induced by aftershocks and the following monsoon rainfall completely damaged the walking trails , the only transportation route to these villages causing mules tranportation to halt and day to day commuting extremely difficult and risky.
These reconstruction of these trails have been completed by the PHASE team its two year project with the construction of 70 km long walking trails,5 pedestrian truss bridges, 8 pedestrian rest areas and installation of 606 meter long rope handholds and handrails to improve user safety levels.
It is very praiseworthy of PHASE team to have completed this challenging project in time. I understand how difficult it is to rebuild trails in these steep rocky terrains, says the Santa Bahadur Gurung, elected chairperson of the Dharche Rural Municipality (Kashigaun and Keruanja area)
All the construction tasks were done on the basis of output based payment modality utilising local workers generating employment opportunities. Apart from restoring acess to these remote himalayan villages, the project also worked to advocate social equality for example providing the equal payment to both men and women for similar kinds of work.
I worked on this trail project for 50 days and earned 47,000 ruppes (about 360 pounds). I used that money for my children's education in Lamjung," says Chin Maya Gurung. "We are happy because we received the same wage as men. We were never paid equally before," she adds.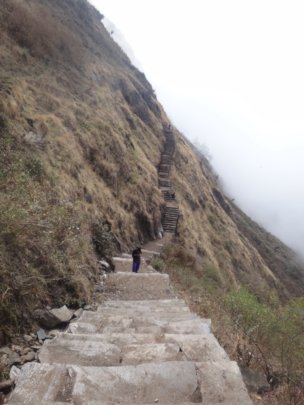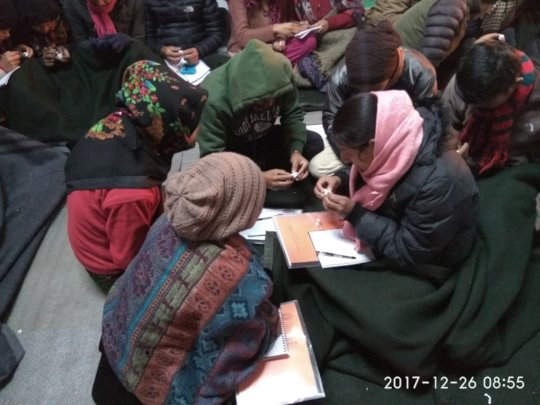 A total of 52 teachers from 8 schools participated in PHASE Nepal Best Teaching Practices Training. During those training the teachers learned and practised the child centred and participatory strategies for better learning achievement and enhancement of critical thinking in children. These activities were designed based on the findings of the classroom baseline survey done before the training. A thorough observation of classes will also be done after the training to measure training achievement in teachers. After the observation 15 outstanding teachers will be developed as mentor teachers to conduct peer to peer support programme in the participant schools.
The training was mainly focussed on the maximum engagement of children in the classroom to support critical thinking and different learning styles in children, unlike traditional lecture style classroom. The other focus of the training was to identify and utilize local materials in teaching especially in the limited resource areas like Kashigaun and Keraunja. In addition to the training, PHASE provided basic teaching materials and visuals for the classrooms of these participant schools.
" The sessions were interactive and practical enough to implement immediately in our classrooms. I especially liked the improvised mini whiteboards made from white papers inside the transparent plastic envelopes. I have used it for the first time and find it really useful for quick assessment and practice in my classroom."
- Prem Bahadur Gurung, Teacher, Manjushree Secondary School, Kashigaun.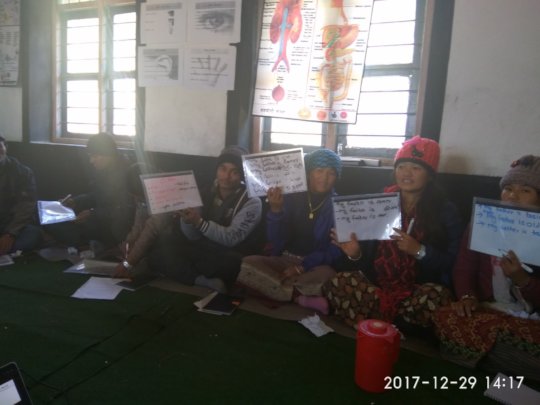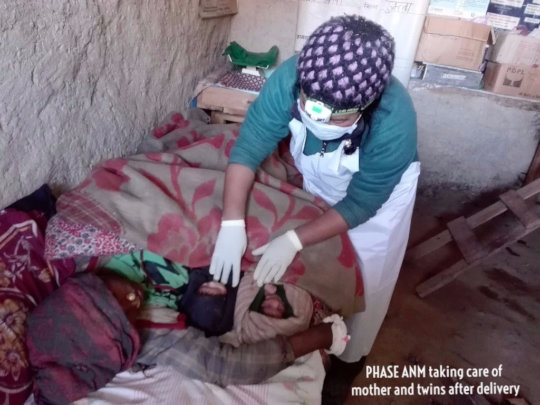 PHASE Nepal now has over a decade of experience of improving access and of quality primary health services in the remote villages through its continuous support to Government Health Posts with qualified and trained staff ; free medicine and a variety of health awareness programmes. "It is a 'model' project replicable for other I/NGO in Nepal", as evaluated by the Social Welfare Council of Nepal in 2016.
In the last four months, over 30,000 patients including 17,604 women received primary healthcare services from PHASE Supported Health Posts in 22 remote villages in 6 Mountainous Districts of Nepal.
Our village-based dedicated health staff provide timely services to several sensitive cases from the PHASE supported clinics. A mother (aged 28) from Maila, Humla appreciated PHASE health services in the following words.
"As soon as my labour pains started my family took me to the Health Post. I met the PHASE sisters there. Following the suggestions I had got during their door to door awareness campaign, I visited health post the about five times during my pregnancy. The PHASE sisters conducted a safe delivery of my twin son and daughter. They said everything went well because I took good care of myself during my pregnancy as suggested by them. My son and daughter are both healthy. I really appreciate the service of PHASE Nepal in my village."
Professional help is particularly important during twin births, as complications for both babies and mother are much more frequent in these cases.
WARNING: Javascript is currently disabled or is not available in your browser. GlobalGiving makes extensive use of Javascript and will not function properly with Javascript disabled.
Please enable Javascript
and refresh this page.