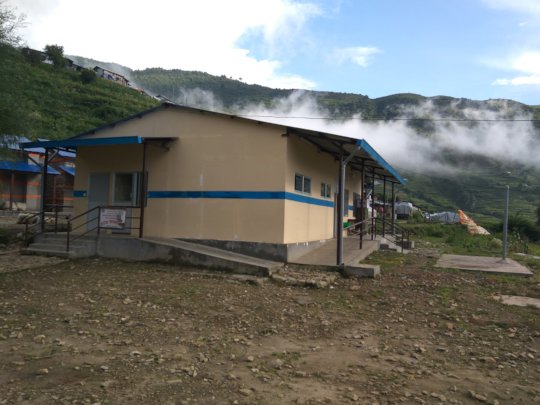 Since the massive earthquake of 2015 in Nepal, PHASE Nepal has been working on immediate relief as well as long term recovery in some of the mostly affected areas. In this report, updates from some of the ongoing and recently completed reconstruction projects will be discussed.
New Health Post buildings in Kashigaun and Keraunja (Gorkha)
PHASE Nepal has recently completed the reconstruction of two healthpost buildings, one each in Kashigaun and Keraunja of Gorkha. These new earthquake safe buildings were also equipped with all the necessary furniture and clinical materials before they were handed over to the community. In addition, PHASE has been placing additional medical staff in the villages who are providing day to day clinical services as well as community awareness events in both of the villages. Before the rebuilding, health services were being provided from temporary shelters.
"I really appreciate PHASE's efforts to bring back fully functional health services in the village."
says Lekha Rai, a government nurse in Keraunja.
These two villages lie in the northern terrain of Gorkha district with no access to motorable roads. It takes two days of walk from these villages to reach the nearest road and access the public transportation. After being completely destroyed in the earthquake, public infrastructure and individual houses are still in the process of rebuilding. The construction materials for rebuilding have to be transported to the respective locations by mules and local porters.
Rebuilding 2 highschools and a healthpost and an outreach clinic in Hagam (Sindhupalchok)
As a part of our earthquake recovery project, PHASE Nepal is rebuilding two high schools, a healthpost and an outreach clinic in Hagam, Sindhupalchok. Hagam village was very severely affected by the earthquake. From its post-earthquake projects PHASE Nepal has already rebuilt and handed over 22 drinking water supply projects in the village.
PHASE Nepal had already been working in these areas for almost a decade with its integrated development projects improving health, education and livelihood opportunities of the locals before the earthquake. This presence has facilitated the timely completion of the reconstruction projects via remarkable public participation and support.