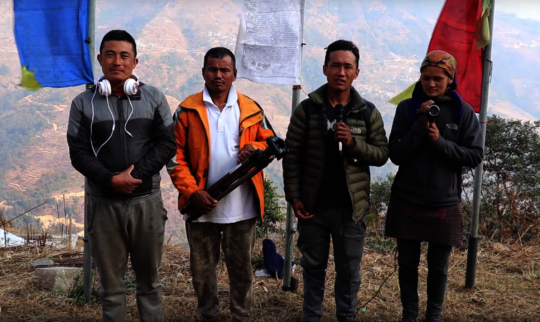 This quarter, a group of 4 villagers from Baruwa a remote village in Sindhupalchok got trained in participatory video(PV) making and captured the experience of earthquake affected people in rebuilding their houses.
Among the people who were interviewed, some have completed building their houses, some were still in the middle and some have not started rebuilding houses even after 3 and a half years of massive destruction by the Earthquake of 2015.
They shared about several problems they faced ranging from materials to finding skilled and unskilled labours.
The PV researchers themselves learned and took part in the simple editing of video using a software called iMovie.
The video was screen locally so as to give the live feedback from the people to the concerned authority.
Here is a 13 minute video featuring 5 case studies, uploaded in youtube. Please turn on the cc/subtitles for English subtitles.
https://www.youtube.com/watch?v=kf3cHxUrqZ0
The project will continue making innovative participatory videos training and utilizing the local researchers to bring important issues to the forefront giving voice to the locals living in remote areas.
Links: