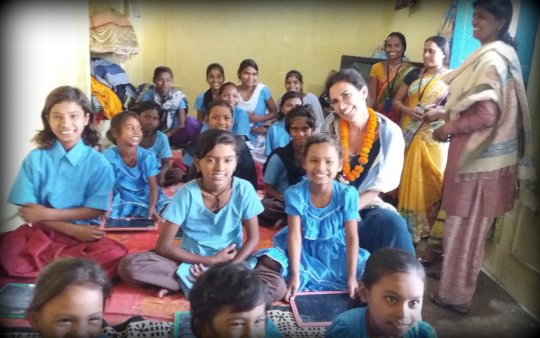 Namaste !
This Riya, Rescue Project Director
Here is a update of just two girls recently in Rescue Junction and an updated progress report
The names have been changed and full consent has been given from the girls who have indicated to us that they want thier stories to be told in order to help others...
Original Report Priyanka
My name is Priyanka .I am 16 years of age.
I am educated to class 10.
In my village I would go the river for call of nature as we don't have toilets in this our village .
I was pounced on by a group of boys I recognised from a nearby village and I was raped. There were five of them.
They covered my mouth to stifle my screams .There was a lot of blood. I passed out.
I remember after some time being carried to my house by my family
In the days that followed my father was shaking with anger. The boys that did this to me were from a high caste powerfull family. My father feared reprisals for all of us if he went to the Police.
We are very poor and have no power.
Then in our local market one month later there was a stall from childline .I spoke to the woman there and she explained about the 1098 number free of cost to use for children in trouble.
I went home and some days later I called that number .They were very kind.
After talking for some time I told them about the rape.
They said someone will come to your house the very next day.
Two women came to see me with a woman police officer but not in uniform and they took all the details .
They told me don't worry we are here to help.
Over the next few days they asked me if I would like to stay at Rescue Junction for a while and do a craft course and get support from other girls and staff. I was very happy to go and I feel safe here.
With their support I feel strong enough to bring criminal charges but actually the government child protection department are bringing the charges with my consent and my support. The boys have been arrested. I understand now that I was not the only girl they attacked.
The family concerned have been warned not to take any actions against me or my family otherwise immediate imprisonment will follow.
The thing is without Rescue Junction I don't think there would have been any consequences for these boys.
I could never have done it alone
Priyanka
THANK YOU FOR ALL YOUR SUPPORT
UPDATE
Priyanka is now back with her own family after receiving craft training and special support in her first weeks at school where she will study up to Class 12. She is a very strong young woman and is now a volunteer at Rescue Junction sharing her experiences and helping to support other girls at the centre.
She gave evidence at the court hearing and all those involved recieved lengthy sentences but being a rich local family, the publicity was difficult for them and the parents are contrite and humble.

Priyanka wants to become a vet and our team are helping her with this..
From original report Maya
Here's what Maya has to say,
'If all your life no one has ever listened to you, listened to your fears and worries, then Rescue Junction comes as a bit of a shock. Why should I believe that any adults care about me, especially ones I had never met before?
It takes time, and then you realise, my god, these people will stand by me, and in time help me build a new and better life, but first they will listen to me.
For the first time in my life my story is important to someone other than me.
I am no longer alone".
Maya (name changed) is 15 years old and was rescued from sexual abuse at the hands of her father after neighbours reported hearing frequent screaming and finally called the police.
Thank you for your help, help us continue to help girls like Maya and Priyanka, we really do need and appreciate your support.
With thanks
Riya
UPDATE MAYA

Our counsellors have received special training as their work is sensitive skilled and solid.
This was a case where family counselling played a big role which took place only after Maya with our support felt comfortable with it.
This take time.
Maya now lives with her brother's family. Her father still sees her from jail and her case was one of the first in the district where video evidence was allowed (from Rescue Junction). Maya is visited regularly by support staff, and like the other children is free to come to Rescue Junction at any time for advice and support. She is continuing her education and is set on going to college.
Both these girls send they're thanks to all of you who have supported this project as do I,
Take care,
Riya
Links: