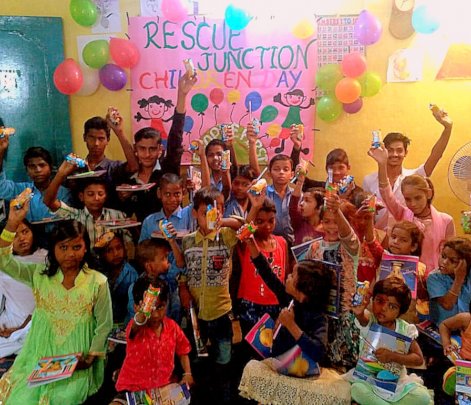 Namaste to you all…
I am Riya project director of Rescue Junction with a brand-new update for you all about our Girls project here at the Junction.
I thought I would give you some background information to help you understand the kind of problems the children face when they come to us for protection and care,
About 10% are girls who have simply become (accidentally) lost usually whist travelling got on the wrong train or became separated from their family members….
About 20% are girls who have been separated from their families but deliberately, because of poverty or becoming involved in romantic liaisons unsanctioned by family so they have been abandoned often miles from home.
About 40% a shockingly high figure have been sexually abused by employers, parents or other family members, or figures in authority.
About 20% have actively been trafficked for sexual exploitation.
About 10% come to us for other reasons, including physical abuse and mistreatment
It can take time for some girls to be able to tell us her story, whilst others want to talk straight away. Our trained staff are guided by the girls, and proceed at their pace counselling them and supporting them at all times. The craft activities help a lot, so does the company of other girls in a similar situation. Ensuring that the girls feel safe is a priority for us all, once they feel safe, they begin to talk to us.
Your donations help us in this process of building self-confidence, making positive future plans with each individual girl and ensuring that support is available to them when they leave us in the local community,
I thank you all for your care and compassion
All the best for the festive season.
Riya, and all at the Junction
PS…. I wish you could the unbridled Joy that a toy brings to a child here at the Junction, please take a look at our toy appeal , the link is below
Links: