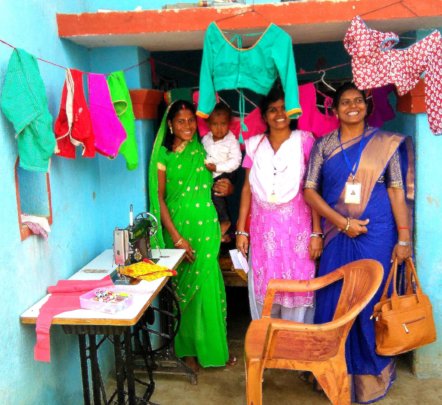 The Journey of Sanju Devi..
I am Sanju Devi, age 35 from Paini village and I have four children My husband works a labourer and earns maximum 250 INR per day ($4 a day) but every day he drinks almost $1 worth of alcohol and it was difficult to manage the family
One day I was approached by People First health team and was invited to the sewing centre at Paini, and I joined the Self-Help Group and started training at Paini Sewing Training centre. I was depositing 20I INR per month ( about $3) somehow and was learning tailoring also. I completed my training course and borrowed from the self-help group and purchased one sewing machine and started to make clothes for selling in the local market.
From that day my life changed.
So pleased were my customers that I began to sell more and more and I am thinking even of going into partnership with another local woman who is also doing very well with her hand operated sewing machine.
The family income has greatly improved but here is the main matter…it's my money- it cannot be spent on drink!
My life has been totally transformed for the better,
I thank you so much for supporting this project.
Sanju Devi and Family
We have changed the name in this report according to our best practices policy but nothing else .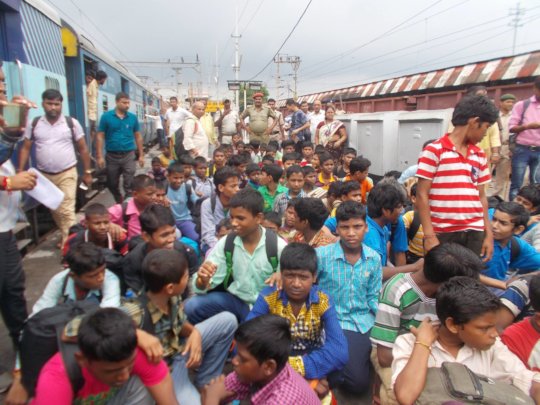 Hello Everyone
My name is Mr Singh.
I am one of the workers here at Rescue Junction.
I send my greeting to you.
For example here are two stories from children who have come to Rescue Junction just in the last week only.
Rithik 11 years old- A cruel stepmother
Rithik's father remarried and moved away from his home village. His new stepmother regularly beat him for the crime of trying to go to school instead of doing housework. Unable to bear the constant abuse he ran away and was spotted on the station by a member of our staff alone and crying. He was bought to the protective care of the Junction where our case workers are considering the best options for him.
Ajit 12 years old – working his childhood away at 18 hours a day
An orphan Ajit a street child was captured by chid traffickers who sold him to a factory owner where he was made to work from 6am to 11am every single day except Sunday for which he was never paid he got only basic food. He tried to run away and was beaten, after which he was chained to his bed at night. He managed to use a co- worker's phone and phoned the toll free childline number which he had seen in a discarded newspaper at the factory. As a resukt of his call within 48 hours over 50 children were rescued from the factory in a police raid and the owners are in custody.
Please help us continue our important work, and we thank you for your support We have changed the names of these children according to our best practices protocol.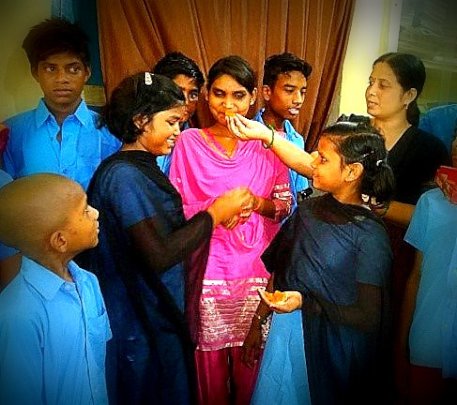 One of the most tragic cases we have had at Rescue Junction is Sony (not her real name)
From a very poor family her mother died when she was very small.
Tragically her father died following illness just two years later, leaving Sony and her two sisters orphaned.
She was 12 years old and her sisters were 9 and 7 years of age. When her father passed away than no one from community came forward to make funeral so this little girl buried her own father, but someone informed Rescue Junction about this story. We rushed to her village and brought all three girls to Rescue Junction. They have been living with us since 2009. We sent them to school and Rescue Junction became her home but last year she graduated college and told us that she wants to work for the children at Rescue Junction and now she became working colleague at Rescue Junction. Two of her sisters are still at Rescue junction and receiving the education because of your support.
As Sony says in her own words..
"I had to bury my father with my two little sisters when I was 12 years of age, we had no one to care for us and we had no food …I am sure we would have perished if it were not for Rescue Junction.
I am proud to work here to help other children like me , without your support for us this help would not be possible so I thank you all from the bottom of my heart."
Sonu
Links:
WARNING: Javascript is currently disabled or is not available in your browser. GlobalGiving makes extensive use of Javascript and will not function properly with Javascript disabled.
Please enable Javascript
and refresh this page.