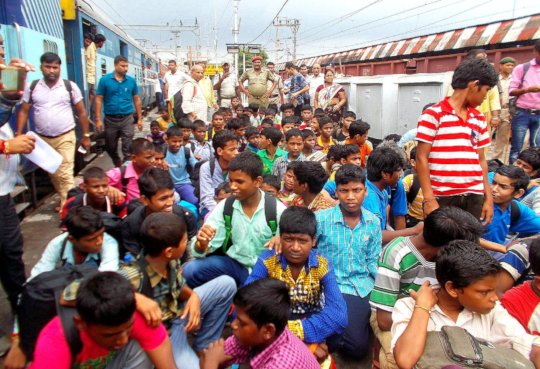 Namaste
This is Riya with another update.. ( we have changed the names)
Here are some stories of the children that have come to Rescue Junction since the last update..
Name- Monika kumari
Age- 16 yrs
Her parents died when she was a child. A girl who lived in her neighbourhood whom she called " didi" took care of her and helped grew her without her parents. But as she grew up the girl treated her like a servant and made her do all the work at house and field and not let her study. And the girl also worked in Delhi and when she went to Delhi she left Monika with her younger sister at home. When she grew even more the girl took Monika with her to Delhi and made her do household works in of the houses in delhi. But when the girl came to Delhi she took Monika's salary which she earned and even stole things from the owner's house and the blame was given to Monika and she was beaten by her owner. Monika escaped from this hell and ran away and came to Gaya junction. Then a boy handed her to a woman named pinki and she handed her to GRP (Government Railway Police) Gaya and she came to Rescue Junction. After training in mobile phone repairing she is now living with college girls in safe accommodation and is now safe and well still getting the support from RJ with our community outreach programme. She has a boyfriend from a good and caring family who have also sheltered and helped her.
Name- Shivram age- 13 yrs
District - Jalpaiguri , West Bengal
He lived at his village and worked with his family as construction labourers. He went to school but due to poverty he went to Kanpur with one of the person from his village who ran a hotel in Kanpur and he started working in the hotel and earned the equivalent of $2 USD or about 1.50 GBP a day. He worked at the hotel from 4 a.m. in the morning till 8 p.m. in the night and then went to work at his master's house. After doing his work when he went to sleep his drunken master came and harassed him by beating him. Afrer so many beatings he got the courage to run away and came to Gaya station from Kanpur station. When GRP. Gaya found him alone at the station they handed him over to the Rescue Junction. He has been returned to his family but with supervision from the local child welfare committee who are helping him to re-join mainstream education.
There will be more stories of children who come to us for protection and care in our next update,, along with an overview of all of our work at the centre which you help support.
Thank you so much
Riya
Links: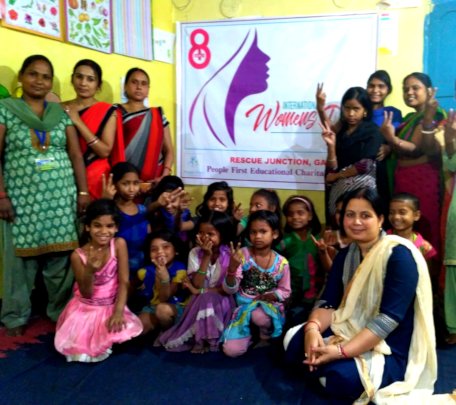 Namaste to All
My name is Pramilla
I live at Rescue Junction where us girls have a whole floor mainly to ourselves. I came here 3 months ago because I told my favourite teacher at school that my maternal uncle had been doing bad things to me since I was ten years old.
At first, I felt so ashamed, I cried a lot. I blamed myself for getting my uncle in trouble. I am 14 years of age now. What I want to tell you is two things. First, I realised that I was not alone, and it is because although we talk about very serious and bad things and there are bad memories, we are all here together to support each other with people who really care about us. We enjoy the craft making training which you support because we can give lovely toys to our younger brothers and sisters. And the other thing is that here we learn to laugh again, we have music and dance and I had forgotten what it was like to feel joy. And then we come to realise we are not to blame we have survived the bad behaviour of others, we feel no shame ,we have the right to survive and rebuild our lives.
Thank you so much for helping us!
Pramila
In accordance with the Trusts child protection policy we have changed the name. The above was translated from Hindi but has not been edited in any way .
Links: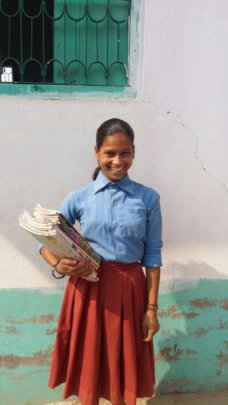 My name is Kanchan. My family is very big, I have four brothers and three sisters. But I am the youngest one.
We are all getting education at People First's School in Dhobi.
My sisters did not get chance for education beyond class six because my parents felt that there was no point because they will be married anyway. With me it's different.
Why?
Because there is a programme at our school for girls only where the people first staff and my teachers sometimes talk to my parents and they have signed a bond which says I can be in full time education for as long as I need it. I work very hard but I enjoy my school very much and I want to be a doctor for animals. I was first position in my class and my family is very proud. My school being a people first school is free to all the poor children but because I am part of the education for girls programme I get extra money for books and school materials and uniform, and the Trust has made sure that my parents support me. I want to thank you for your support very much and wish you and your families well.
Kanchan ( the name has been changed and the above translated from Hindi but has not been edited in any way).
Links:
WARNING: Javascript is currently disabled or is not available in your browser. GlobalGiving makes extensive use of Javascript and will not function properly with Javascript disabled.
Please enable Javascript
and refresh this page.