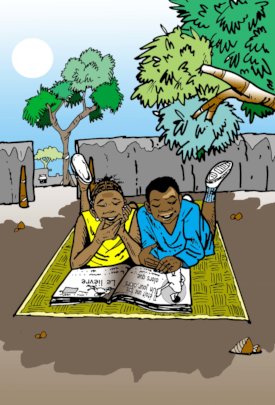 We thank the donors who have contributed to this project in the past several months! Although we have not received enough recent funding for this project to purchase a new set of children's books, we hope to do make a purchase as soon as the balance reaches $100. We regularly purchase books for the libraries.
FAVL continues supporting village libraries and reading in Burkina Faso.This summer 2018 has been very busy with summer reading camps. FAVL organized 20 reading camps, each one lasting one week. 25 schoolchildren are randomly selected to participate. They receive free breakfast and lunch and enjoy a variety of activities. One of the really fun activities is making masks. The children cut out animal masks and color them and attach string so they can wear them. A lot of fun! Kids spent a lot of time reading- individual reading, paired reading, group reading, silent reading, reading aloud! They make a graphic novel together, composing the story and drawing the pictures.
In March and April the libraries organized numerous other activities, including reading clubs, reading contests, and a voluntary "readers are leaders" program sponsored by the U.S. Embassy. The Embassy generously donated books to four of the libraries.
FAVL continues to regularly monitor, visit, encourage, train and support 34 village libraries in Burkina Faso. Thank you for your support!
The Houndé multimedia center is now functioning on a part-time basis, and FAVL staff Nelly Winkhoum and Boulguissa Zongo hosted two small workshops for six students in May and June 2018.
Here is the team report for May (translated from French):
On May 19, 2018, a team of FAVL carried out a mission, with the aim of initiating the girls of Douhoun and Karaba to the computer tool and also checking the functioning of the computers present in the center and making an inventory of books. The team welcomed the girls from Douhoun and Karaba, some of whom were accompanied by their parents. The training took place on the premises of the CMH in the presence of our FAVL focal point in Houndé. It came in addition to the activities of the CMH. The objective of this workshop is to give beginners basic training in computer use, to enable people who know how to manipulate the machine to consolidate their knowledge and to have answers to their various questions. For this first training session, the girls were not only amazed, captivated, but followed the lessons attentively and took notes. During the practical exercises, they were all volunteers to write a word or a sentence through this tool which is the computer.
Here is the team report for June (translated from French):
On Friday, June 8th, a team of FAVL went to Houndé for the second phase of the introduction to the girls computer tool. The workshop was held at the CMH on Saturday 9th from 8.30am to 3pm and Sunday from 8.30am to 10.30am.
Through this workshop, girls learned the basics of computer science to use Windows computers. They also learned how to use the keyboard and mouse, how to create Word documents, and how to store them in folders, move and duplicate them. This workshop was closed with an evaluation; and from this evaluation we can deduce satisfactory results. As the CMH is open, they can continue to train and perfect themselves.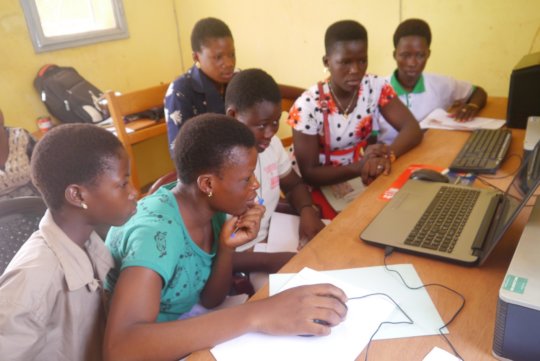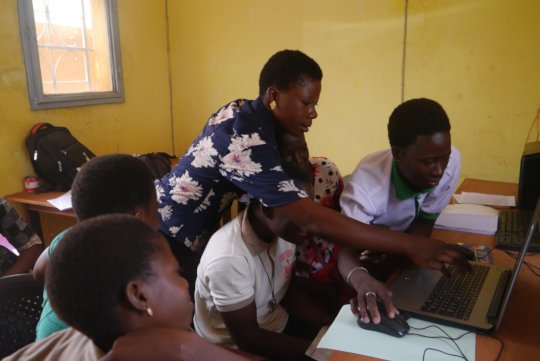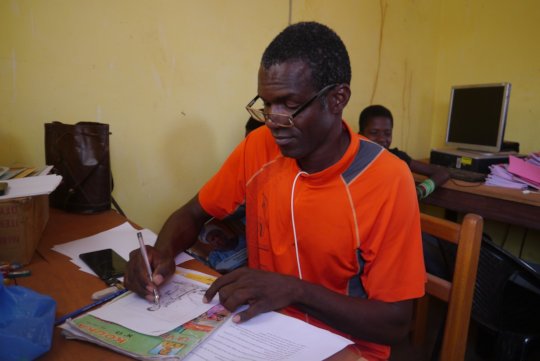 Our new Biblio-Mobile-Pénélope moto-tricycle service is moving along (photos below) and will be ready to operate soon. We are hoping to start at the end of April. FAVL program officer met on April 11 with school directors in Kaya to start programming times for the mobile library to come to the schools. We are awaiting the painting of the mobile library (photo below is graphic artist Michael Gama's mockup using a photo of the tricycle). Books, shelves, mats have been purchased. So far about $3,000 has been spent from the donations. Thank you donors for your generosity.
What else is new at FAVL-Burkina Faso?
Fifteen new photos books were printed and delivered in March 2018 to most of the libraries that we support in Burkina Faso. Picture of the books on the booksehelf in Sebba Library is below.
Libraries received 20 copies of a kid's magazine called Kidzymag that is filled with short stories and fun games for kids to play.
Many libraries received donations of books; one of the gratifying things about working with libraries is to see how many "friends" are out there willing to support reading.
Libraries held their regularly scheduled monthly meetings in March- on the agenda are two reading contests being held in some of the libraries – one supported by the US Embassy, the other by Catholic Relief Services.
The Multimedia Center in Hounde has been producing many books this year- sixteen Kikirou stories in the Fall 2017, and six more children's books written and illustrated by people from Tuy Province. The illustrator Robert Bazoum (below) is doing a spectacular job.
FAVL Director Michael Kevane met with Stanislas Ouanré, Minister of Education, in March 2018 to see about possible collaboration for establishing more libraries.
Lots more going on every day; read our blog for more information.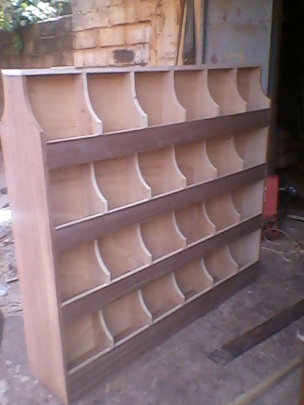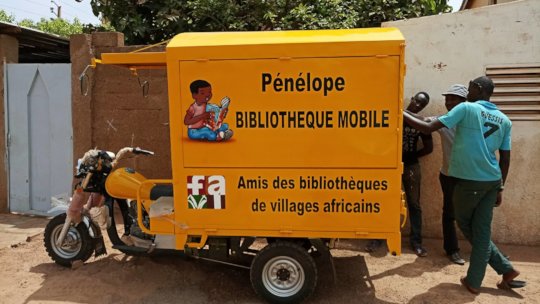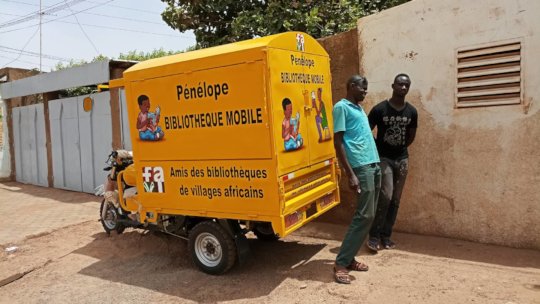 WARNING: Javascript is currently disabled or is not available in your browser. GlobalGiving makes extensive use of Javascript and will not function properly with Javascript disabled.
Please enable Javascript
and refresh this page.