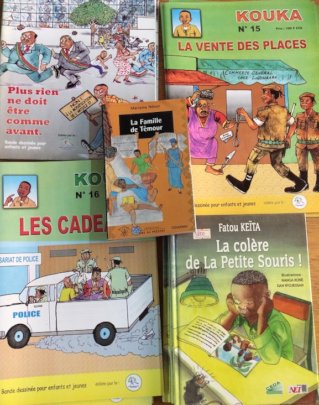 In September 2018, FAVL director Michael Kevane spent two weeks working with FAVL-BF staff. As part of the trip, children's books (about $70 worth) were purchased using the funds from GlobalGiving donations. These books were then distributed to libraries and are now available for reading.
What is new at FAVL Burkina Faso?
We have received a generous donation to work with the village of Koho to help start a library to honor the memory of the donor's beloved godmother, Clarice Weiniger. The mayor of Houndé (the rural commune in which Koho is located) has received our initial proposal and budget estimate. He and his staff, and councilors from the Koho community, will talk with the director of the gold mine that operates near Koho and which is a partner for many village projects. The Rural Council's budget session was Monday, November 20th. They were supposed to have discussed the project at that time. We have not heard back from them yet.
We are proceeding to re-open the community library in Ouargaye. The mayor has been unwilling to establish a budget line for a staff person to be the librarian, preferring instead to use a succession of interns, national service personnel, or "volunteers" (often someone from the community who has finished secondaray school and wants some professional work experience, expecting to receive informal cash payments from the office of the mayor). Such a volunteer has now been recruited by the mayor, and will be trained by FAVL-BF staff in the coming months.
The FAVL-BF staff visited the library of Niankorodougou in the far south of Burkina Faso. Everything was operating normally and the librarian is paid regularly from the mayor's office. They have started a reading club!
The FAVL-BF team is continuing conversations with CENALAC, the government library support organisation. CENALAC has been allocated a budget of 500,000 FCFA per library (about $1000) per year for supporting library operations. They are not transparent how they spend those funds, however. We would like the 34 FAVL-supported libraries to become part of that network and be recognized as community libraries by CENALAC. The new director of CENLAC was open to the idea but pessimistic that the government would increase funding.
The Hounde multimedia center (FAVL-BF local book production unit) has produced a new series authored by Koura Sylvie:
Békila va à l'école, Békila fête la fin de la saison pluvieuse, Békila voyage, Le retour de Békila du village, and Békila apprend le lavage des mains. Sylvie also really likes reading the Harry Potter series!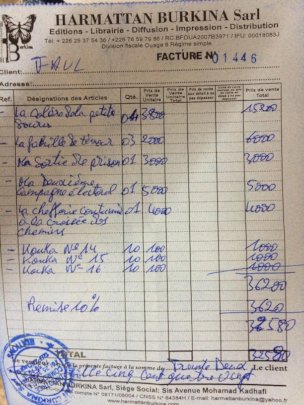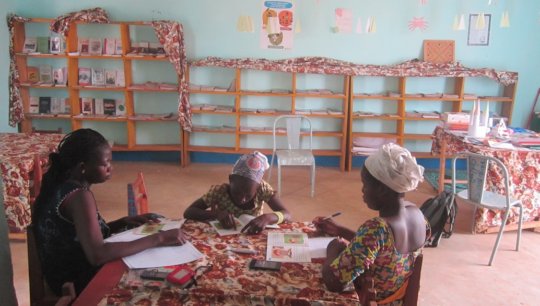 The mobile library project is launched and working. The project target of $6500 was almost reached thanks to a generous donor at the end of 2017 and many other donors who have contributed over the years! In January 2018 books were purchased for the tricycle, with a large selection of children's books, mostly fiction but we are also looking hard for children's non-fiction. In February 2018 the team solicited quotes for purchasing a tricycle motorbike, and a vendor was selected in March 2018 and the motorbike purchased. A local metalworker then built the "kiosk" that goes on the back of the bike. A carepenter built some shelves, and large woven mats were purchased (for kids to sit on while reading). A local graphic artist then painted the kiosk and bike in a vibrant yellow, with some pictures of children reading on it.
The motorbike went out to Kaya town (one hour north of Ouagadougou), in April 2018, and did some test runs. The librarian of Pissila expressed interest in being the mobile librarian. he took a driver's education course, and in May received his official drivers license to drive the motorbike. The final papers for the motorbike purchase also were received and it passed its inspection procedures (yes, a lot of bureaucracy, but that is good, in the end!).
In June and July during summer vacation the motobike has begun to visit various locations in Kaya. At the beginning of the school year in October the motorbike will have a regular run of schools that will be visited once a week. Thanks to all the donors for making this experiment a reality!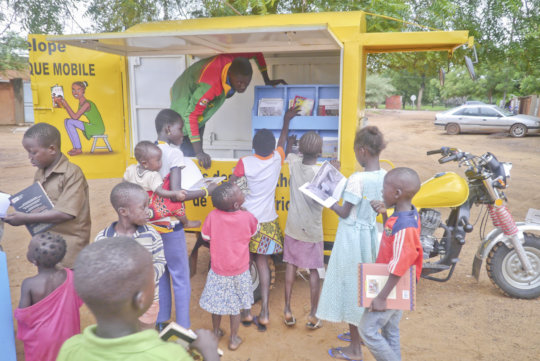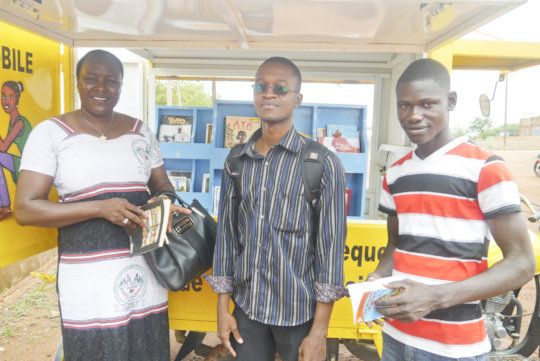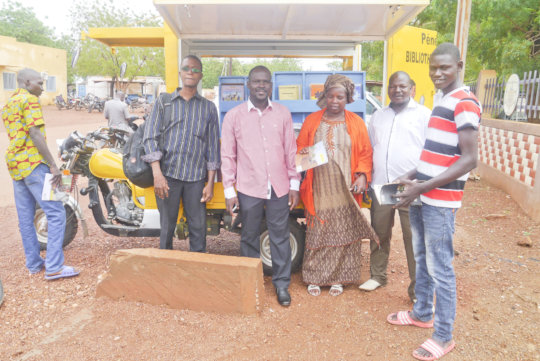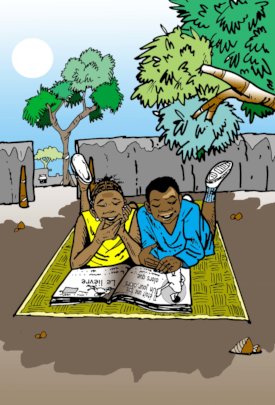 We thank the donors who have contributed to this project in the past several months! Although we have not received enough recent funding for this project to purchase a new set of children's books, we hope to do make a purchase as soon as the balance reaches $100. We regularly purchase books for the libraries.
FAVL continues supporting village libraries and reading in Burkina Faso.This summer 2018 has been very busy with summer reading camps. FAVL organized 20 reading camps, each one lasting one week. 25 schoolchildren are randomly selected to participate. They receive free breakfast and lunch and enjoy a variety of activities. One of the really fun activities is making masks. The children cut out animal masks and color them and attach string so they can wear them. A lot of fun! Kids spent a lot of time reading- individual reading, paired reading, group reading, silent reading, reading aloud! They make a graphic novel together, composing the story and drawing the pictures.
In March and April the libraries organized numerous other activities, including reading clubs, reading contests, and a voluntary "readers are leaders" program sponsored by the U.S. Embassy. The Embassy generously donated books to four of the libraries.
FAVL continues to regularly monitor, visit, encourage, train and support 34 village libraries in Burkina Faso. Thank you for your support!
WARNING: Javascript is currently disabled or is not available in your browser. GlobalGiving makes extensive use of Javascript and will not function properly with Javascript disabled.
Please enable Javascript
and refresh this page.