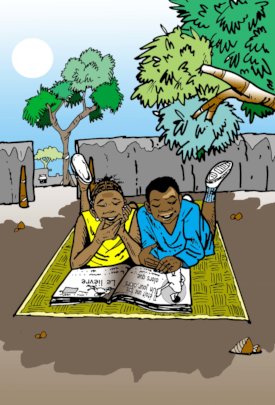 We thank the donors who have contributed to this project in the past several months! Although we have not received enough recent funding for this project to purchase a new set of children's books, we hope to do make a purchase as soon as the balance reaches $100. We regularly purchase books for the libraries.
FAVL continues supporting village libraries and reading in Burkina Faso.This summer 2018 has been very busy with summer reading camps. FAVL organized 20 reading camps, each one lasting one week. 25 schoolchildren are randomly selected to participate. They receive free breakfast and lunch and enjoy a variety of activities. One of the really fun activities is making masks. The children cut out animal masks and color them and attach string so they can wear them. A lot of fun! Kids spent a lot of time reading- individual reading, paired reading, group reading, silent reading, reading aloud! They make a graphic novel together, composing the story and drawing the pictures.
In March and April the libraries organized numerous other activities, including reading clubs, reading contests, and a voluntary "readers are leaders" program sponsored by the U.S. Embassy. The Embassy generously donated books to four of the libraries.
FAVL continues to regularly monitor, visit, encourage, train and support 34 village libraries in Burkina Faso. Thank you for your support!