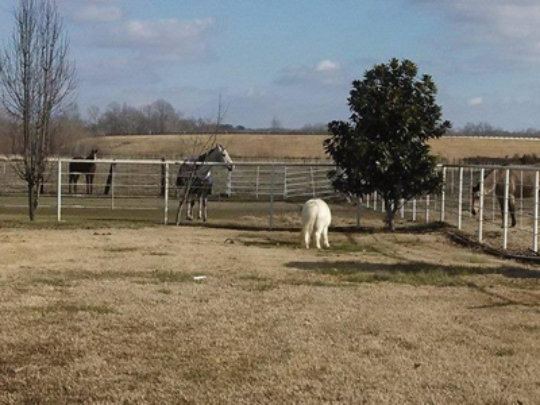 Personal Ponies would like to thank everyone for the continuing support for the program. We have many wonderful volunteers, caretakers, and families that care for the ponies. I would like to share one of these stories with you.
"Hi my name is Carson! I just turned 5 years old on April 08, 2015. My story started in 2010 when my parents Clint and Ashley started this journey with me. Little did they know I was going to be one special kid because I was born with Down Syndrome. Adjustments were needed throughout the family, but I knew from the very first day I was loved more than I could ever imagine. I was blessed with wonderful grandparents who try to help my parents in anyway that they can. I started school 2 days a week at Carroll County Learning Center on 01/15/2013 in Huntingdon, TN and have now worked up to 4 days a week! I have therapists, Mrs Karlene, Mrs Diane, Mrs Hope, Mrs Kathy, and Mrs Holly who work on my speech and physical difficulties at my school. I love all my teachers and classmates at school. I have a big part of my story to share and one word sums it up.....HORSES.
The story begins with my daddy Clint who was raised in a horse crazy family. Both of his parents,Charles and Elizabeth, have ridden horses their whole lives, and when his older brother Chad and him came along they decided the tradition would continue. My mom also grew up riding horses and that's how she met my daddy. As a teenager my dad and uncle Chad battled every year for high point and world championship trophies in the American Quarter Horse Association on their two great horses Little Berseem "Bucky" and Mr Bar Easy "Mr T". They were very successful and brought home the titles many years. My uncle Chad has continued to ride for a career and my papa Charles still competes as well. When I came along my daddy decided to put the horses on the side and spend all of his time with me. My mommy still rides and competes occasionally.
My mommy and daddy don't live together anymore, but I still get to see them both each week.....I spend Sundays through Thursdays with my daddy because I go to school where he lives, and then my mommy gets me and I spend Thursday through Sunday with her! I love them both very much and am so happy to spend everyday with them.
Two years ago for my third birthday my uncle Chad and his girlfriend Heidi discovered the Personal Ponies organization through a great friend of theirs, Jerri and her daughter Mahala who also has downs. I have always been slightly scared of the BIG horses and they thought this would be a great way to help introduce me to the horse world. So for my birthday I got two ponies all of my own. My first two ponies were a little bit independent for me, and after about 6 months of me not bonding with them they called Personal Ponies. Heidi told them those two ponies were too much for me....so my quest for my first real pony began again....Mrs Cindy from PPL worked day and night until she finally found me one! He came to me with the name Sam, however that's our dogs name, so we renamed him to Snowball! My love for Snowball still began very slowly and it took me a long time to warm up to him. On all sunny days my daddy would bring me to the barn and I started slow with things like leading and petting him during the winter and summer of 2014. This winter I have a friend named Addy who began coming to the barn as well and she loves the horses and Snowball! She decided to ride Snowball on March 19, 2015 and with the help of my daddy, Uncle Chad, and papa Charles I decided to bravely sit on Snowball with Addy for the first time!!! It was such a thrill and I couldn't stop smiling! The following week my daddy and grandma got me a new pair of boots and wranglers. Daddy and Heidi got Snowball back out that day and I once again gathered up my courage and got saddled back up! That day I rode around the whole arena and turned my first barrel at a walk and with a little help from them....I was so excited and kept asking to get back on all afternoon! I have attached photos from those great days at the barn. My favorite part of Snowball is his hair!!! I love to pet his wild mane and giggle every time his white fluffy hair starts flying when he sheds!
My story is just starting with the horses. Although my family competes they are all so proud of me just for being me. Even if I only ever walk around on Snowball....after two years I finally joined in on my family's crazy love for horses! I got to follow in all their foot steps and ride a pony! I look forward to many sunny days at the barn with Snowball this spring...even all of his white shedding hair included!
Personal Ponies has been such a great thing for me, my family, and so many other kids out in this world. PPL was so patient with me and did everything in their power to help me find a safe and suitable pony match. Snowball has been such a delight to many children who come through our farm not just me....he is my gentle mini and I love him! Never give up and always reach for your dreams!
Love,
Carson"