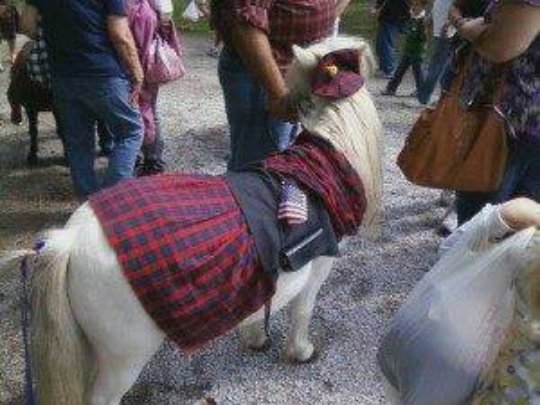 My Nana used to sing about them, all the Pretty Horses. When I was a small child, I would dream of them. Because I could only be near them when I slumbered, I would never fuss at bedtime or nap time. I would send up my wish to visit the Faraway Horses & drift softly to sleep.
Night after night they came. Thundering, frolicking-whinnying to me. My favorite was the Dapple Grey. An enormous fellow, he would lower his great head so I could reach his silky mane. He would kneel so I could climb upon his broad back for a ride across a moonlit meadow. Laughing and playing, all too soon the night's dream magic was done and I would wake with a wistful smile and an aching heart.
Each morning, I would beg my parents for a pony of my own. Although they were sympathetic my Dad would remind me that we lived in the town and ponies were not allowed. Not even if there was a roomy backyard and a garage for him to sleep in. Pony rides at the fair & riding lessons did nothing to ease my desire for a pony of my very own. "When I grow up, I'll have a farm filled with ponies where all the Dream-Children can come ",I said. If you believe it, all your pony dreams will come true," said my Dad. And in that moment, the seed of a very special dream took root in my childish heart.
As the years passed, I studied special education & then nursing. I wasn't certain why, but I felt drawn to both fields & wondered if there might be a very special way I could enjoy both. When I graduated from nursing school we bought our daughters a pony & myself a horse, and so it began... We got involved with rescue & with therapeutic riding.
One evening I was researching activities online for my special needs riders & I happened across a unique website. I couldn't help but click & it was then that I found Personal Ponies and Marianne Alexander. Or they found me. I was mesmerized by the stories & fascinated by the idea of a small pony for a small child with special needs. The horses at the stable where I taught were great. Part-time therapy horses, they were tolerant and kind, but they hadn't given up their day jobs as hunters and jumpers. Page by page as I devoured the website, a dream was taking shape. The tiny seed my Dad had planted so many years ago began to sprout & unfurl the tenderest of leaves.
Enchanted by the fuzzy faces, big gentle eyes and all the smiles, I began to type with shaking hands. A simple inquiry introducing myself & asking for more information. The reply when it came was welcoming and kind & dashed my hopes entirely when Marianne said there was a long waiting list for these special little troll-ponies, but welcomed me into the PPL family anyway. Marianne & I began emailing frequently. I loved hearing all the stories about ponies and their children. Without magical ponies of my own, it would have been easy for that little dream seedling to sprout up, wither & die, but gently, tenderly, Marianne nurtured the tiny seedling by encouraging me to use the time to develop ideas for a program long before there were ponies.
Six months later, the email began "I have ponies. BUT" But indeed. They were young, babies really, mostly untouchable. Very frightened little Shetlands rejected by their breeder. "It will be quite a project, not for the faint of heart, are you up for a challenge?" She inquired. These were not our typical PPL ponies, lovingly hand-raised and trained. These were 2 wildings that M's neighbor had rescued from an auction thinking to rehabilitate and donate them into the program. Anne had become ill before she could carry out her plan & so there were two little Shetlands in need of love & guidance. They were far, far from the sweet, gentle ponies I dreamed of, but M. could see their great hearts in spite of their fear. Every statement seemed discouraging, but in M's typical way she was issuing a challenge. "What kind of stuff are you made of?" "Where does your heart truly lie?"
I couldn't help myself. I clicked on the photo and there they were.a lovely 2 year old bay filly & a tiny, crooked legged shadow of a dapple gray gelding, peeping out from underneath a shaggy forelock. I was dumbfounded. Here, after so many years was my sweet dapple gray ,come to life, shrunk down to child-size. My very own version of the Velveteen Rabbit...he became REAL. Oh, how i laughed. And cried. And typed.. "I'll do it!" And M's reply: "I knew you would".
And so, on a beautiful fall day in 2001, we truly began our journey with Personal Ponies. Fueled by childhood dreams and hopeful hearts, we were off to meet HollyHock Katrina-"Katey" & H.H. Mr. Simms-"Sammy"! My first glimpse of the two took my breath away. I was charmed, but doubts clouded my vision as they ran to the spot in the barn furthest away from scary people & my little seedling-dream began to wither. With the help of four people, we eventually tricked them into loading onto our trailer to begin the 8 hour journey home. By the light of the moon, we unloaded Katey first & walked her into the paddock. She had been worked with at one point, but was so frightened, she trembled violently. I snapped a rope onto the little grey gelding's halter, hoping he would follow Katey- and he did-at breakneck speed with me barely keeping up. I hung onto that rope for dear life, knowing if I let him go, we'd never be able to catch him. Once inside the paddock, I bent to unsnap the rope & the movement startled Sammy. He wheeled, and lashing out with tiny sharp hooves he kicked me right on the knee. What on earth had I agreed to?? The tears streamed down my cheeks & joined the smile I couldn't stop smiling in spite of myself. Welcome home little ones, I smiled through my tears.
Our real journey had yet to begin. It didn't take long before the pair began to understand they were safe & loved, regardless of how they felt about us. I was enchanted and at their beck and call. They would boldly whinny for their breakfast & meet me at the gate, only to run off in terror. I began to wonder if my little ones would ever be true PPL ponies, but I wasn't about to give up.
Time & Love. The two great healers and the two greatest gifts you can bestow on anyone. And that is what I did. I gave them time. I gave them love. I gave them space. I would take a lounge chair and just sit in the paddock. One warm summer afternoon, I awoke from a nap with Katey & Sammy staring down at me, sniffing my pockets for treats. I reached up & touched a silky mane. Katey snorted and wheeled away. Her time hadn't yet come, but Sammy...Sammy chose that moment togive me his heart...in return for a peppermint.
Slowly and carefully, we began training in preparation for work as a true Personal Pony. Once he learned to trust, from that moment on, Sammy knew I would not ever ask anything of him that he could not safely do. When he gave me his heart that first day, I promised I would never ever betray that trust. He blossomed & he became brave. He went inside houses,hospitals, schools & shopping malls. He walked across bridges and tarps. He marched in parades wearing costumes. He trotted alongside bagpipe & drum corps. He climbed up & down staircases. He stood quietly allowing children to pet him while a helicopter flew low overhead preparing to land. He stood while children finger-painted on him, while a child with special needs spoke his first words...and still he stands.. He stands while little children's sticky hands grope near his eyes or nostrils. He stands while an arthritic hand struggles to pet a silky mane, becoming in memory the pony of their youth. He stands while tears of joy stream down a face & wet his mane. He stands while grief-stricken people bury their face in his mane & sob their cares out. He Smiles. He poses for photos. He helps me train many other ponies, instilling in them his quiet confidence. He trains our volunteers. Together through the years, he & I have stood witness to great joy, to paralyzing grief and loss, to love. Through all these years, he has not spoken a word, and yet he speaks volumes. He tells his story. The heart has a language; an eloquence all it's own and he is a poet. He has become that enormous Dapple Grey dream horse of my childhood... perhaps not in body, but in great heart. Over the years, Sammy's dapples have faded into a lovely pure grey coat of silk. As pure and lovely as his heart.
Sometimes at night, I still dream of the Faraway Horses. I walk outside in the moonlight & softly, quietly, I give thanks because I no longer wait on the Faraway Horses...for they are already here.
Sammy did not begin life with the kindness & love we give our Personal Ponies foals, but he opened his heart to seek it & has brought so much joy and happiness. He is the epitome of the gentle & kind ponies Personal Ponies seeks to raise & train and share. They bring magic, hope and love wherever they go. If not for the vision of Marianne and the kindness of Anne in rescuing a little grey shadow, our corner of the world would not shine so bright. Thank you HH Mr. Simms. Sammy. I salute you, dear one. You have been a precious gift. You hold my heart in your tiny hoof.