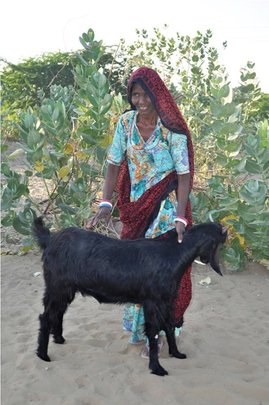 Sheerni Self Help Group Project
This project has proved very successful since it was established in 2009. A few of the original women have left the groups and a few new ones have joined a year ago. There were 8 groups totalling 96 women and in January of this year a 9th group was created with another 11 women, making 107 women. Mrs Manju Mehta who is the Project Coordinator has explained to them about the work and the rules of the Self-Help Groups. Each woman gave fifty rupees which was deposited with the bank manager in Setrawa and all the documents were given so that a new bank account could be opened.
Every Thursday in of each month, a group discussion takes place involving all the groups on a rotational basis with Mrs Mehta. They explained to the women in the group how to take loans and Mrs Mehta would give them tips on how to start a business or how to make the business work better. Savings have been increasing well in the groups, and the women now have the confidence and are interested in taking out large loans of up to 10000 rupees.
All members of the groups have been attending well except the members from the small hamlet of Solankiyatala who have found it difficult to attend the meetings. So the Director of Sambhali Trust, Govind Singh Rathore went to meet the women to discuss their problems. He said he wanted to be able to donate a sewing machine, flour machine and 2 goats from Sambhali Trust to 4 women who were in need of substantial help to try and start their own small businesses. These donations have been able to come directly out of Global Giving Funding. In November three loans were given to 3 women of 8000 rupees to Markyari and 10000 rupees each to Bhanwari and Lila, to enable them to start small businesses, by purchasing animals and machines.
In November the group monthly meeting improved in size and there were 99% of the group members present. Before that the women where very busy in their fields cutting crops until Diwali festival, when they finished. All the women expressed interest in the need for help from Sambhali Trust for their daughters' education. It is from these families that the 20 girls in the Sheerni Educational Project have come from. The women see the success of their daughters being educated in Jodhpur over the last 18 months and view it as something that they would like all their children to be able to do.
The distribution of loans for the women November was as follows:
Group 1 Puspa / Shop Rs 13 000
Group 2 Sayra / Shop Rs 5 000
Group 4 Bhawri Reni / 2 Goat / 10 000 Rs
Group 6 Fulla Deni / 2 Goat / Rs 14 000
Group 7 Champa / one Goat / Rs 5 000
In December several more donations were made all to the thanks of the donations received through Global Giving:
Sua received Rs 6 000 to buy a goat
Samda received Rs 6 000 to buy a goat
Mima received Rs 15 000 to buy equipment for the construction of her house
Mawa received Rs 10 000 to start her own shop
Bhumi received Rs 10 000 to buy a cow
Govind Singh Rathore visited Setrawa again this month and spoke to the women about their problems and assured them for help. A woman named Tipu was provided assistance to pay off outstanding electricity bills for three months.
No loans were distributed this month to any group as there are three to four active loans in every group. There is a need to maintain sufficient cash balance in the bank. Also the women are requesting significant sums as a loan, but loan disbursement will resume only after some of the outstanding loans have been repaid.
Sheerni Educational Project
The girls have had the results of their practical exams; 9 of the girls received 80% and above with Lelita achieving 100%! We are delighted with the results and overall a very pleasing set of marks. The girls are now getting into a new routine with the volunteers to include jogging and different sports activities for the girls to get regular daily exercise, after they have finished their homework. They have been visited by Mrs Jacqueline de Chollet who helped initiate this project and regularly reviews the progress of the girls as well as by the Department of Women and Child Development . The weights of the girls are taken every 3 months and it's good to note that some of the new young girls who arrived 4 months ago are gradually eating more nutritious food and putting on weight. Some more school exams were held in December, followed by a holiday when the girls returned to their home village of Setrawa until 14 January.
A medical camp was also held in December where the girls were given blood tests for haemoglobin and all tests showed normal results, except for one girl whose result was low and she was given treatment. The volunteers go into the boarding home 5 days a week, to help the children with their homework and preparation for exams, sports activities and lessons in geography and general knowledge. Also they encourage singing and dancing in their free time. For a week the girls spent time at the Sambhali headquarters where they were able to use the neighbouring playground and sports complex. The volunteers also gave a workshop on the geography of Rajasthan and India and teaching them to do some crocheting. Sonja one of the volunteers was also able to give a follow-up talk to them as part of Sambhali's "No Bad Touch" Programme.