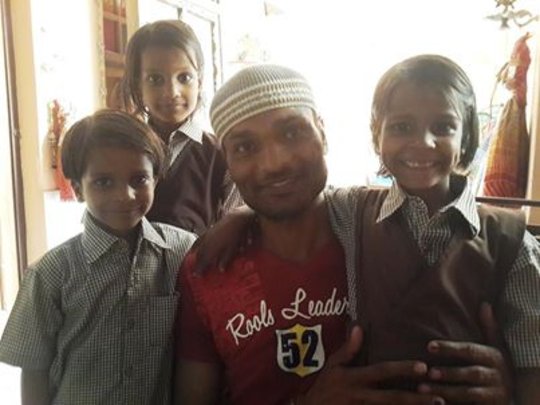 Sheerni Educational Project Update
In February, Vimlesh Solanki, one of our existing tutors who was teaching the children in our project at Balikah Grah, the government boarding home, was appointed to come to the boarding house to help support the girls with their Hindi and other subjects. The volunteers help with English and Maths homework on a daily basis when they go to the boarding home for a couple of hours a day and Nirmala the housemother, now needs the assistance of a Hindi speaking tutor with the 20 girls. A structure was established to do homework all together first, then have a group activity or task related to Maths/English and then they would all go to the park nearby for sports and games. In March volunteers were taking dance and theater classes and the girls enjoyed these very much.
Gerti, one of the Sambhali volunteers who has returned for a second time, had put together some First Aid boxes with a lot of equipment in them and held a First Aid workshop for the girls and Nirmala. They now have a first aid box and knowledge about what to do in cases of injuries and burns.
In school, the Principal checked the notebooks and homework of the girls and most girls got good marks, but Samta and Vishnu had poor writing and were missing exercises; Rekha also has problems in school. Vimla, Santosh, Priyanka and Kaushalya spent some days in the village because of a wedding.
On 27 February Anne Vincent from the Global Foundation for Humanity visited the boarding house with two other guests to check on the progress of the girls.
In March the girls were preparing for exams. The volunteers concentrated hard working with the girls in Maths. All of the girls know written addition and subtraction now. Pankaj shows an ability to solve problems that even girls in class 4,(the class above her), have problems with. Pankaj has shown to be very bright.
After January (the winter holiday) the girls behaved quite badly, which was beginning to disrupt the group, and so Mrs Manju Metha, Sambhali's Project Co-ordinator and Mr. Virendra Singh explained to the girls how to behave, and everything settled down again. They asked that all the staff and volunteers to spend half an hour every day, teaching the girls good behaviour.
Pankaj, Rekha and Vishnu are starting to read English. The girls reading in the 3rd Standard are reading English and are good at Maths. All of the girls have great results at school and have good grades. Asu is one of the best ones reading and drawing. Next year they will put her in 5th Standard class, instead of 4th because she is so good. Samta is doing her best writing now.
All of the girls have received a follow-up session on Sambhali's No Bad Touch Workshop by our Sambhali NBT Project team, regarding awareness about Child Sexual Abuse. On 24 March all the girls had inoculation against hepatitis. The Boarding home have changed the arrangements and so now the girls eat downstairs on a long table, where they have more space.
In April, as the girls had their exams during this month, we did more studying and teaching with them than normal. While Vimlesh has been working a lot with the older girls, the volunteers took more care of the younger ones. Grade 3 and 4 had to learn different passages out of their books: some they had to be able to write, others they had to read well or know by heart.
Apart from this, there have been lessons when the older girls (starting from 5th grade) had been taught and repeated the tenses (with Vimlesh and a volunteer). In addition, Vimlesh taught them spelling of different words and checked if they could remember one day later. They also learned spelling in a game.
Anu was struggling with English, so we had some extra reading and writing lessons and we are encouraging her to speak English as much as possible so she can gain confidence in her abilities. Pushpa is struggling a lot. While she is able to say the necessary things in English, it is really difficult for her to write or read. She needs more help with English and she is motivated to learn. Rekha's spoken English is good enough to be able to talk to her and have a conversation but needs more help from the volunteers to help her write English. Priya seems to do very well and understands fast, if she gets taught something new. Two girls had a lot of problems reading Hindi, so Vimlesh was helping them and taught them how to read with great success. She also taught them strategies how they can learn best.
Nirmala, the housemother, taught the girls how to pronounce the vowels and helped them in reading Hindi. She also assisted the older girls in social studies and environmental studies as well as in science and moral science. Nirmla explained to them the stories they have read in school and discussed the moral of it.
In Maths, Vimlesh has taught them fractions (how to add and subtract them). Also the smaller girls (1st to 4th grade) were taught how to multiply, divide, add and subtract. All of the girls had to learn tables and a competition was created to check who can learn them the fastest. A few girls were able to do them up to 20 easily. The older girls (6th to 8th grade) were taught areas and parameters of squares and rectangles. The same topics that Vimlesh has been teaching during the afternoon, Nirmla repeated after Vimlesh and the volunteers have left. She practised Addition and Subtraction with the girls.
Just a few days before the end of the month, two new girls joined the boarding home (Alfisa and Nosil). They adapted very well within a few days and seem to be well and comfortable. The other girls take good care of them.