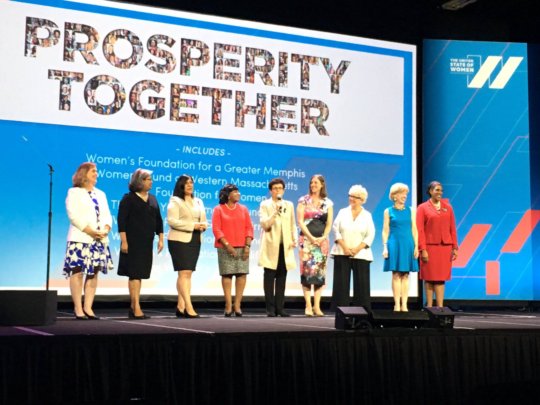 Here at the Washington Area Women's Foundation, we are still energized from the inaugural United State of Women Summit on June 14th. What a momentous occasion! More than 5,000 people from across the country attended the inspiring day-long event, organized by the White House. Together, participants not only celebrated how far the nation has come in the realm of gender equality, but also vowed to change the state of women for tomorrow.
This event was of special importance to The Women's Foundation. Along with several colleagues from respected women's foundations across the country, our President and CEO Jennifer Lockwood-Shabat announced the launch of a national Young Women's Initiative, which will build opportunities and close gender and race gaps for young women. Jennifer reflected on the significance of this advocacy work, stating, "It is a privilege to spark and guide philanthropic investments that will have a long-lasting impact on the lives of the Washington region's most vulnerable women and girls. This initiative will focus specifically on women and girls of color and will put their voices, experiences, and needs front and center."
Gaps in inequality are clearly seen here in Washington, DC metro area. While our region is home to some of the wealthiest and most educated people in the world, 1 in 4 local women and girls are living at or near the poverty line. Equally troubling is that 16 percent of African-American women, and 14 percent of Latinas are more likely to live below the poverty threshold—compared with only 6 percent of white women. Too many women and girls of color in our region lack access to the cornerstones of economic opportunity: affordable child care, workforce training for sustainable careers, and education about asset and wealth-building. At The Women's Foundation, we want to change this grim reality.
Although The Women's Foundation has always created opportunities for women and girls of color to thrive, we are now vowing to directly tackle the barriers that are creating these gaps in outcomes. We recognize the need to intentionally talk about race, racism, and racial equity. We must increase our understanding of the unique barriers facing girls and young women of color in our community.
As a first step locally, together with our partners, we are hosting a series of listening sessions to hear what young women in our area—who are living at or near the poverty line—have to say about the reality of the barriers they face and opportunities available to them in their schools, families, and communities. These listening sessions will shape recommendations for investments in programs, policies, and research. We will connect with a wide range of stakeholders, including government, business, nonprofit and community leaders, to flesh out these recommendations into actionable plans. We will initially focus on DC, but hope to expand across the region over time.
At The Women's Foundation, we know that we have a responsibility to women and girls, and to our community, to call the question and engage in the difficult and uncomfortable conversations that others may shy away from.