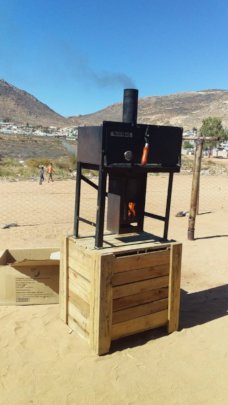 Celebrating our Khanyisa Bakery Heroes: Elize Brand from Bergsig
Elize Brand is the coordinator of Bergsig Ondersteunginsgroep (BOG) in Bergsig, Northern Cape Province. When we first met Elize at training workshops, she was too insecure to participate in group exercises. She always came to our training but we were never sure if she valued it. We were covering planning, budgets, financial management and the like. However, when we moved onto GBV and its related issues, Elize suddenly came alive. This was her calling.
Having run a successful team of home-based carers, she embraced the theory we passed on and equipped her carers to bring GBV into their daily work, identifying vulnerable women, making them aware and supporting them with their wellness. Elize launched a major awareness campaign with youth, undaunted by the gangsterism around her. She now has 4 community support groups for those affected by GBV/substance abuse/HIV.
As part of the Khanyisa Bakeries Project, Elize underwent bakery training 6 years ago and has since proven herself not just to be an excellent development coordinator, but also a natural baker and entrepreneur. BOG's micro bakery has been working and producing fresh bread for some years now. Income from the bread sales provides small but regular stipends for the home-based carers Elize manages, who mostly work on a voluntary basis.
On average the bakery produces 30 loaves of bread a day. It takes 12.5kg of flour to bake 30 loaves, which amounts to a cost of R5.50 a loaf. The fresh loaves are sold to local community members for between R9 and R10, which is about R5 cheaper than the cost of a loaf of bread at the store. They're also a lot healthier because they don't contain preservatives and are fresh from the oven. Loaves are also sold to school tuckshops. Elize has also started baking pizzas on a weekly basis which she sells for R70. She currently sells about 25 pizzas a week but is aiming for a target of 100 a week. A good month sees her raise up to R7000 just from pizzas.
We salute and congratulate Elize on her successful community bakery and thank her for her continued hard work and dedication to the cause of helping women in need. And we thank you, our generous donors, for your continued support of our the Khanyisa Bakeries Project.