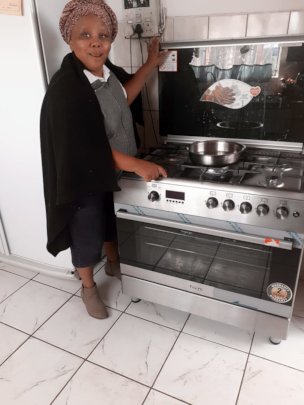 After a couple of challenges to get Nomfuneko her Mama Mimi's wood fired oven, we decided to buy her a full gas stove and oven to start off her community bakery. The organisation that provides these wood fired ovens are no longer in existence, hence we looked for alternatives to ensure that we still help Nomfuneko with your generous donations.
The Covid-19 pandemic also brought its own challenges, but the oven allowed Nomfuneko to be of service to the needy in her community.
Nomfuneko who runs the Kusile Women Empowerment organisation writes:
"During the lockdown, Kusile Women Empowerment has been working tirelessly, making sure that the poverty-stricken communities of Stutterheim have access to at least one cooked meal per day.
The number of beneficiaries kept on growing every day, because the need for food is so great especially with children who are used to school feeding scheme. The centre had to open two other soup kitchens closer to the communities that have the greatest need for cooked meals.
Over 750 children and with 20% being elderly people, are benefiting from the 3 soup kitchens managed by Kusile Women Empowerment. The stove that was supplied by Rural Development Support Programme (through GlobalGiving) is playing a very big role, we bake bread for the 3 soup kitchens. Producing between 60 and 90 baked loaves of bread per day. This equipment has assisted Kusile Women Empowerment to cook quicker and smarter. Every day the stove is used to cook for the 3 soup kitchens. This has made a big difference to the staff and beneficiaries."
Nomfuneko and her group are finding it difficult to cook for the community and stay safe at the same time, because they feed such a large number of people.
Nomfuneko and her community want to thank all the GlobalGiving donors for making a huge difference in their lives!