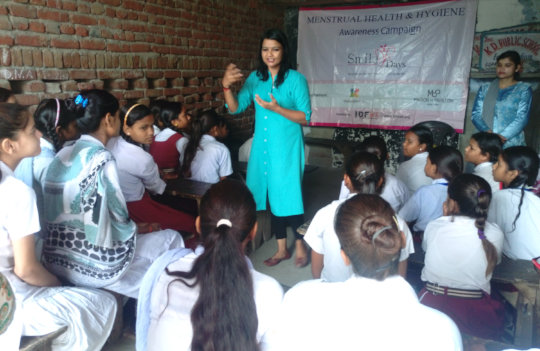 Hi Friends,
Greetings!
Team Smiley Days has identified 20 new schools last month to establish a partnership with them and educate, aware & empower school girls towards puberty, MHM and well – being.
The schools have reopened after summer vacations and we have conducted an awareness workshop in newly identified school on 10th July. The school is located in a dense slum area. The girls who enrolled in this school come from the near communities and have no knowledge of their body. At the beginning of the awareness generation session, these girls looked shy & hesitated to hear the word "PERIODS". Few of them hid their faces but others looked curious to know about the topic. We used an interactive way during the session by distributing blank paper & pen to everyone to write their queries on the topic.
We allowed them to mark on the paper if you are still using the cloth to absorb the menstrual flow. The Smiley Days team was shocked to know the results of this activity i.e. 40% girls marked that they use cloth sometimes, 10% girls marked that they use cloths on regular basis and only 50% girls use sanitary pads during periods. The team described that if you use cloths during periods, the few things always keep in mind i.e. always use clean & cotton cloth, the cloth should be properly washed & dried in the sunlight, always wash your hands with soap before & after changing the pads etc.
"I don't wash my hair when I menstruate because my friends say, if I wash my hair during period days my eyesight will become low and I feel more pain in my abdomen. Didi! Is it true?" this question raised by Surbhi (name changed) a 15 years old girl. The team has collected many queries that mostly connected with the myths & taboos associated with the Periods.
The Smiley Days team is rigorously working to overcome the social barriers associated with menstruation by providing the right knowledge & information on MHM & reproductive rights.
We are very excited for GlobalGiving upcoming July 18 Bonus Day. Only a few days are left! This Bonus Day is all about matching BIG gifts that will help us to continue the project and making differences in the lives of women & girls. The JULY BONUS DAY is starting on Thursday, July 18.
The higher the donation, the higher the match!
We thank you for your support for the girls and women's reproductive health and rights in India and we will continue to keep you updated about our work and stories from the field.
Regards,
Team IDF