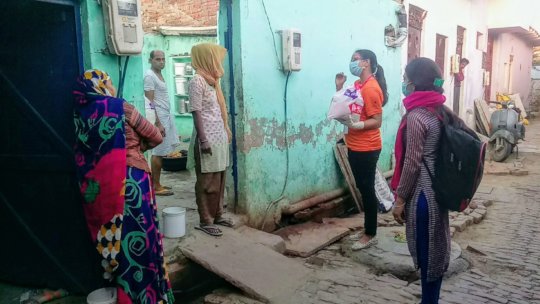 Hello Everyone,
We hope that you and your family are safe and healthy in the current COVID 19 pandemic.
As we are aware that the COVID-19 pandemic has killed thousands of people and spread to more than 200 countries since it was first reported in China in December 2019. Now, this virus is rapidly developing in different countries, and India is one of them. More than 8000 active cases have been recorded in India as of today.
Though, IDF is dedicated and concerned about the health of our beneficiaries who are an important part of the different projects. So in this tough situation, the Smiley Days project that is dedicated to providing information, knowledge and spread awareness on menstrual hygiene management and well- being of adolescent girls and women from slum areas has been extended the wings to spread awareness on COVID 19 in among slum dwellers and encourage them to follow protective hygiene measures to fight with Corona virus.
Smiley Days team members encourage the take precautions by social distancing, at least a 2-second handwashing practice, use of face mask, do not touch an infected person and always cover your face while sneezing and coughing, etc.
The team members are also providing free Sanitation kits to the women and adolescent girls at their doorsteps that kits include sanitary napkins, soap, face mask, toothbrush, paste, washing soap, shampoo, etc. The kits are giving smiles on the faces of the women and these women are now ready to fight with COVID 19.
Sarla Devi, 34 years (name changed) said "I was afraid for getting my periods this month and using cloth again that I refused some months ago. But during the lockdown situation due to the Corona virus, none of us can go outside to bring sanitary napkins. My daughter who got her first period a couple of months ago asked me for napkins. But I was helpless to do anything in a tough situation.
But now I am really happy that we will not go back or use cloth again, as Didi from Smiley Days team has handed me the sanitation kit at my doorstep and also informed us how to keep safe and healthy while during the pandemic situation. I believe that my daughter and I are free with germs and our periods will be healthy even during COVID 19".
Thank you so much for your support and we are happy to share more updates of the project in the coming days.
Team IDF wishes for you and your family's good health.
Be Safe and Stay at Home!
Thank You,
Team IDF