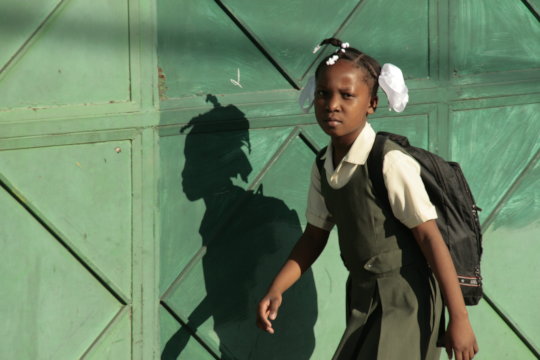 Hi!
The corona time continues to occupy us, even though the acute risk is averted for our teams in Germany and Italy. All the more we look at our projects around the world and how we can better support the people in Haiti and Honduras so that they can get through this crisis better.
Medical care in Haiti
At the beginning of 2020, our basic medical care project started in St. Emma and St. Nicolas, which we were able to initiate with the support of the 24 good deeds calendar. Initial medical screenings of the children took place in both schools in February 2020. About a third of the children suffered from health problems, e.g. flu infections, skin and fungal infections and intestinal parasites. The latter are mainly due to contaminated food or water.
The affected children were treated directly with medication or referred to nearby hospitals for further treatment. Due to the corona crisis, the second planned check-up had to be canceled for the time being. We very much hope that the project can start again soon to ensure the health care of the children in St. Emma and St. Nicolas.
As everywhere in the world, schools, kindergartens and universities have been closed since mid-March, and gatherings of people are prohibited. The fear of disaster is great and justified. Maintaining social distancing and the necessary hygiene is difficult to implement in the densely populated slums of Port-au-Prince. In addition, the supply of water is not guaranteed.
We continue to support our schools with donations, as they have now become important distribution centers for food and clean drinking water.

Active at PEN PAPER PEACE
Already shortly before the Corona time, we adjusted our organizational infrastructure to the needs of our supporters - so you can join PEN PAPER PEACE from anywhere in the world, at any time of the day or night. At our first volunteer call we were an incredible 25 people! We are so happy about the diverse, talented and inspiring people who work with us for better education around the world.
If you want to join in, have a look at our website! There are tasks from one time to long-term commitments, from helping out at beverage sales to financial accounting.
Thank you for being a part of PEN PAPER PEACE!
Kind regards,
Nora, Lisa, Luca, Verena, Milena, Felix, Vivi, Verena, Denise, Peter, Alissa, Malin, Sonja, Janine, Giovanna and Jana at PEN PAPER PEACE e.V.