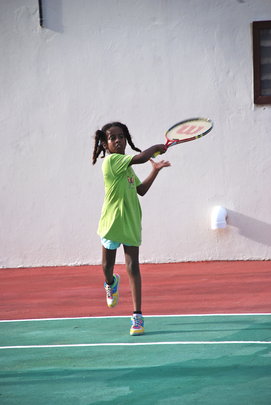 2012 has started off on an excellent note for the Mariposas. This year, we are focusing on providing extensive and tailored academic support for all the girls in our program, specifically for those who are behind their grade levels in reading and math. Our volunteers are working one-on-one with many girls during the week, using flash cards, games, songs and a variety of other methods to build excitement around reading and numerical literacy.
Four of our older Mariposas are also receiving intensive job skills training to provide them with greater opportunities once they graduate from high school and look to further their education. We have one office intern who helps our Office Manager with accounting, logistics and general tasks, and three other bright, young women who are being trained in marketing, advertising and sales to help in fundraising and publicity for The Mariposa Foundation. By providing adolescent girls with specific job-skills training, they learn valuable lessons in financial independence, professionalism as they represent themselves and the Foundation and interact with community businesses and other organizations. We are very proud of our rising young entrepreneurs and expect great things from them in the future!
We recently took a group of 10 girls for their second round of dental checkups and are providing ongoing care and follow-up treatment to those who need it. Our sports program is flourishing, with more girls enrolled in tennis and soccer programs. Once a week, the Mariposas get professional coaching in tennis and soccer, with one of our younger girls almost ready to compete in national tennis tournaments!
Our third annual Girls Summer Leadership Program is fast approaching, and we are excited for another year of girls-only theatre, dance, arts, sports and academics in an encouraging, supporting and empowering environment. This year we hope to add twenty more young Dominican and Haitian girls from the community into our programs. Many of these girls will be either younger sisters or cousins of girls already enrolled in the program, thus contributing to our vision of working with families and communities in a holistic way.
All of this would not be possible without your continued support, so thank you once again, and happy Spring!
Warmly,
The Mariposas