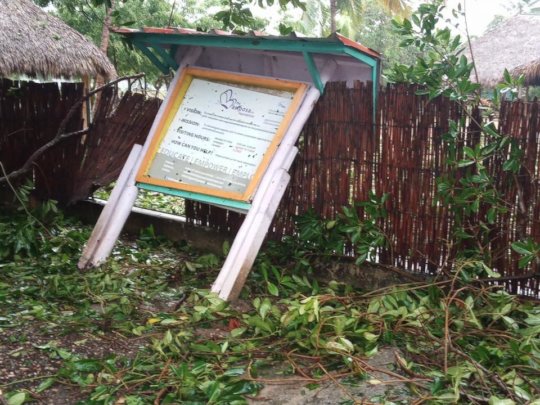 In the midst of the global pandemic, when the world was already facing so many challenges, the Dominican Republic faced yet another immediate emergency situation at hand as hurricane Isaias passed through the Caribbean. Directly in its destructive path, we experienced severe weather that caused dangerous conditions and storm surges throughout the island. The coastal town of Cabarete saw flooding in some of its most vulnerable areas, power outages throughout the community and damage to already susceptible building structures in precarious places.
In 2014, we successfully took on the challenge of refurbishing the Center from an abandoned building to a first rate facility that invokes inspiration and change in our community and the girls who attend programs there. Our beloved Mariposa Center that serves as a second home for all of the Mariposa girls for the last 6 years, also experienced considerable damage during the storm. A number of large trees came down, causing secondary building damage. Fencing fell over and general reparations will have to be made in order for the Center to be back functioning, of course, once it is safe to bring girls back to programs. Though Isaias caused considerable damage, we know that as an organization we are prepared and skilled to overhaul any destruction that occurred.
On the ground in our community we were able to immediately reach out to all families to check in via telephone, confirming the safety of the Mariposa girls. Additionally, our team members did individual home visits and community walk throughs that gave us a clearer understanding of the extent of the damage and what individual families will need to be able to get back on their feet again. Without saying, 2020 has been a year of incredible challenges throughout the world. Now more than ever, we know the importance of working together as a community for a common goal and supporting each other to rise up after every storm that we are faced to confront.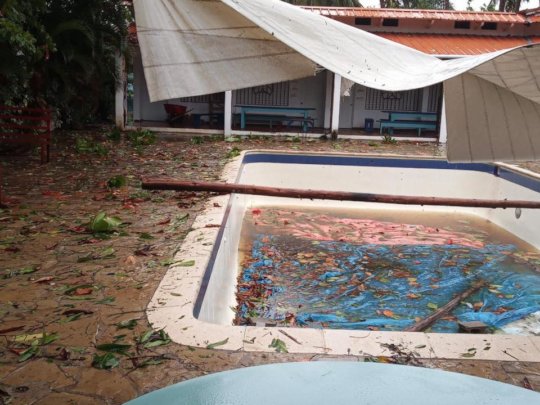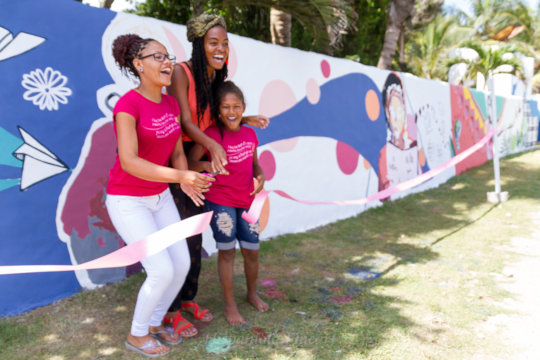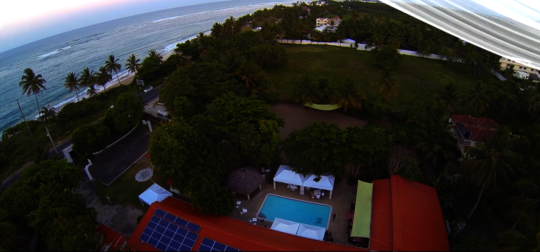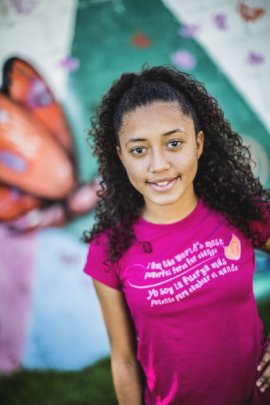 In April of 2013, Nicole began programs with Mariposa and entered as a shy, introverted young girl, yet, always with a remarkable openness to learn and discover new things. As every girl who begins programming with us, Nicole first learned how to swim in our onsite pool and later, once comfortable in the water, she was taken to the ocean to learn how to navigate the sea and read the oceans currents. Nicole's early exposure to swimming and our water sports programming at such a young age, allowed her to discover that her passion lies in the sea. After participating in our summer camp surf program for several years in a row, she has proven to be an incredible, innate surfer with a deep love and passion for the ocean. Through the Mariposa DR Foundation, Nicole had the unique opportunity to participate in a special surf program, where she spent a week surfing and mentored alongside with some of the top surfer women in the world. Most recently, she pushed her swim skills by taking an introductory lifeguard and water safety course in our community; giving her the opportunity to hone in on the development of her skills in a practical way.
Today, Nicole continues to be a very well-rounded, active teen. As one of the founding members in our musical group, Nicole has developed a love for performing and shines on stage as she has learned to play several different instruments. In the summer of 2019, Nicole was a pioneer in our UWC Summer Short course program and pushed herself to begin to learn English as she befriended students from around the world. During the 2019-2020 school year Nicole received a full scholarship at a local international school where she sharpened her English skills and developed herself more on both an academic and social level. Every semester her teachers commented on her continued progress and her notable drive to succeed. The pandemic did not stop her from learning remotely from home and advancing her technical abilities, ultimately preparing her for her next step in life.
We are happy to announce that Nicole has been officially accepted to study at the prestigious United World College Costa Rica in the fall! Raised by a supportive, single mother, Nicole has been taught to be persistent and to always rise after falling down. Most importantly, she has learned that she can achieve whatever she puts her mind to and that her openness to learn and try new things is the key to her success. We have no doubt that Nicole's embracing of new experiences will follow her as she begins her journey as a Rise Up Scholar abroad.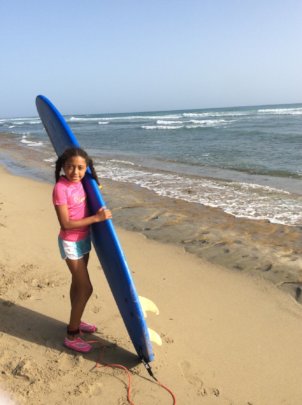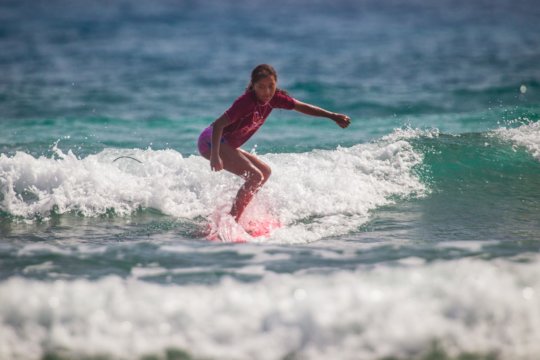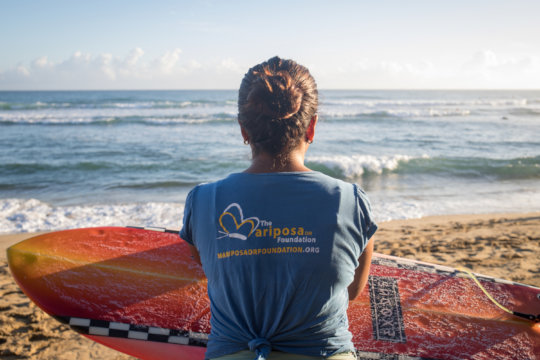 As humanity faces unprecedented obstacles, we at the Mariposa DR Foundation are working on the ground with our families and girls. By listening to them, we can better support them in these challenging times. We are writing today to give you, our advocates and supporters, an update on how we are addressing the current situation in Cabarete.
We are assisting the more than 100 families of our Mariposas based on their specific needs. This includes:
Saving Lives by Social Distancing: Educating about the importance of social distance and modeling what that looks like. We are sharing best practices for staying healthy. Public health posters are being made by the girls and displayed on the outside of their homes.
Feeding Families: Supporting some of our highest need families by creating accounts for them at local corner stores (colmados) and grocery stores. Families have ownership on what to buy, as they know their needs best. This also will help to stimulate the devastated local economy. We are also supplying some families in high need with clean water for drinking.
Distance Learning: Offering distance learning materials and access to iPads as well as ensuring Mariposas have resources to complete distance learning offered by their schools at the elementary, high school, and university levels.
Women's Health: This can be an especially scary time for the pregnant women in our community. We are connecting with our Mariposa graduates who are pregnant and offering them support and resources. We are also working in collaboration with CEPROSH to deliver medication to HIV+ community members in Cabarete and Sosua. We are distributing sanitary pads, soap and hand sanitizer.
Making Masks: Mariposa Upcycled Sails seamstress Maria Alexandra is making 200 masks out of old spinnaker sails to deliver to families. Additional funding will allow us to pay our second seamstress to expand the mask making and share them with the greater Cabarete community.
Nurturing the mind: We are giving the Mariposas journals to write in and lending books from our library. We will be offering virtual yoga classes when they are able to connect to the internet.
Musical Instruments: We have delivered several musical instruments to the Mariposas' homes so they can keep practicing and for their enjoyment.
Environment: Two new environmental workbooks created by our girls "Eco - Heroes" and "Our Oceans" will be printed once printers are open again and delivered to 2,000 children in Cabarete.
Supporting our Rise Up Scholars in the US: We are extremely lucky to have three "madrinas" supporting our three Rise Up Scholars who are stuck in the US and finishing their second semester of freshman year remotely. Thank you to Sherry Herdman, Staci Darmody, and Jen Furigay for opening their hearts and their homes.
We know as a global community we face challenging times. On the day that the Mariposas can return to their schools, to the Mariposa Center for Girls, and to the ocean and the mountains, we will be ready. But the path to recovery and their future depends on the financial support and commitments we are able to secure today. Those of you who have donated this month, whether it be $10, $100, or $1,000, please know it lifts us up as we navigate uncharted waters.
We hope you all are hanging in there and we are holding you in our hearts.
WARNING: Javascript is currently disabled or is not available in your browser. GlobalGiving makes extensive use of Javascript and will not function properly with Javascript disabled.
Please enable Javascript
and refresh this page.