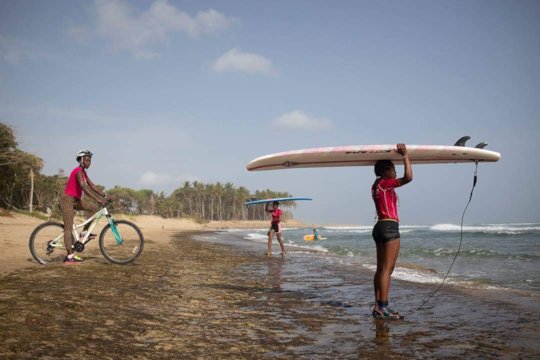 The summer of 2021 has been a summer of finding adventure and joy in safe spaces, and we have plans to extend it!
I wanted to take a moment to thank you all for allowing our girls to live their dreams this summer. Over 40 new girls enrolled and were introduced to swimming, while more than 40 other girls had the chance to surf at Encuentro Beach. A dozen girls rode a bike for the first time and 50 girls stand up paddle boarded on the beautiful river Yasica. We read under our giant mango tree, and debated current events under the almond trees. We danced, took computer classes, English classes and graphic design classes. We learned how to make plant based foods and to use math skills during cooking classes. We ate seagrapes from the bushes on the side of the "Maverick" Basketball court to quench our thirst and took naps in the shade. Our days began with tropical fruits, lots of mangoes, and coconut water from the palms on our campus. Morning circles rotated between yoga and meditation under the high arches of our Anacaona Bohio. How lucky we are to have found all of these safe spaces in nature. We sought out adventure everywhere we could, even kiteboarding has become a safe space.
Last week we learned school will not start back before the 29th of September. So here's to this endless summer that will continue!
Thank you all for allowing so many girls to find sanctuary, friendship, and rest; for letting them be girls this summer.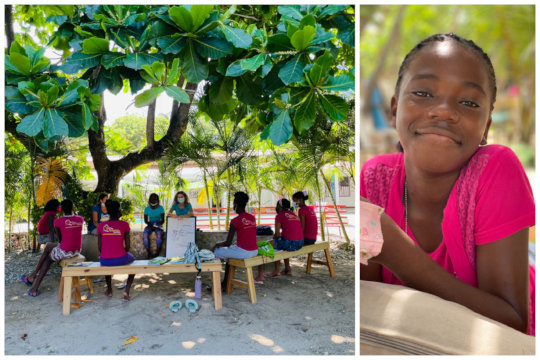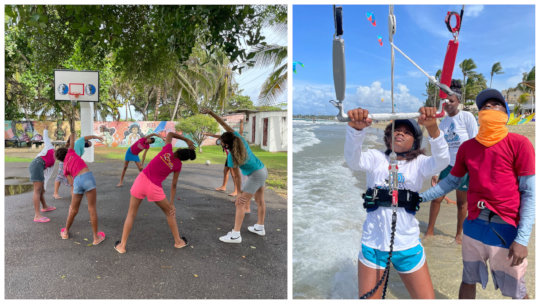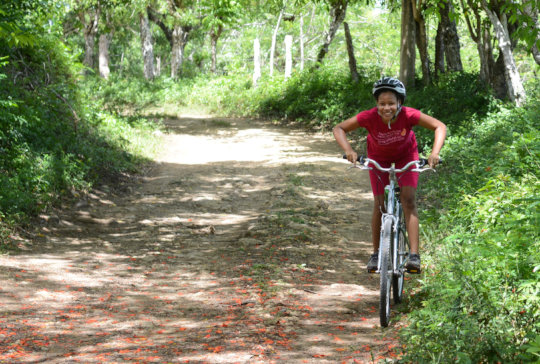 Do you remember that feeling when you first learned how to ride a bike? The wind in your hair, the empowerment you felt. We are so excited to share that moment with the Mariposa girls again this summer. Though biking has been a part of our summer camp programming for the last 5 years (thanks to the generous donation of bikes from Red Robin), for many of our girls this will be their first experience on a bike. We know now more than ever our girls need to feel this sense of freedom. After such a challenging year on so many levels, it is crucial not only for their physical well being, but for their mental health as well. We know that exercising in the open air, in a sport that naturally provides social distancing is the perfect solution.
We are taking the next few weeks to revisit our trails, train our staff and prep our bikes for the summer camp adventure that awaits them. Included in our Women on Wheels biking program staff this year is Mariposa volunteer and triathlete, Martina, who will be paired up with Mariposa Volando, Yaritza. Yaritza has flown back to support our programming from the College of Idaho, where she has currently completed her second year as a Davis UWC Scholar. This powerhouse team is led by our Executive Director, Patricia Suriel, who carries with her decades of biking experience in the Dominican Republic and around the globe.
Patricia has designed a program that both challenges the girls, helps to increase their biking skills, all while exploring their community in a fun, active way. The girls will safely tackle our hillside trails, ride along our beautiful coastline and get to know the countryside all on their bikes. Their coordination and balance will be tested in a supportive environment that will make them feel safe and in control. Every year, we look forward to this program and to see their bright faces full of joy and accomplishment as they cycle back to our Center from their ride!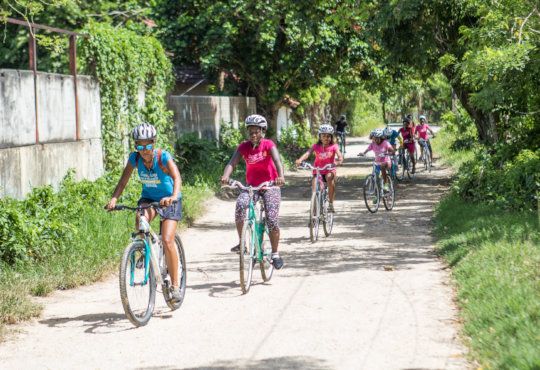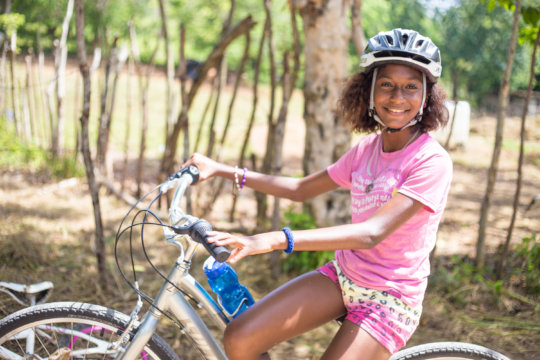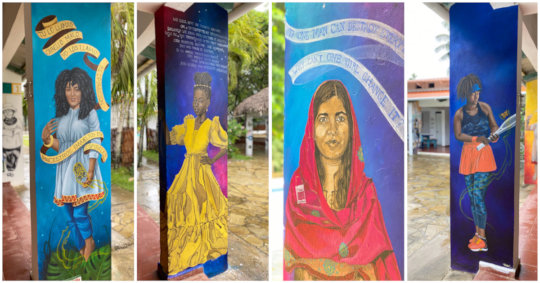 As you walk through the corridors of the Mariposa Center for Girls, you can't help but be inspired by the beautiful artwork throughout. We are proud of our conscious decision to create an inspirational space where the art on our walls reflects the power of our mission. Throughout the years, we have worked with mosaic artists, painters and graffiti artists to create a visual, artistic hub of girl empowerment that tells a story and teaches the importance of sharing their voice and their perspective.
Inside the Center is the Women Activist Portrait Project- a perfect example of how we have successfully engaged our visitors and girls in a visual learning experience. This project features portraits of women or girl activists who have proven to be agents of change in their communities or on an international scale. Puerto Rican artist Rosenda Alvarez Faro and Dominican artist, Shak, recently completed four additional portraits at our Center; Elizabeth Acevedo, Amanda Gorman, Malala Yousafzai and Naomi Osaka. All four portraits beautifully embody the strength of these powerful women. Overall, we have completed 15 portraits, uniquely telling their own story and adding to the richness of the Mariposa Center experience. The portrait series project has served as a starting point for conversations and program development, as we delve into establishing courses that focus on identity, race relations and the important work that these women and girls have done for their own communities. Within the series, there is a full-length mirror that echoes the Mariposa motto, "I am the Most Powerful Force for Change," reminding the girls that they too are part of a lineage of women activists that have the capacity to change the face of their future.
Each piece of art on our walls has been an opportunity for valuable lessons, gained leadership skills and visual messages of empowerment. Here, at the Mariposa Center for Girls we firmly believe that creating a beautiful space filled with art that reflects our values has the power to radiate that message to our community and to the world. There is valid opportunity and a learned experience with every glance of the art. It is a visual landscape that has the potential to change the minds and hearts of those who see it.
If you'd like to see more of the art at our Center check our Inspiring Achievement: Creating Beautiful, Safe Spaces for Girls
WARNING: Javascript is currently disabled or is not available in your browser. GlobalGiving makes extensive use of Javascript and will not function properly with Javascript disabled.
Please enable Javascript
and refresh this page.