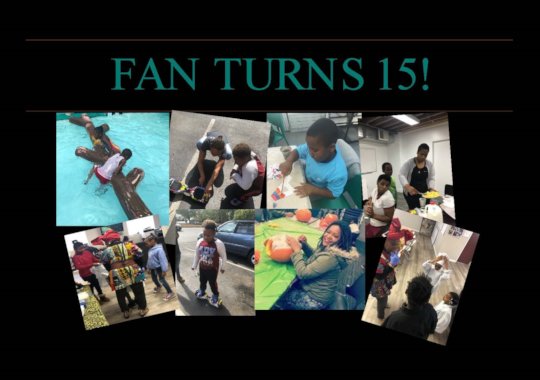 FAN is turning 15! Join us this year as we pay homage to the work that we've done in the past and gain focus around the work we're going to do in the future. This year is all about 2020 vision, but you can't know where you're going unless you understand where you've come from.
FAN opened the doors in 2005 as a safe space for fostered youth. Since then, we have expanded to be a home for anyone who may be impacted by the child welfare system.
Over the years, we've managed to serve over 200 FANmilys, connect and sustain relationships with over 15 funding and community partners. Jobs have been provided for more than 5 alumni participants. We've also been able to keep the doors open and provide a nurturing environment for participants despite leadership changes, economic hardships, and navigating the everchanging landscape of the DC area. What started out as just a means to providing a safe space turned into so much more. In addition to our 4 programs (Trauma informed after school, summer camp, alumni, and caretaker), we also operate as a drop in center. Being a drop in center means that anyone from the community can walk into our space and be provided with services!
As we come close to the end of the first quarter in 2020, we're still making progress. We've celebrated Dr. King, Valentine's Day, and welcomed a new member to our FANmily. We made new community connections with Oye Palaver Hut & Let's Go Boys & Girls to introduce the art of storytelling, and stem to our youth participants. We've also continued our partnership with Project Create to give the participants art therapy. Our Alumni group received resources surrounding housing, food, clothing for job interviews, and employment.
We are committed to working toward creating safe, nurturing spaces where participants can be themselves and get support. We look forward to continuing the work.
Thank you for your time and support!
Links: