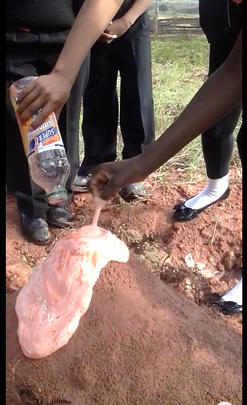 Science at BeeHive School
BeeHive School has a strong, balanced curriculum, where social, moral, spiritual, and physical development is fostered, as well as a strong focus on literacy, numeracy and science. Despite the limited resources at the school, the teachers at the school have come up with fun, engaging and educational science experiments, ranging from chemistry to physics to computer science. The teachers' hard work and dedication has paid off, as the students not only love science, but have done very well in science on the standarized exams.
Chemical reactions
When standard 7 was learning about chemical reactions in the classroom, they got to create their own volcanic eruptions! They learned about chemical reactions in the classroom, then went outside, got into teams and contructed volcanoes out of the dirt. The students carefully measured the exact amounts of baking soda and vinagar they needed, and erupted their volcanoes! The Standard 3 class was able to watch the eruptions, which created a lot of excitement and enthusiasm about science!
Conductivity
When power got installed at the school last year, BeeHive School managed to turn it into a learning opportunity and the students learned about current, power and also about safety!
Computers
Once a week, each class gets to go into the library and computer lab. Two thirds of the students go to the library to browse and read books, while the other third gets to use the computers. Although the few computers in the lab are very old, the school is very appreciative of them and takes very good care of everything in their computer lab. The computers are valued by the students and teachers. The children love using them, and for most of them, it's their only opportunity use a computer.
The school is hoping to increase the number and upgrade the computers this summer. This will allow a whole class to use the computer lab at the same time, with everyone having their own computer, and will allow the teacher to teach a lesson on them. Having an up to date computer lab will allow BeeHive's curriculum keep up with the rest of the world.
BeeHive School sees the value in technology, as students need to be exposed to them from a young age in order to contribute to helping solve the world's toughest challenges. They want to give their students an opportunity to click, play, learn and interact with computers. Whether the students become scientists, social workers, doctors, business leaders, teachers, accountants, non-profit founders, secretaries, entrepreneurs, or the president of Malawi – early access to computers will help them be the best person they can be.
The school has raised quite a bit of money for the lab, and is hoping to reach their goal by the summer.
http://youtu.be/6jGdWeD421U
Wishing all our supporters a lovely day,
The BeeHive School Community